First Look: Accusonus Voice Changer Plug-in
[ Read my product review disclosure statement.]

Last week, Accusonus released Voice Changer, a powerful, yet very easy-to-use sound design plugin. It supports Adobe Premiere Pro and Audition, Apple Final Cut Pro and Logic, DaVinci Resolve, Cockos Reaper, and Avid ProTools.
Accusonus is known for wrapping complex technology in an easy-to-use interface. Voice Changer follows in that tradition.
EXECUTIVE SUMMARY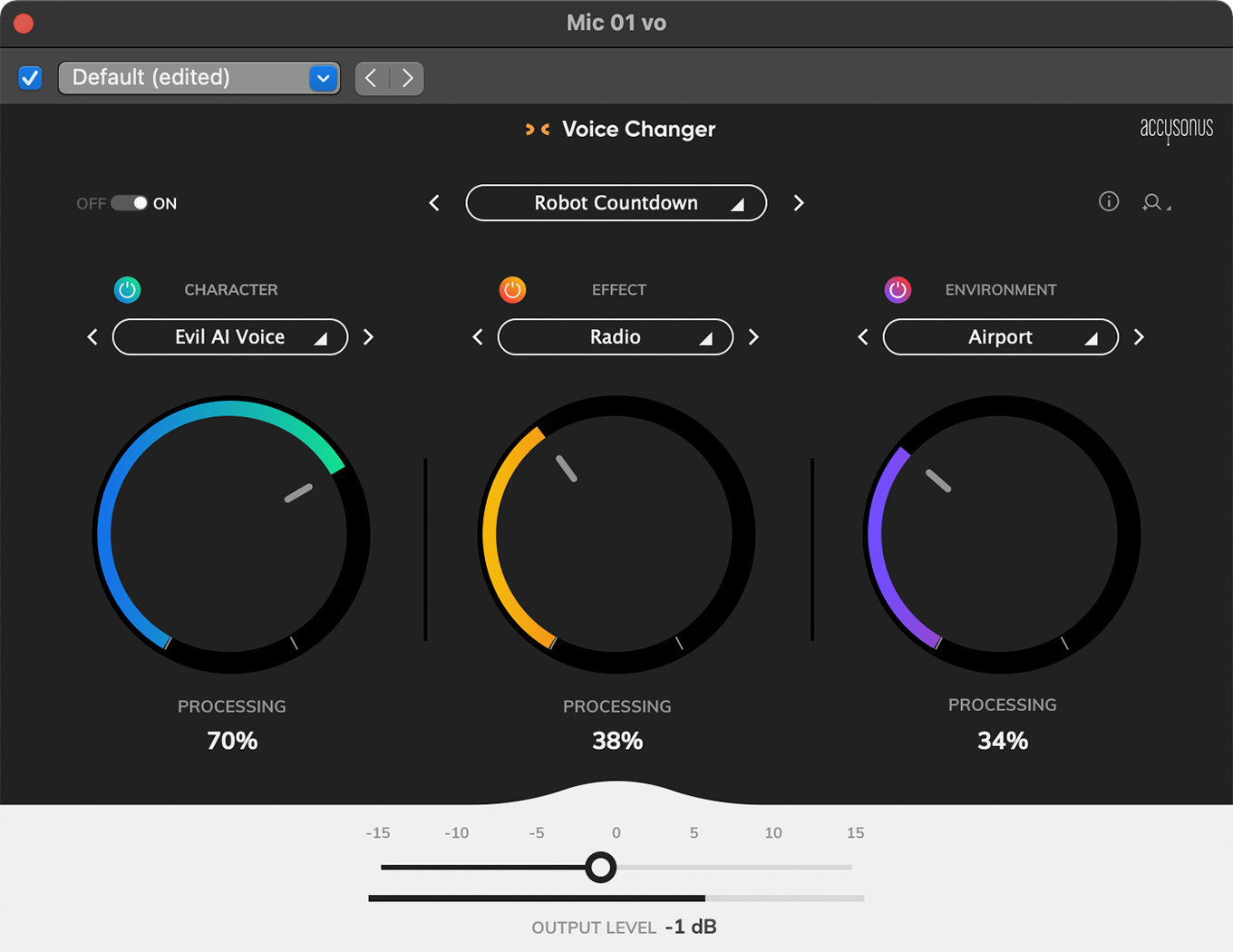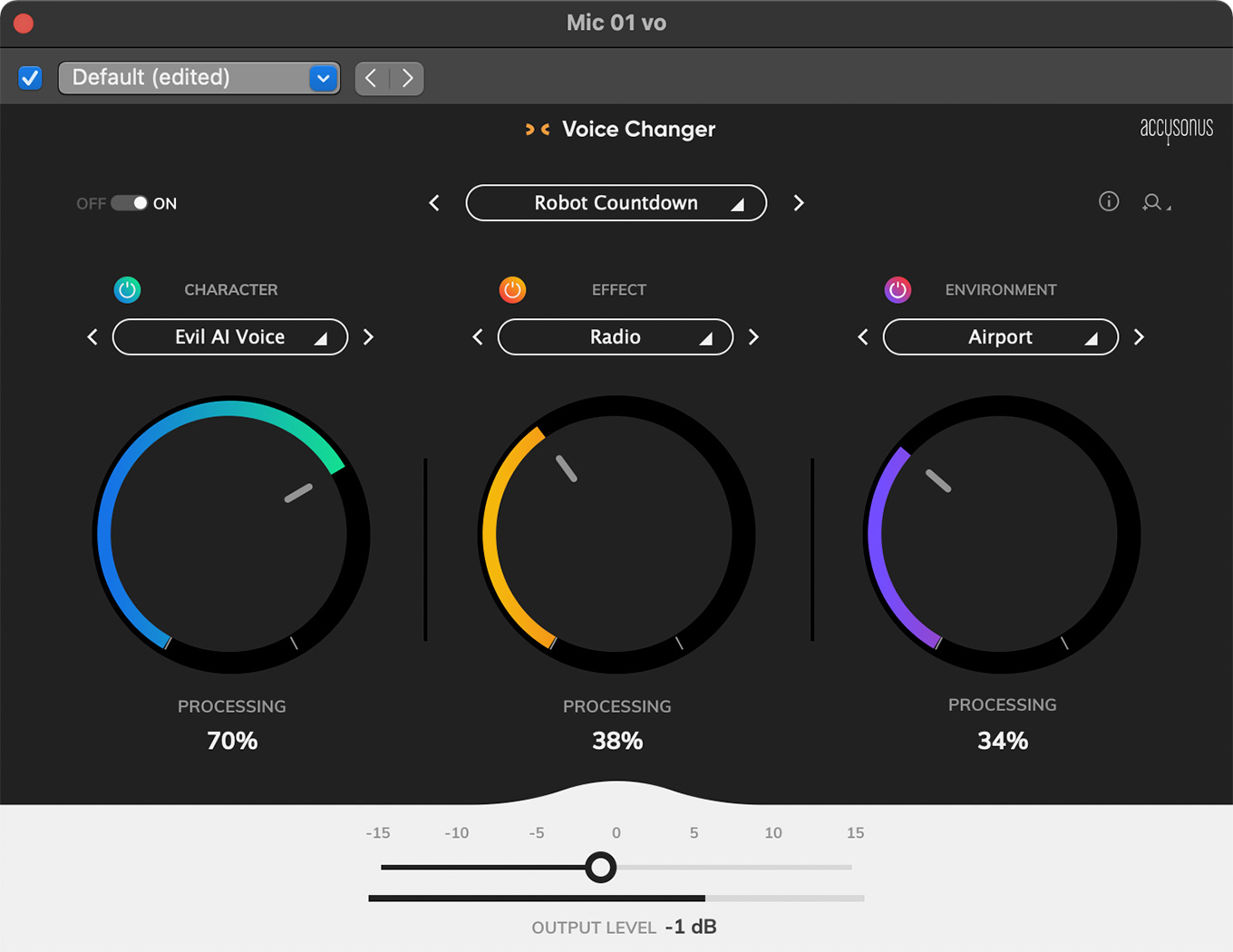 Voice Changer is a brand-new plug-in that changes the sound of the human voice into a wide variety of different characters and environments. It supports many popular audio and video editing tools, and runs on both Windows and Mac.
While all these effects can be created using existing audio tools – including as choruses, flangers, reverb, high and low cut filters and EQ processing – the beauty of Voice Changer is that users don't need to understand how any of those audio effects work. Instead, they dial in effects using descriptions – robot, dragon, thin voice, telephone, megaphone, cathedral, cave – then tweak the effect using three on-screen dials.
The results vary from subtle to captivating to over-the-top. Sound design builds worlds that don't exist except in our imagination. Voice Changer populates those worlds with memorable voices.
Developer: Accusonus
Product: Voice Changer
Website: https://accusonus.com/products/sound-design/voice-changer
Price: $4.99 / month (also available in a suite of other Accusonus software)
A free trial is available.
INSTALLATION
The software is purchased directly from the Accusonus website. Installation is straight-forward and only takes a minute. After installation, the product runs in trial mode until you create an Accusonus account and purchase a paid subscription.
If you have an existing Accusonus account, the entire installation process takes about five minutes.
OPERATION
Voice Changer is an effect applied to an existing audio clip. It doesn't create audio from scratch, rather it takes existing audio – generally dialog or narration – and applies an effect to it to make it sound… different / bigger / smaller / stranger / alien / more ear-catching.


Open your favorite editing app – FCP, Resolve, Premiere, ProTools, Audition…. You'll find
Voice Changer in the Accusonus folder in Audio Effects. Apply it to an audio clip as you would any other effect.


In Final Cut, for example, go to Audio Inspector > Effects and click the small icon to the right of the Voice Changer name (the red arrow in screen shot).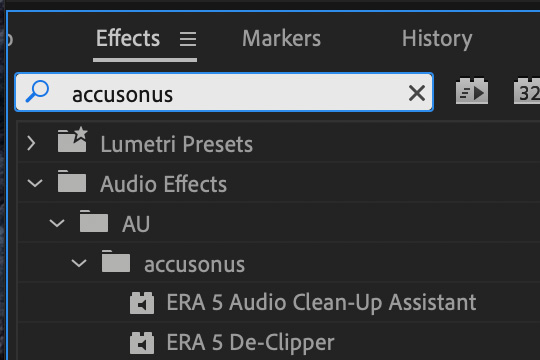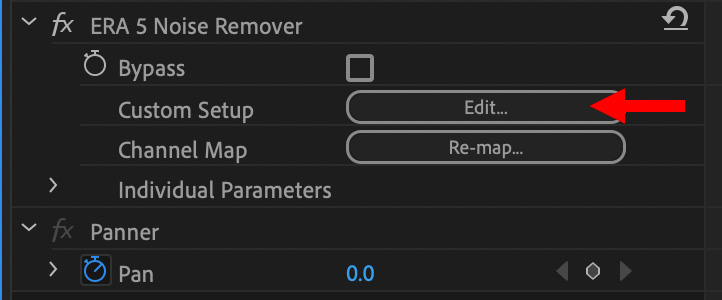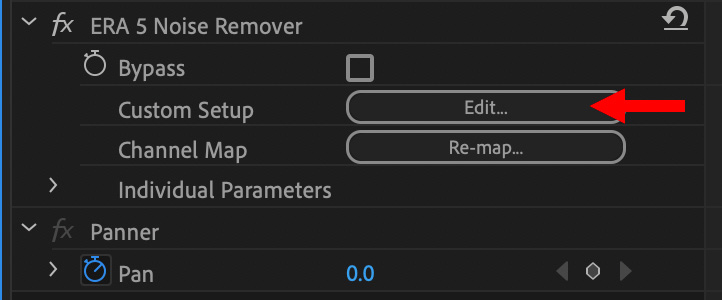 In Premiere, open the Effects panel and search for "Accusonus." Apply the effect to your clip, then go to Effect Controls > ERA Voice Changer and click Custom Setup > Edit.
NOTE: For whatever reason, my version of Voice Changer did not install in Premiere. However, Premiere is a supported application. My guess is that reinstalling would fix this. In any case, the operation of Voice Changer is the same as other Accusonus plug-ins.


The main interface appears. From my experience, I suggest starting with one of the options in the Quick Start menu in the top center. There are a wide variety of voice effects to select from and these Quick Starts – in addition to creating an interesting audio effect – illustrate how the sound shaping controls work.
NOTE: Click the power switch in the top left corner to toggle the effect on and off. This is a good way to compare the results of the audio effect, before and after.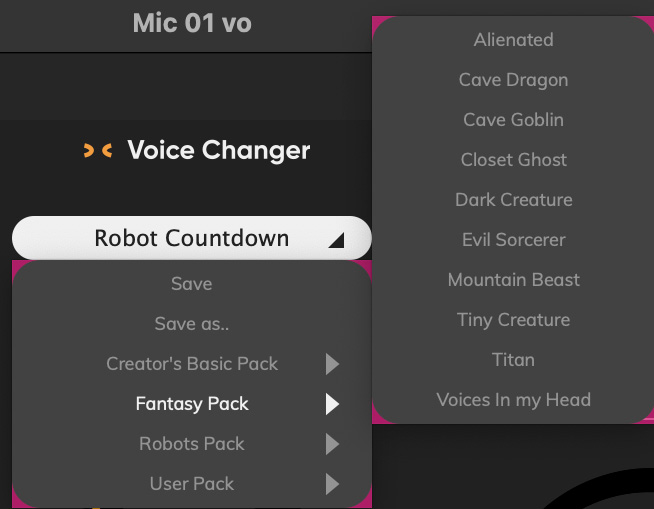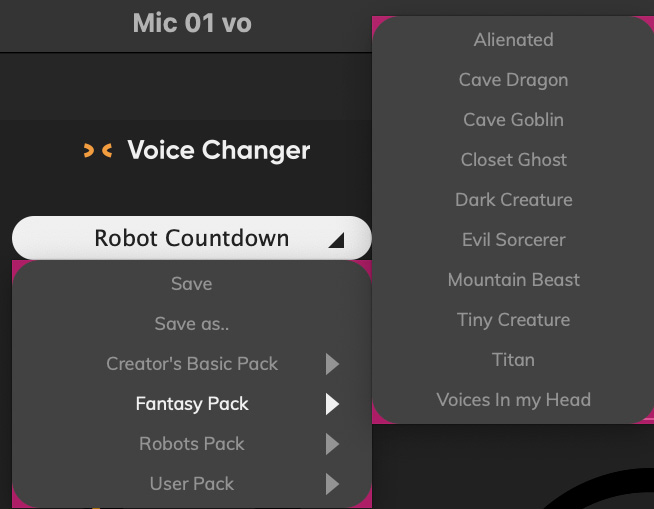 Over the years, I have developed a reluctance to use presets – partly, I think, because many presets just aren't that good.
In the case of Voice Changer, though, using the Quick Start menu is the best approach. Pick the Quick Start ("preset") that comes closest to the sound you hear in your head.
NOTE: You can also create, save and re-access your own presets. Custom presets are saved in the User Pack category.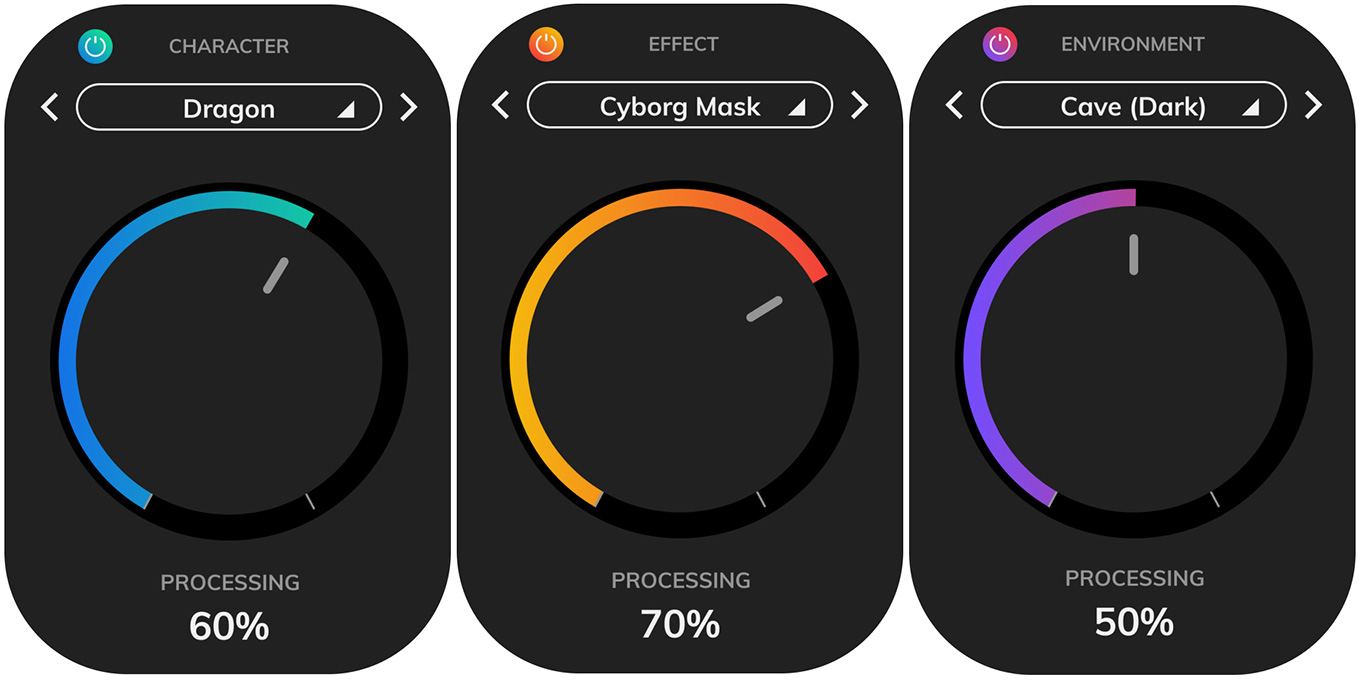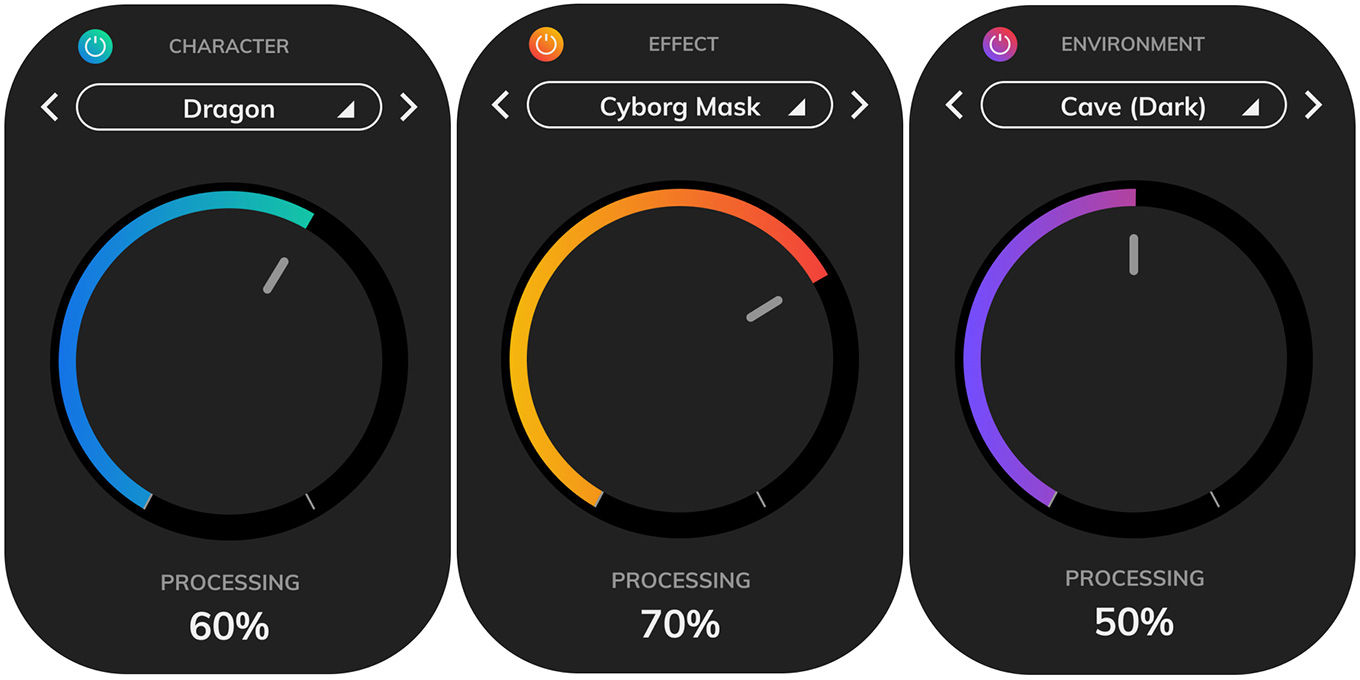 There are three main settings, each with its own control wheel: Character, Effect and Environment.
Then, tweak the three setting wheels to fine-tune the sound. This plug-in is designed for all three settings to be active. This isn't a case of use one, turn the others off. Rather, it's a team effort where all three settings contribute to the final sound.
NOTE: You can also quickly compare the effect of each module by toggling the ON/OFF switch in the top left corner of each module.
I found effects that require the illusion of reality, like Baby Voice, Male-to-Female or Female-to-Male to be less useful, less believable, than those that create an unusual effect. Settings such as Kitchen Radio, Telephone, Ruler of the Universe and, my personal favorite, Evil Sorcerer are more effective.
NOTE: Here's the Accusonus Help File explaining how Voice Changer works.
CAUTION: THIS IS A FIRST RELEASE
Voice Changer was just released, so, like any new software, it may experience some initial bugs. As I was writing this review, it froze twice with the "spinning beach ball of death" in Final Cut, requiring me to force quit the program.
None of my editing data was lost, due to how Final Cut instantly saves changes. Still, when you first install the program, test it on your system with smaller projects before putting it online with your masterpiece.
SUMMARY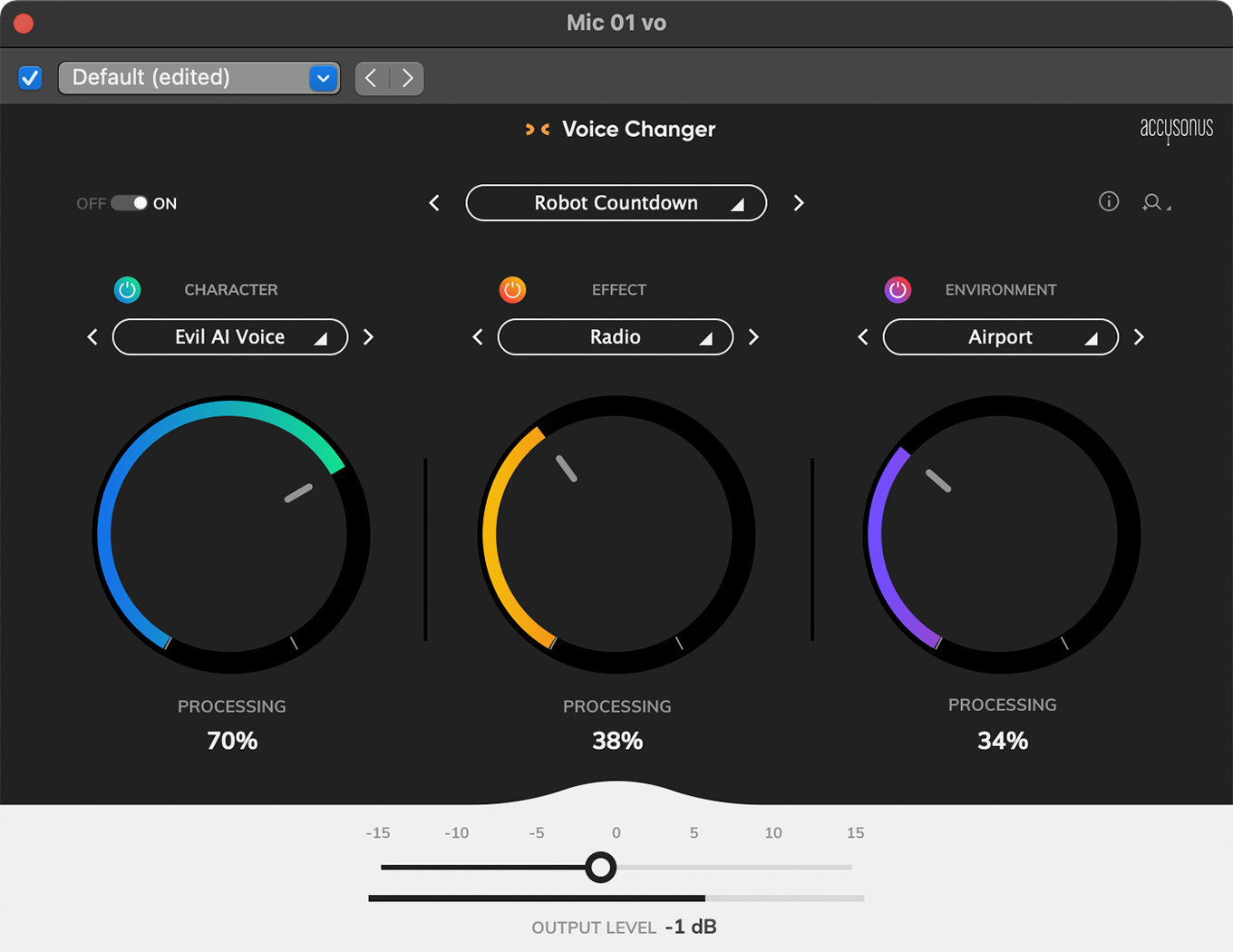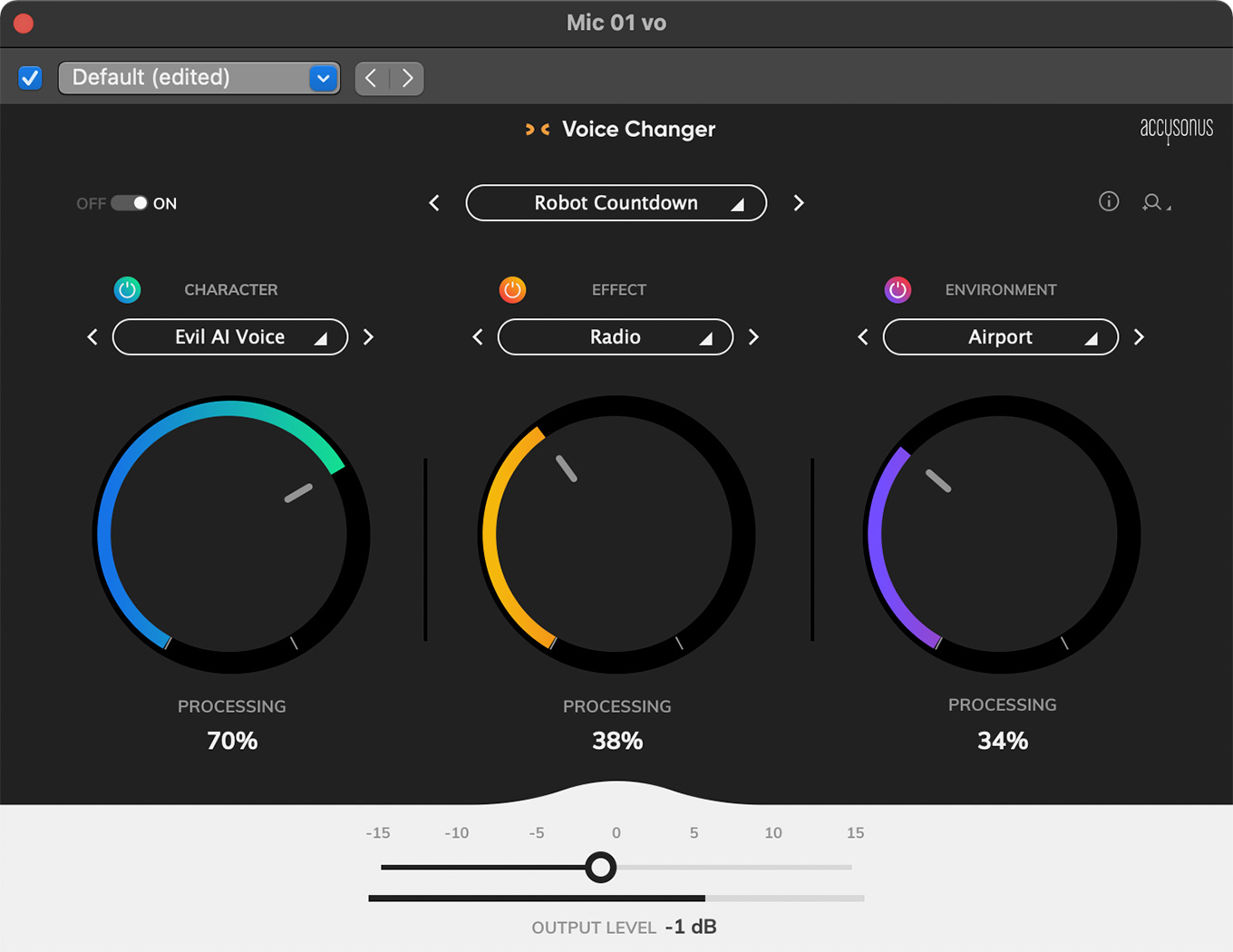 Like all Accusonus products, Voice Changer is extremely easy to use. While it "only" has three controls, the range of sounds it can create is almost infinite. Previewing is instantaneous, high-quality and you can hear changes on the fly as you adjust a setting.
If you are looking for a way to bring the sounds in your imagination to life, Voice Changer is a great place to start. Using it is a great deal of fun and the free trial makes it easy to experiment before buying.
---
Bookmark the
permalink
.