First Look: Accusonus ERA 5 Audio Plug-in Bundle

Accusonus recently released their latest bundle of audio repair plug-ins for video projects: ERA 5 Bundle. The list of host software in which these plug-ins work covers the top movers-and-shakers in our industry:
​Adobe Premiere Pro
​Apple Final Cut Pro X
​DaVinci Resolve
​Avid Pro Tools
​Adobe Audition
​Audacity
​Avid Media Composer
​Apple Logic Pro X
​Apple Garage Band
​Reaper
​Magix Vegas
NOTE: Here's a link to my earlier review of ERA Bundle 3, which goes into more detail about the company.
EXECUTIVE SUMMARY
accusonus, based in Greece and incorporated in Massachusetts, was founded in 2013 by Alex Tsilfidis (CEO) and Elias Kokkinis (CTO). Both men have significant backgrounds (and PhDs) in audio signal processing. From that beginning, accusonus has developed a leading reputation for audio processing.
The first ERA bundle (ERA stands for "Enhancement and Repair of Audio") was released in 2018. The current collection contains 13 plug-ins for quick and efficient audio repair. Each plugin has an interface simple enough for entry-level editors, with features that a professional creator can use to enhance their audio recordings. Some are new, others are improved older versions.
accusonus believes that the simpler the interface, the more likely an end-user will be to use it. These plug-ins provide highly-sophisticated audio repair in a very easy to use package. Available via subscription or purchase, these tools deliver high-quality results, regardless of which NLE you use them in.
Developer: accusonus
Website: https://accusonus.com
Product: ERA 5 Bundle for Video/Film
Price: $24.99/month or $299 (US) to purchase
A 14-day free trial is available.
OVERVIEW
The ERA Bundle 5 consists of 13 plug-ins:
Noise Remover
Reverb Remover
Plosive Remover
De-Esser
Voice Leveler
Voice Deepener
De-Clipper
Voice autoEQ
Audio Clean-Up Assistant
Noise Remover Pro
Reverb Remover Pro
De-Esser Pro
Room Tone Match
Each has a similar interface, so once you understand how one works, you'll be comfortable with all of them.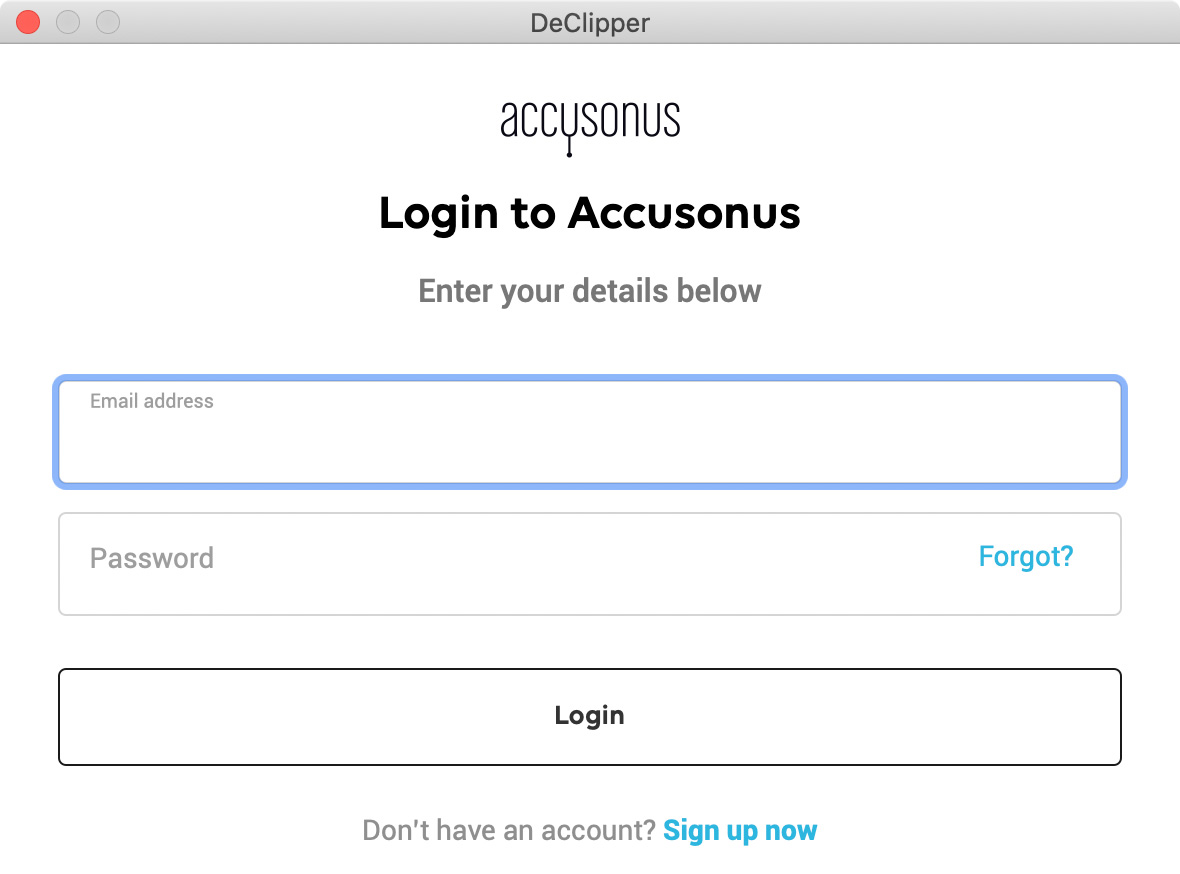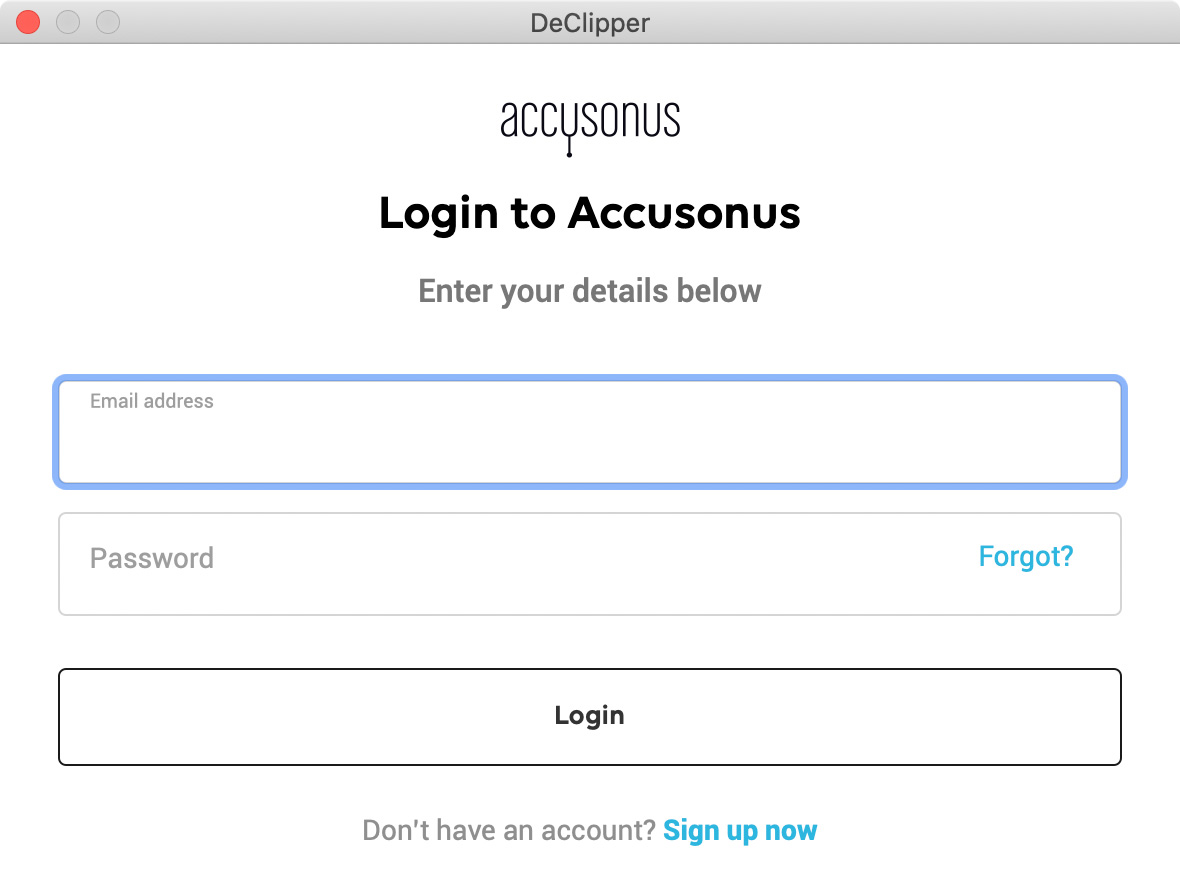 Installation is simple:
Download the software from the accusonus website
Install the DMG file by double-clicking it
Open any supported host application (i.e. Final Cut, ProTools, Premiere…)
Create an accusonus account to either purchase the software or activate the free trial
It took me less than five minutes to install the plug-ins, though some software – like Premiere – requires a few extra steps.. Unlike earlier versions, once you authorize one plug-in, the rest are authorized too.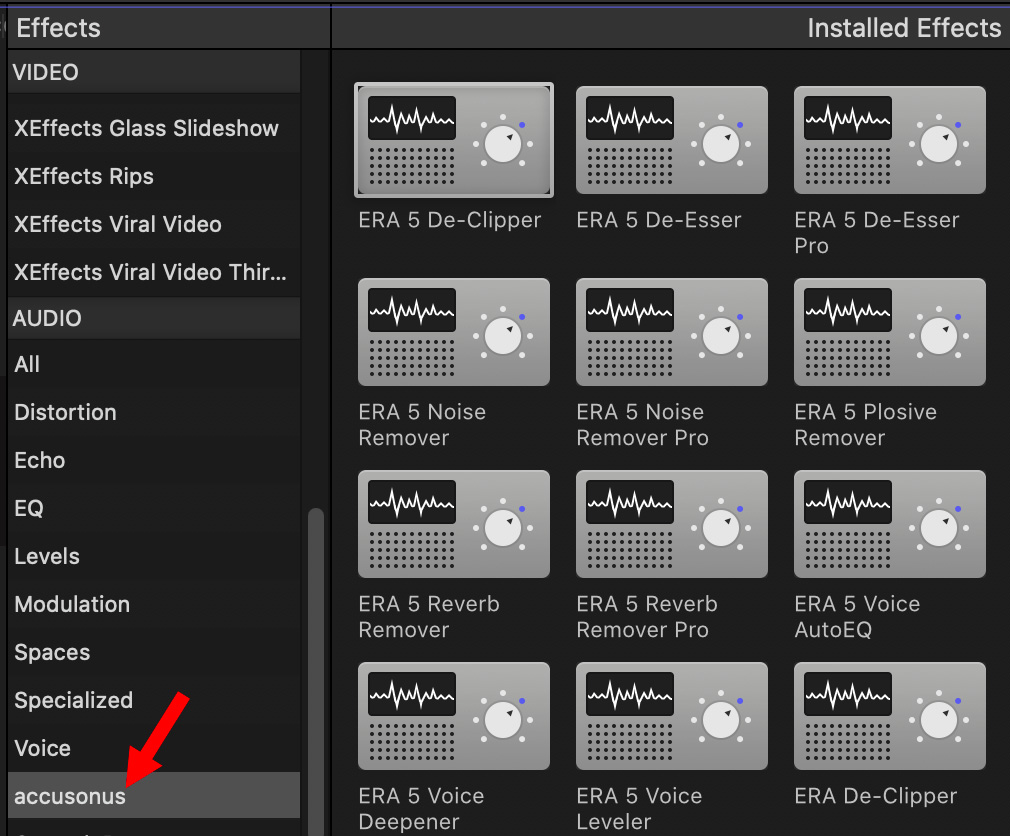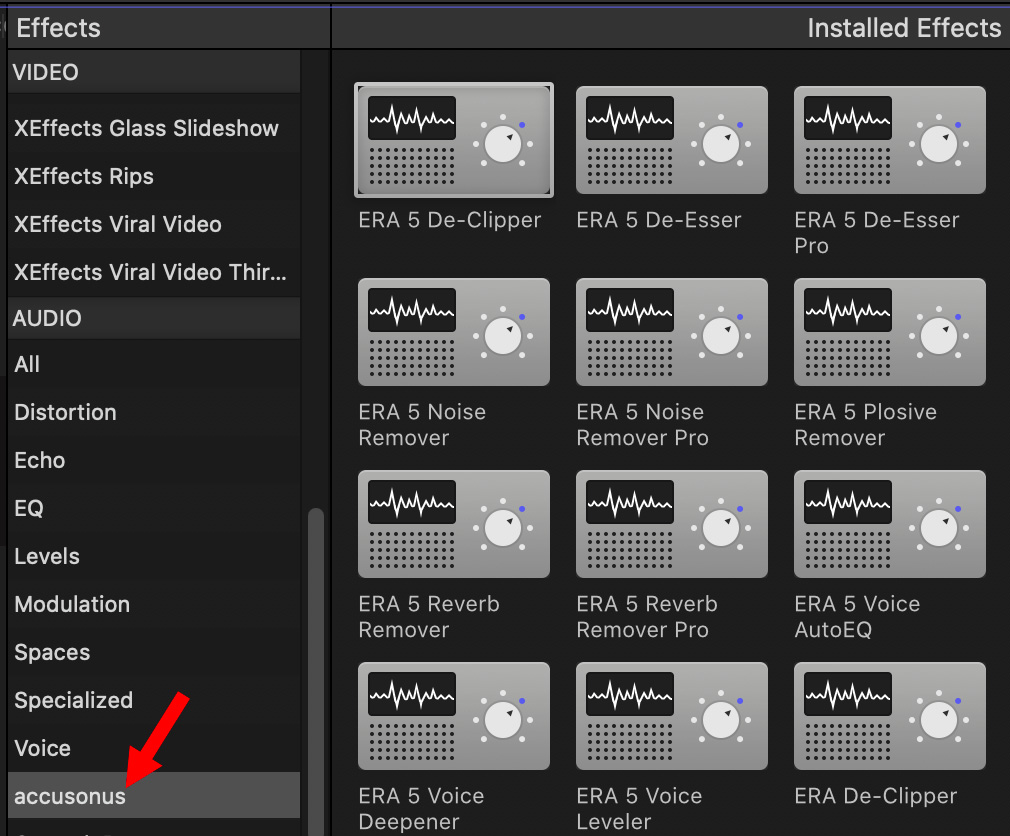 Plug-ins are stored in the "accusonus" category. Here's what the plug-ins look like in Final Cut Pro X. Once the DMG file is installed, the plug-ins show up automatically in FCP.
NOTE: For some reason, Audio Clean-up Assistant and Room Tone Match did not install.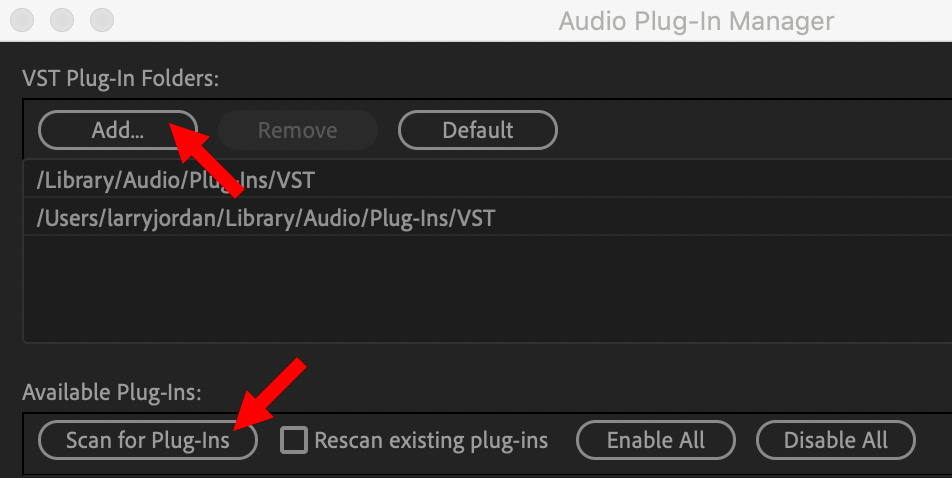 Installation into Premiere Pro requires clicking the VST Add button at the top, then Scan for Plug-ins. Here's how: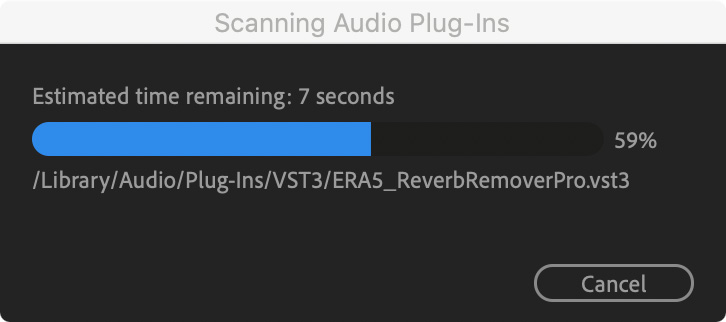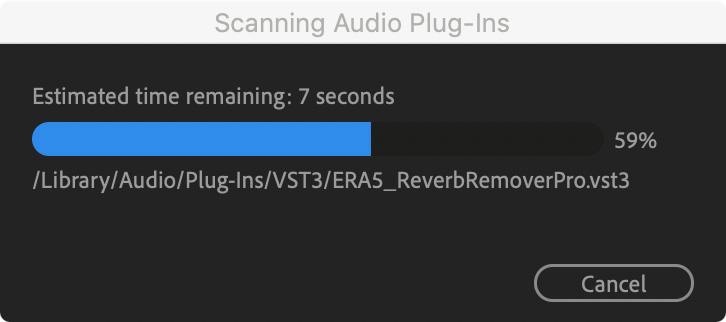 Opening a project in Premiere
Open Preferences > Audio
Click Audio Plug-in Manager at the bottom
Click VST > Add at the top, then Scan for Plug-ins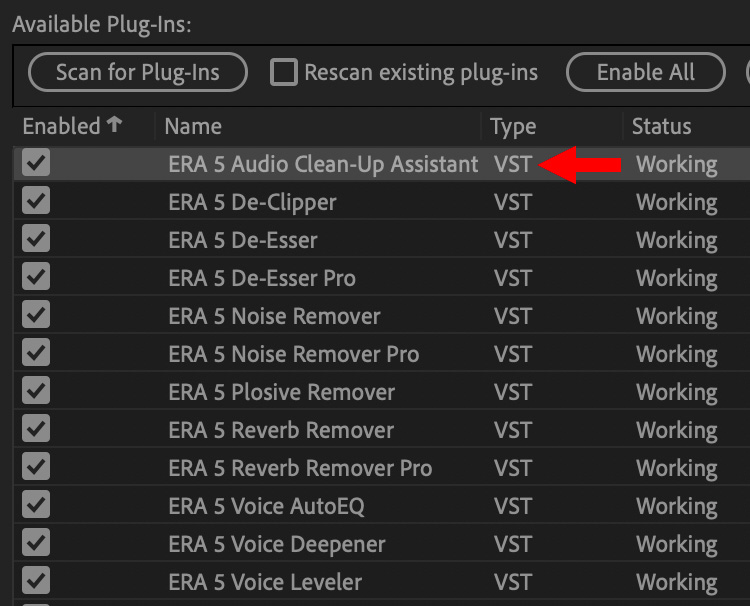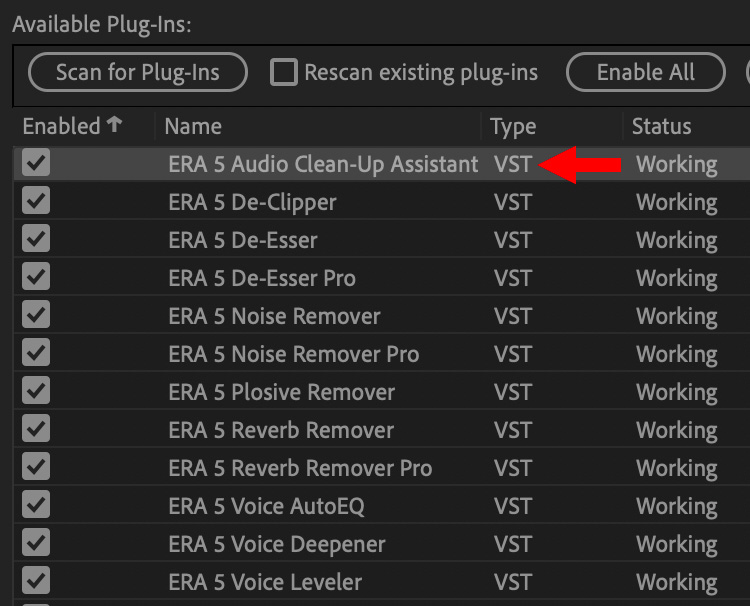 In this panel, enable the plug-ins you want to work with and click OK.
NOTE: For some reason, Room Tone Match did not install. Because ERA supports both VST and AU formats, you only need one. So, I enabled the VST versions by checking them.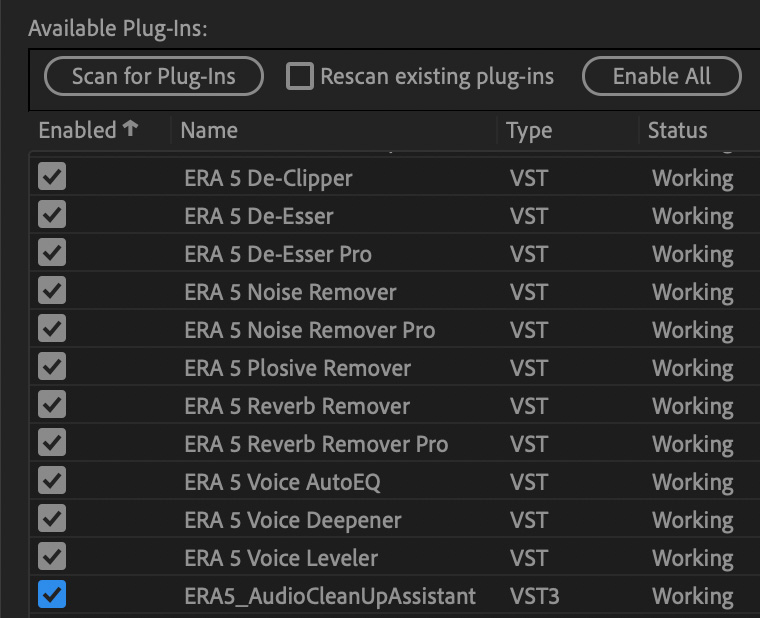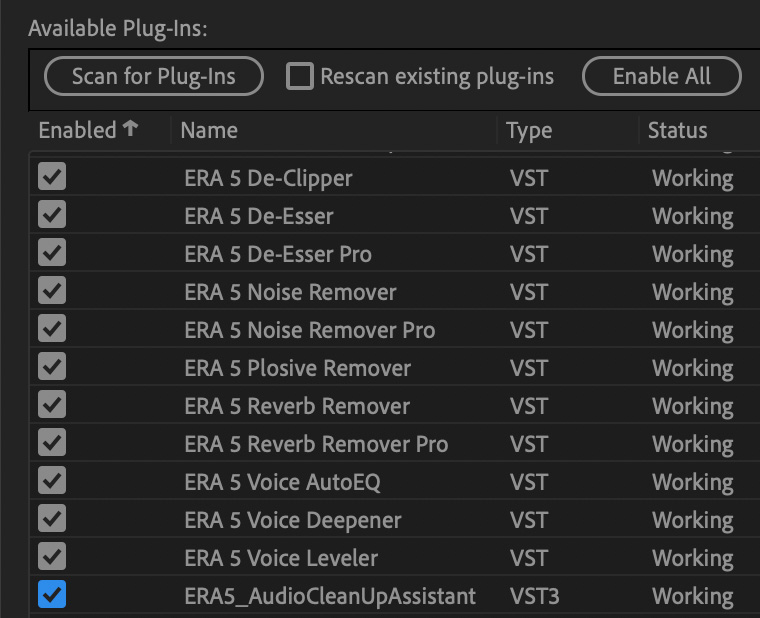 The installation process for Audition is similar to that for Premiere. Again, pick the VST versions of the plugins.
NOTE: Again, the Room Tone Match did not install. Plug-ins for Audition need to be installed separately from Premiere.
Regardless of the host application, applying an audio effect to a clip is the same as applying any other effect to a clip. There's nothing new to learn.
NOTE: There were initial problems running these plug-ins in Premiere and/or Audition. Those bugs were fixed in the 5.0.20 update last week.
OPERATION
It is impossible to properly illustrate the results of applying an audio effect in a written review. One BIG change in this latest bundle is MUCH improved access to online help, because sometimes the interface is a bit too simple.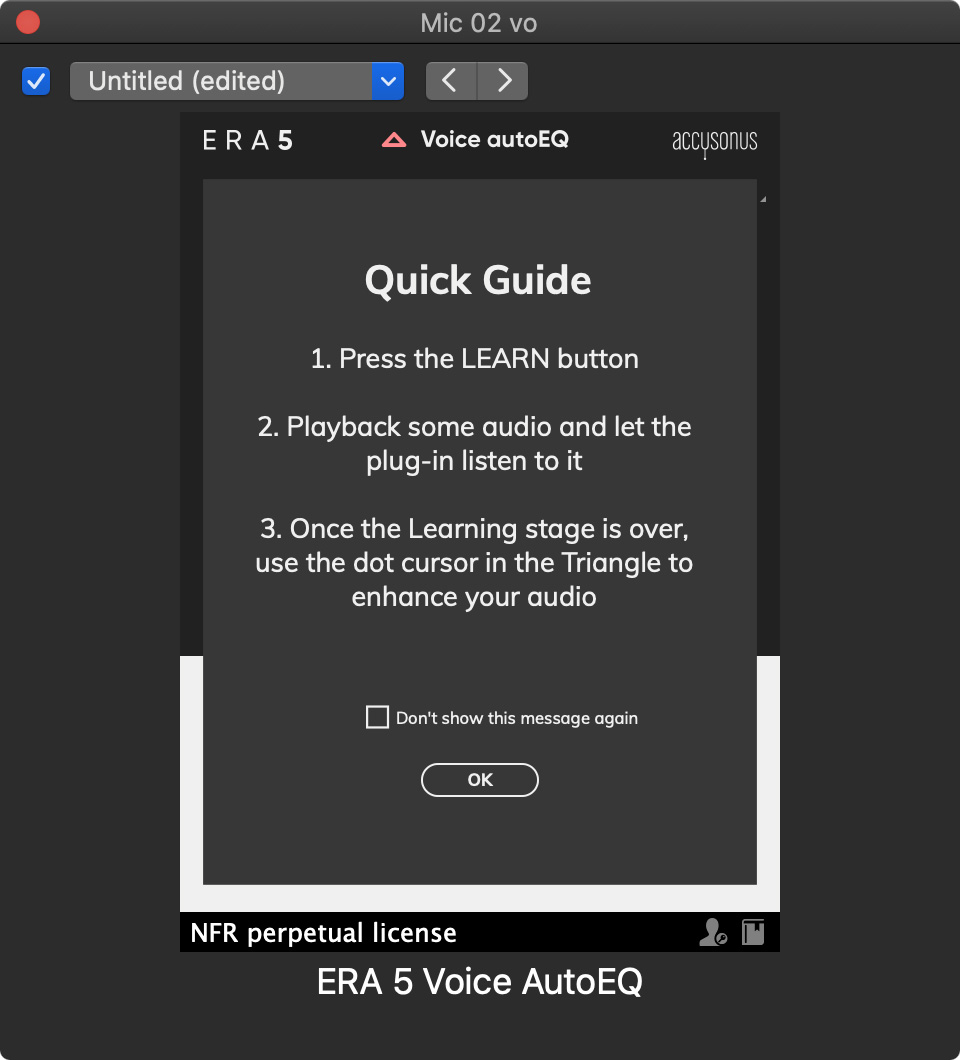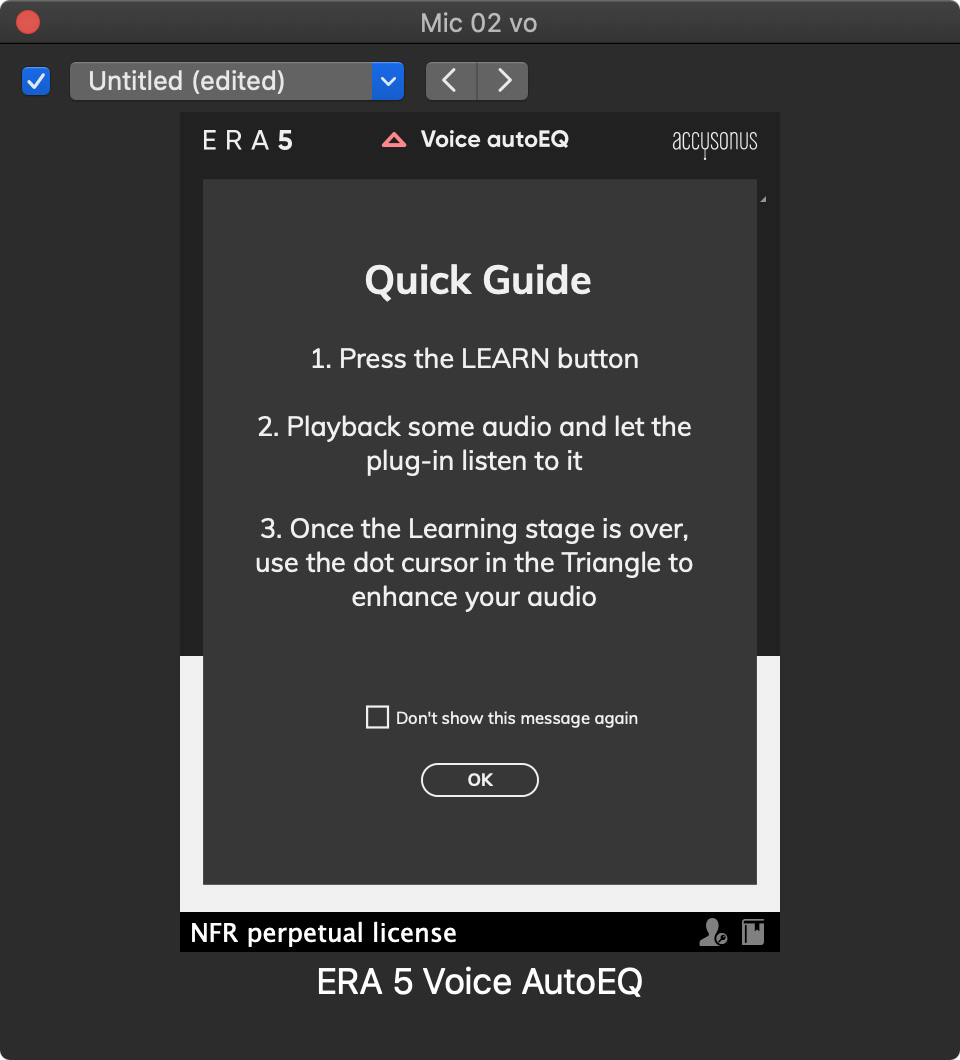 For example, this is the Voice AutoEQ effect. Instructions on how to use it appear when you first apply the effect.
"Voice AutoEQ is an intuitive and powerful audio effect plug-in that turns the tedious and time consuming task of speech equalization into an effortless and creative process. Based on the multi-patented accusonus algorithms, Voice autoEQ simply works, allowing for automatic balancing and enhancing of the tonal characteristics of your speech recordings." (accusonus online help)


Once an effect is open, click the chart icon in the lower right (red arrow) to instantly display detailed online help for this effect.
NOTE: All help is also available as a downloadable PDF for those times when you don't have Internet access.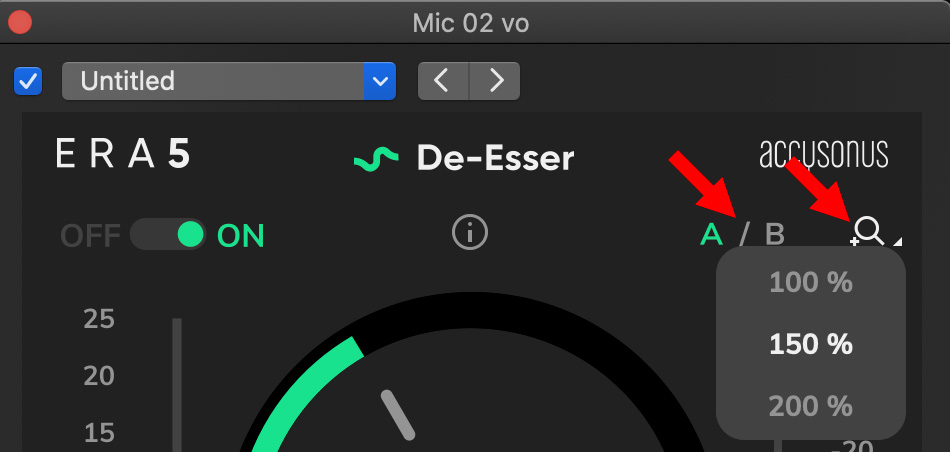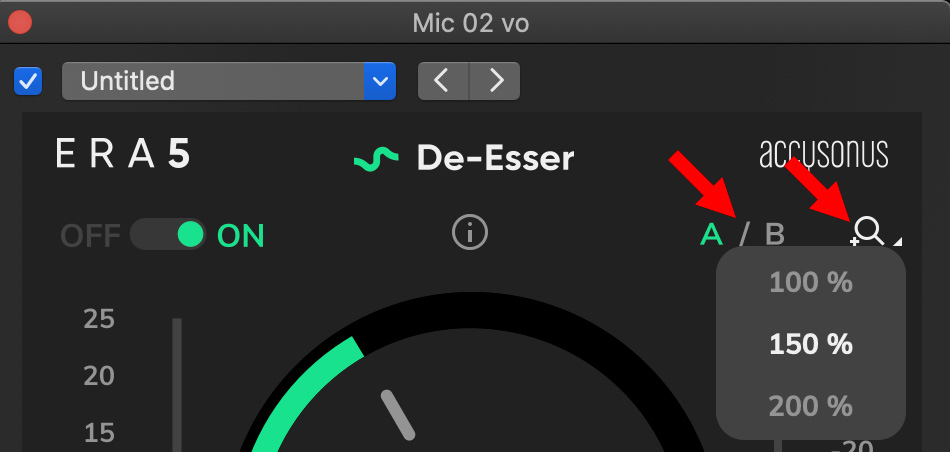 Click the A/B buttons to toggle between two different settings to decide which sounds better. Change the size of the interface by clicking the magnifying glass.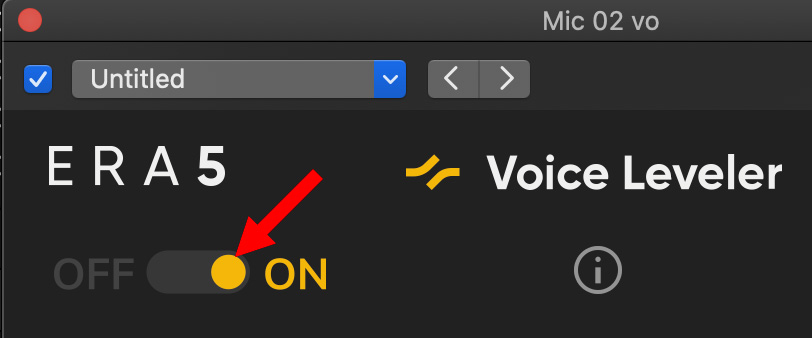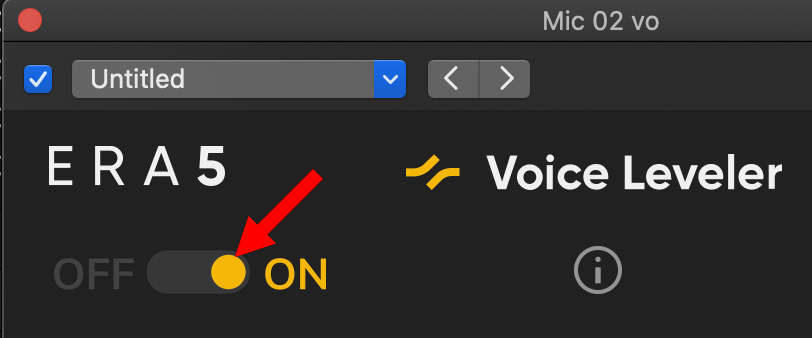 Turn the filter on or off to decide which you like better.
NOTE: accusonus recommends using the filter on/off buttons, rather than use the enable/disable buttons in the NLE for more consistent results.
All these changes are make using the effect much easier and more effective to use.
THE INTERFACE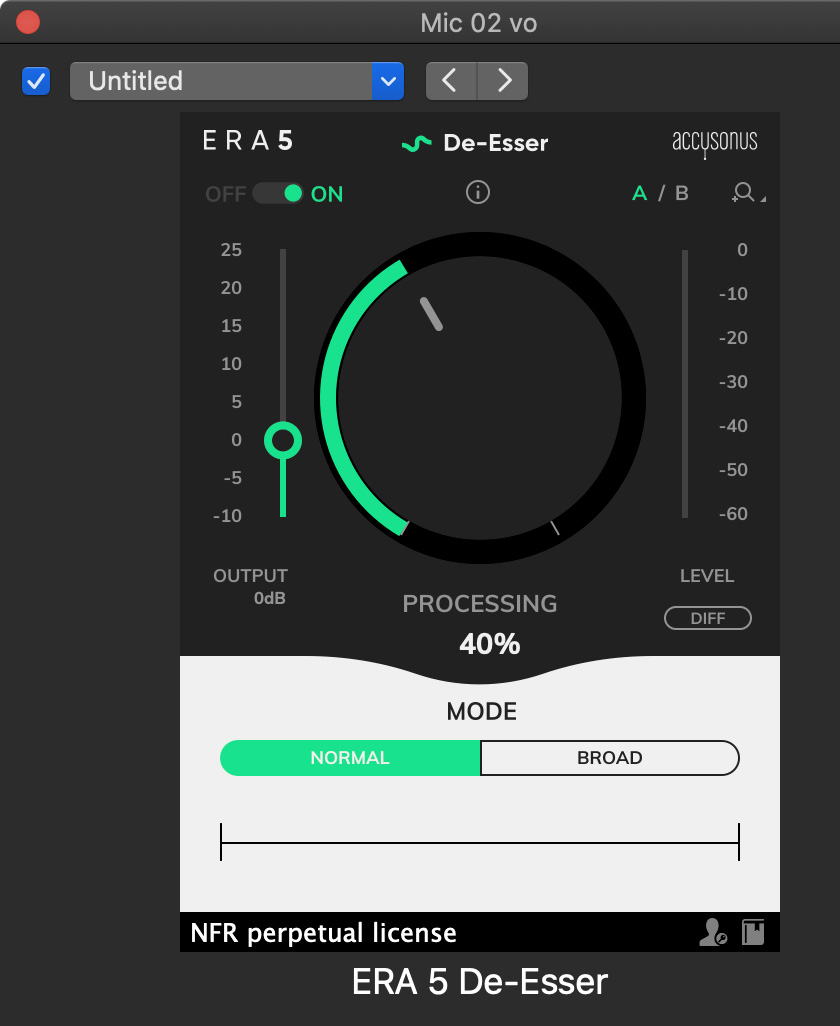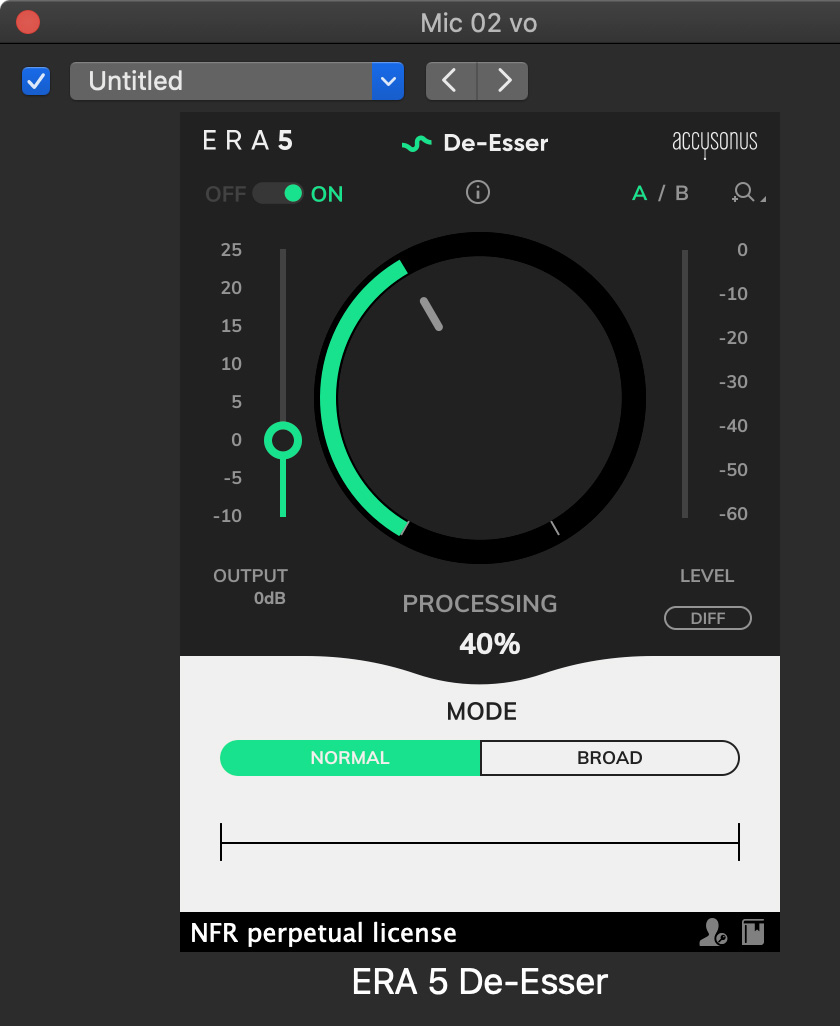 This screen shot of De-Esser illustrates the typical ERA filter interface: A big dial in the middle that you drag until your audio sounds better to you. (As with all things audio, nothing beats a clean recording with a good mic. These plug-ins are designed to fix problems where re-recording is not an option.) As I wrote in my review of ERA Bundle 3: "The defining characteristic of Accusonus is a VERY simple – and consistent – interface."
Simply twist the dial until the problem you are trying to solve is no longer objectionable. (I REALLY love the A/B switch, allowing me to compare two settings!)
As for the filter itself, "De-Esser is a one-knob audio effect plug-in that offers precision-grade de-essing and automatic audio repair functionality without compromising audio quality. Based on the multi-patented accusonus algorithms, De-Esser simply works and allows for efficient sibilance removal from audio recordings." (accusonus Help)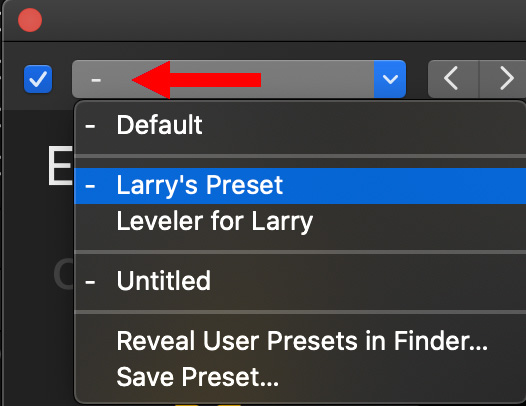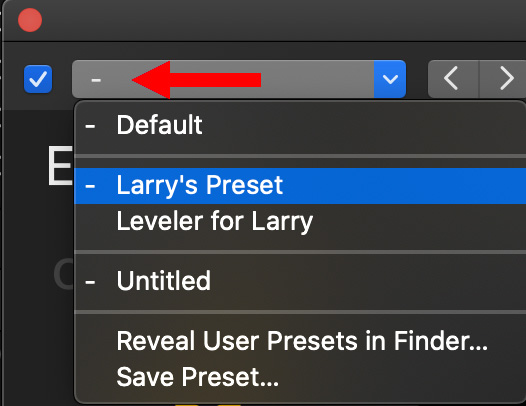 NOTE: If you find a setting you particularly like, you can save it as a preset to reuse in the future. However, a bug I found is that when you create a custom preset, it only displays a hyphen in the Preset menu, not the actual name of the saved preset. The preset is named correctly on disk, just not displayed in this menu.
INITIAL THOUGHTS
I really like the new EQ filters, especially the Voice Deepener, which doesn't change the pitch of a voice but the amount of warmth (low frequencies) that it contains.
Noise removal works best on steady-state machine noise, like air conditioning and other rumbles. It can be used to reduce background talking, but the quality of the foreground voice will suffer.
However, I did not find the Noise Remover filter effective on removing hums. I prefer the native hum remover in Audition, which does a much better job.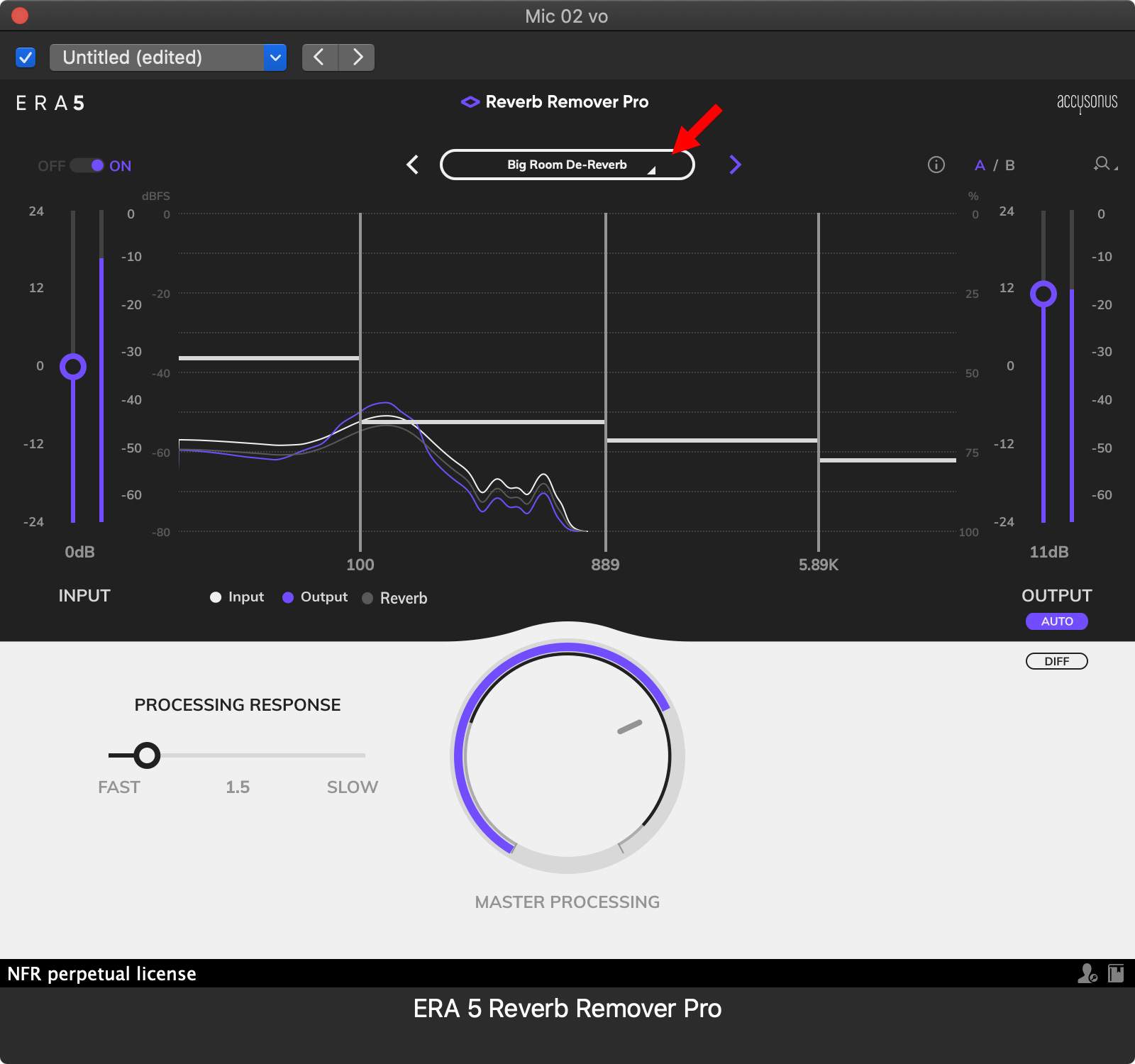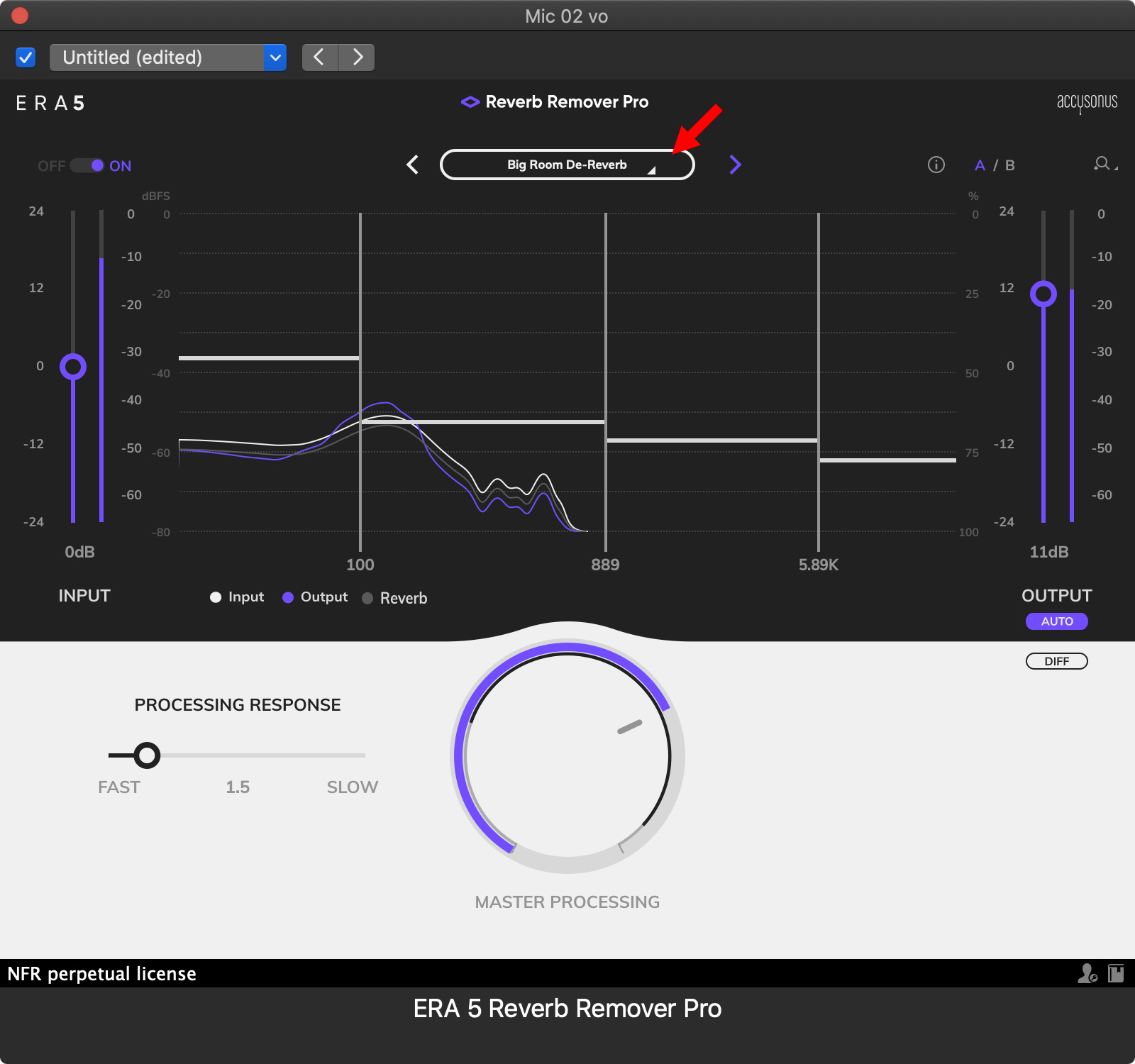 (Click to view a larger image.)
I really like the new Reverb Remover and Reverb Remover Pro (in the screen shot above). The filter comes with several presets – Boomy Room Control, Big Room De-Reverb, Tight Drums, and about six others – so you can tweak settings without understanding the underlying acoustics.
Getting rid of reverb requires MASSIVE amounts of computing power in order to distinguish the sound of the voice you want to keep from the echoing sound of the same voice in the reverb. Until recently, this hasn't been possible at all. Now, it is.
Plosive remover I'm plus/minus on. It removed some plosives but not all of them. And it diminished the bass in voice the more plosives it removed. From my perspective, editing to remove plosives does a much better job, but takes longer.
SUMMARY
There is so much here to like: better interface design, more tools and accessible help – all to give us greater control over our audio, all at a very reasonable price.
Software this sophisticated is bound to have minor problems; however accusonus appears to fix bugs quickly. And there is no doubting their focus on making our audio sound better. Download the free trial and give it a try. I suspect you'll find at least one tool that can make a world of difference to your audio.
---
Bookmark the
permalink
.