Find, Create or Delete Final Cut Pro X Backups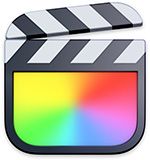 Recently, a reader asked about how to backup Final Cut files. There are actually two answers here: one for the library and one for media.
MEDIA BACKUPS
If you store media in the Library, use the Finder, or other copy software, to make a backup of the entire Library. I store backups on a separate drive from the original file – just for safety.
The problem is that every time you make a Library backup you'll also make another backup of the media. This takes a LOT of storage which unnecessarily limits the number of backups you'll want to create. For this reason, I generally recommend against storing media in the Library – unless you are brand new to Final Cut or plan to share that Library with another editor.
If you store media outside the Library, backup media the same way you back up any other data file. Media backups, though containing much larger files, are no big deal.
LIBRARY BACKUPS
According to Apple's help files: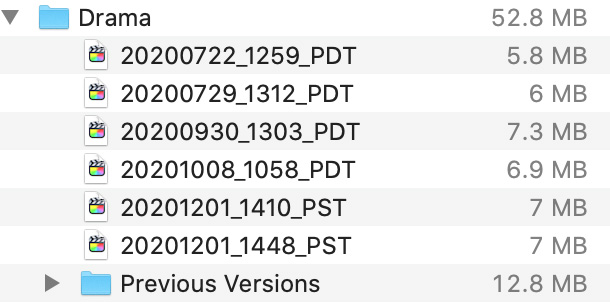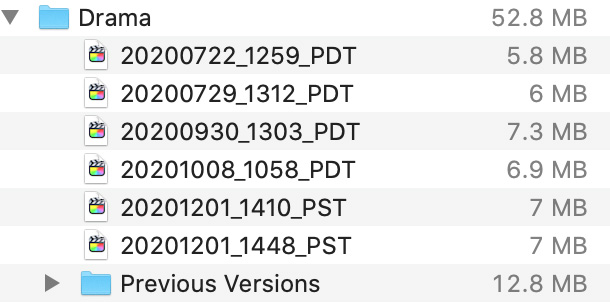 "Final Cut Pro makes automatic library backups at regular intervals. Backups include the database portion of libraries only, not the media files. Backups are saved with the time and date in the filename.
NOTE: These backups are standard Final Cut Pro library files, so you can also open them by double-clicking them in the Finder. The Previous Versions folder contains backups from earlier versions of Final Cut.
"By default, Final Cut Pro saves backups to the Final Cut Pro Backups folder in the Movies folder, but you can change the backup location.
"Final Cut Pro automatically deletes library backups that are more than several days old."
NOTE: Feel free to open a backup folder and see the libraries inside. These are actual, openable, FCP X libraries, created during your edit and stored in a separate place.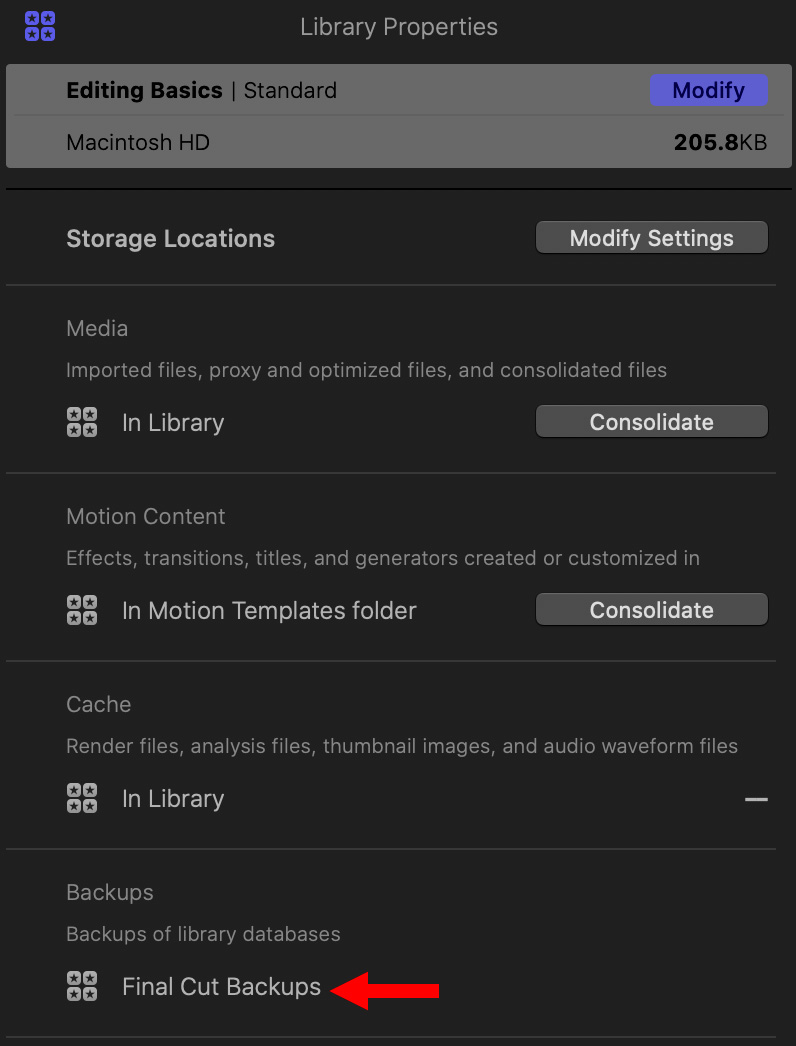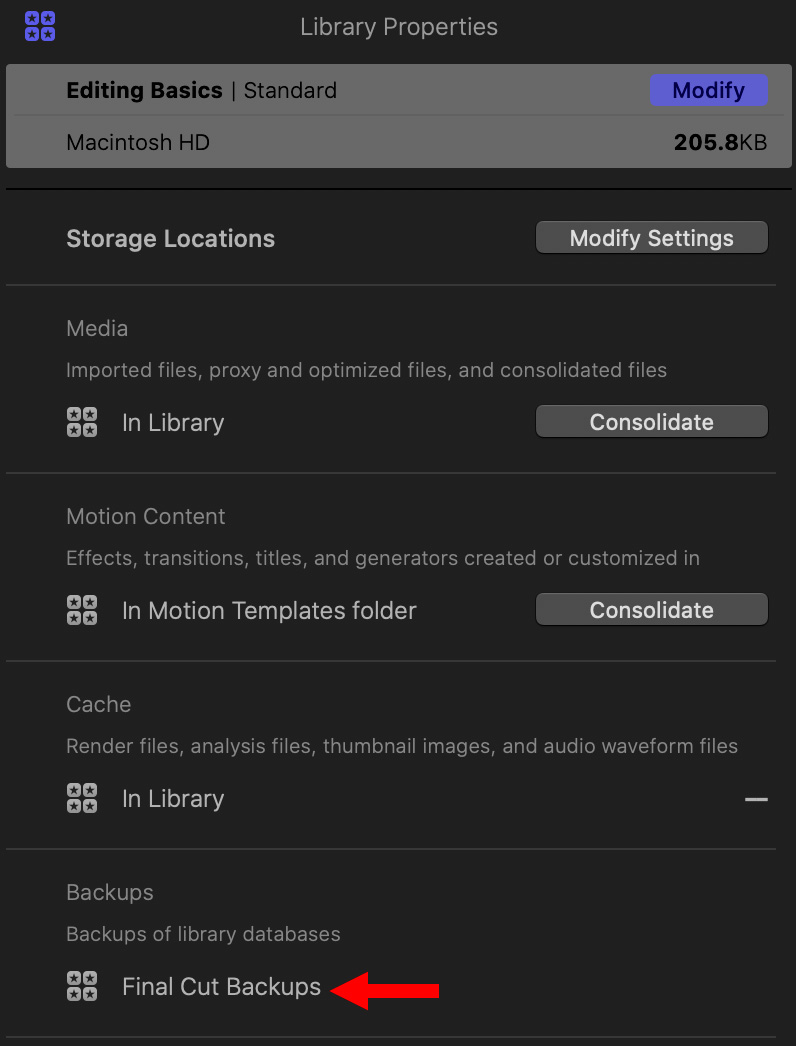 You can see where FCP X is storing your backups by selecting the Library in the Library List, on the extreme left side of the Browser, then go to the Inspector. The backup location is listed at the bottom.
ABOUT LIBRARY BACKUPS
There are three databases that FCP works with at all times to keep track of your project and everything in it:
A master Library database
A database for each Event
A database for each Project
NEVER mess with these databases. They are all stored inside the Library bundle. Don't move them, don't rename them, don't copy them. Don't do nothin'. These databases are happiest when you leave them alone!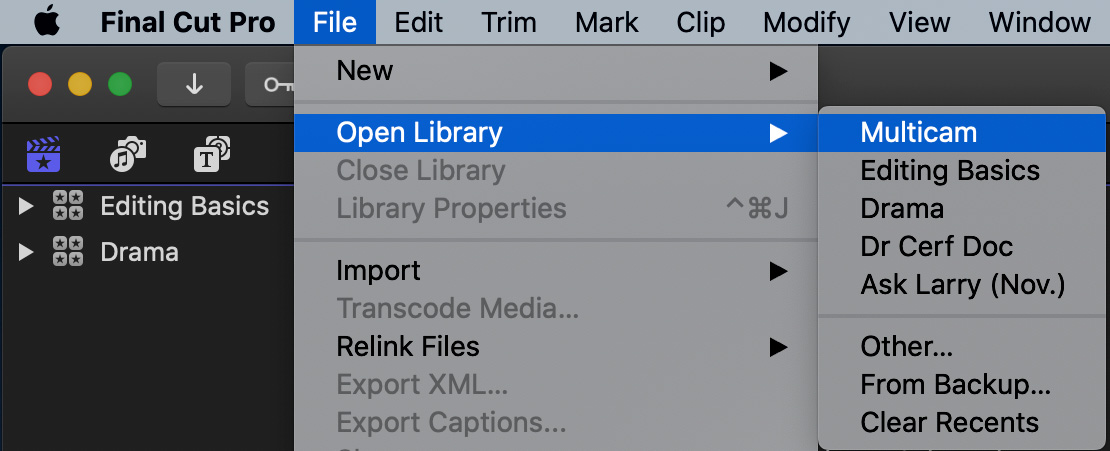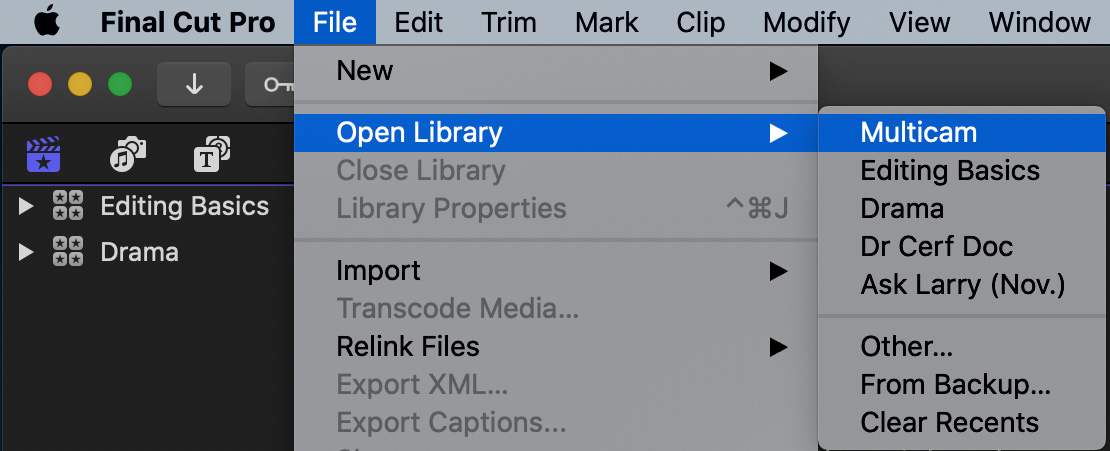 Normally, when we want to open a new Library, we either double-click it from the Finder or, as illustrated here, open the Library using File > Open Library > [name of library]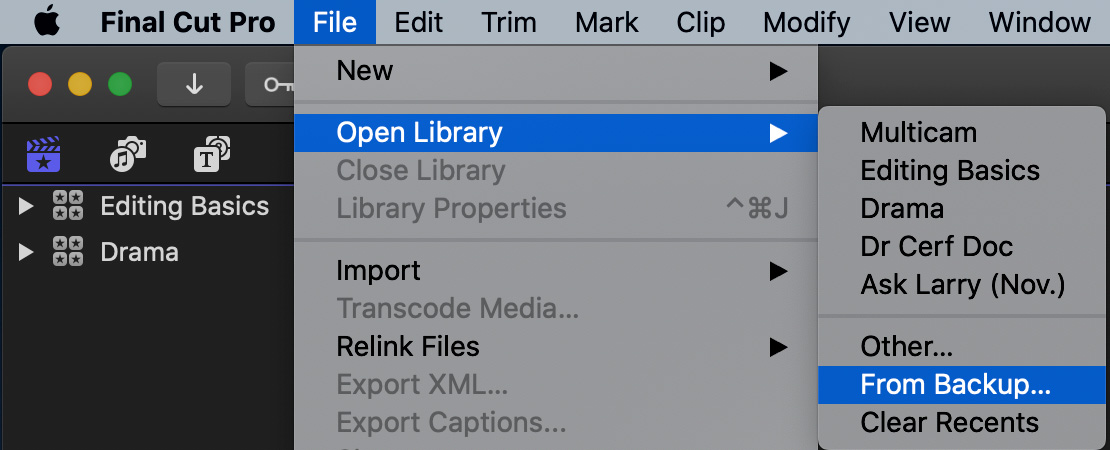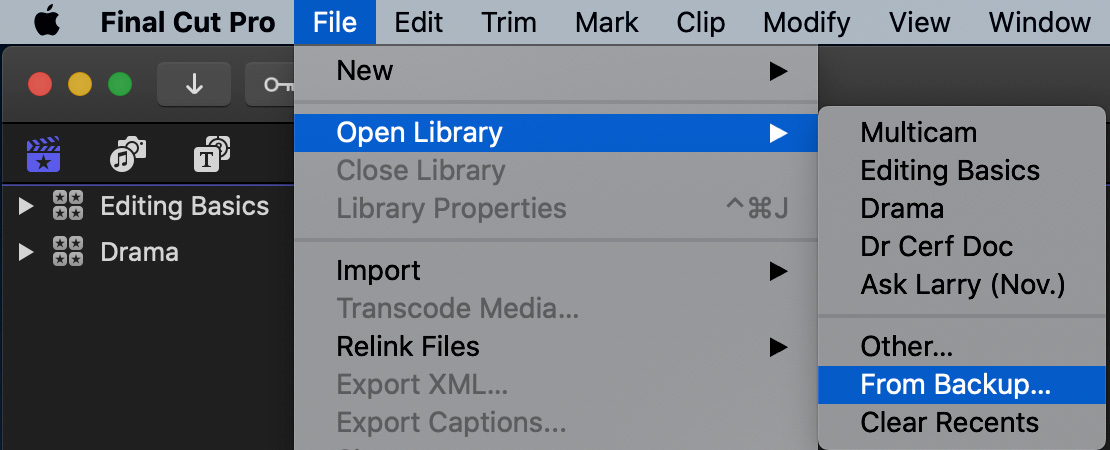 However, farther down that same menu is another option: File > Open Library > From Backup." Backups are libraries which are created automatically by Final Cut every 15 minutes when you are changing a project.
NOTE: If a project doesn't change since the last backup was made, FCP does not create a new backup. I don't know of any way to force Final Cut to create a backup at a specific moment in time.
While you can always create a Project Snapshot to preserve an edit, that's not the same as a backup, which is a separate file. Snapshots are stored in the same library that holds the original project file.


Backup locations are determined using Library Properties. To access them:
Select the Library in the Library List – or – choose File > Library Properties – or – type Control + Cmd + J
In Inspector, click the Storage Locations > Modify Settings button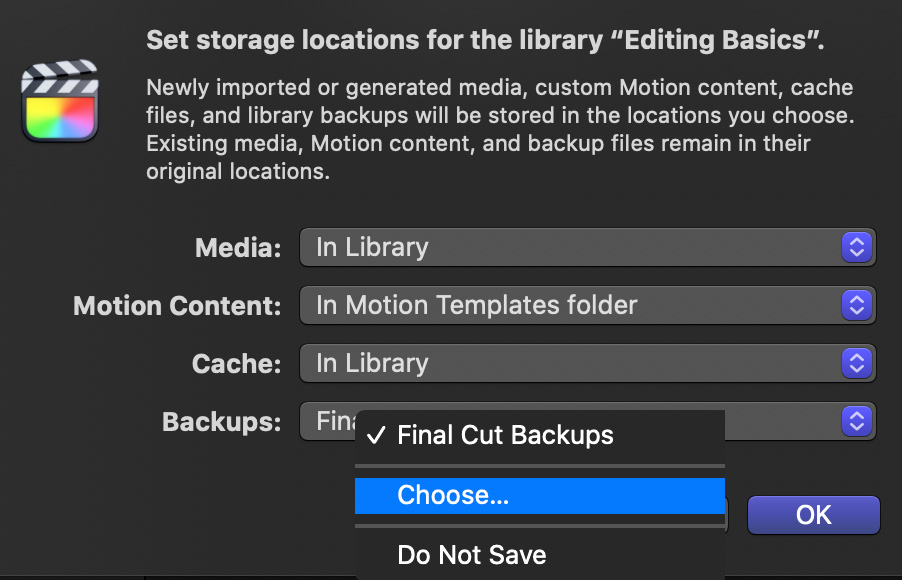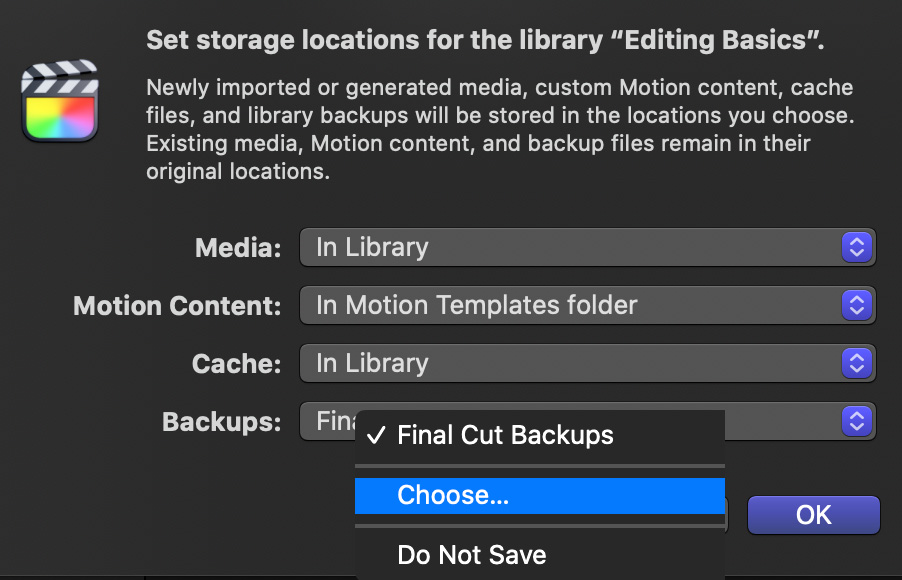 By default, backups are stored in: [ Home directory ] > Movies > Final Cut Pro Backups. While I generally advise against storing anything in the Home directory, Library databases are small and are never played in real-time.
However, a better rule on where to store Library backups is that backups should be stored on a different disk than the one you use to store project files. That way, if something disastrous happens to your main project storage, your backups will still be safe.
| Library | Project | Backup |
| --- | --- | --- |
| Effects | 55.41 GB | 2.7 MB |
| Doc | 2.26 GB | 2.5 MB |
| Drama | 4.41 GB | 7.3 MB |
This table illustrates a comparison of file sizes between Library backups and the Library file itself. (Most of my projects are small and your numbers will be different.) The reasons for the size differences are that:
Library backups don't include media
Library backups don't include render or other generated files
NOTE: You don't need to worry about backing-up generated media. If, for any reason, these get deleted, FCP X will quickly create new versions. For this reason, I don't backup or archive generated media.
MAKING A COMPLETE BACKUP
If you are the paranoid type – and who among us is not? – you can use the Finder, or any other copy utility, to make a backup of your entire library file at any time. Final Cut treats these copies as entirely separate libraries, which you open the same as any other file.
ACCESSING FCP X BACKUPS
To access a backup you have two options:
Double-click the backup file in the Finder
Access it from the File menu
If your main Library file is completely hosed, open a recent backup from the Finder.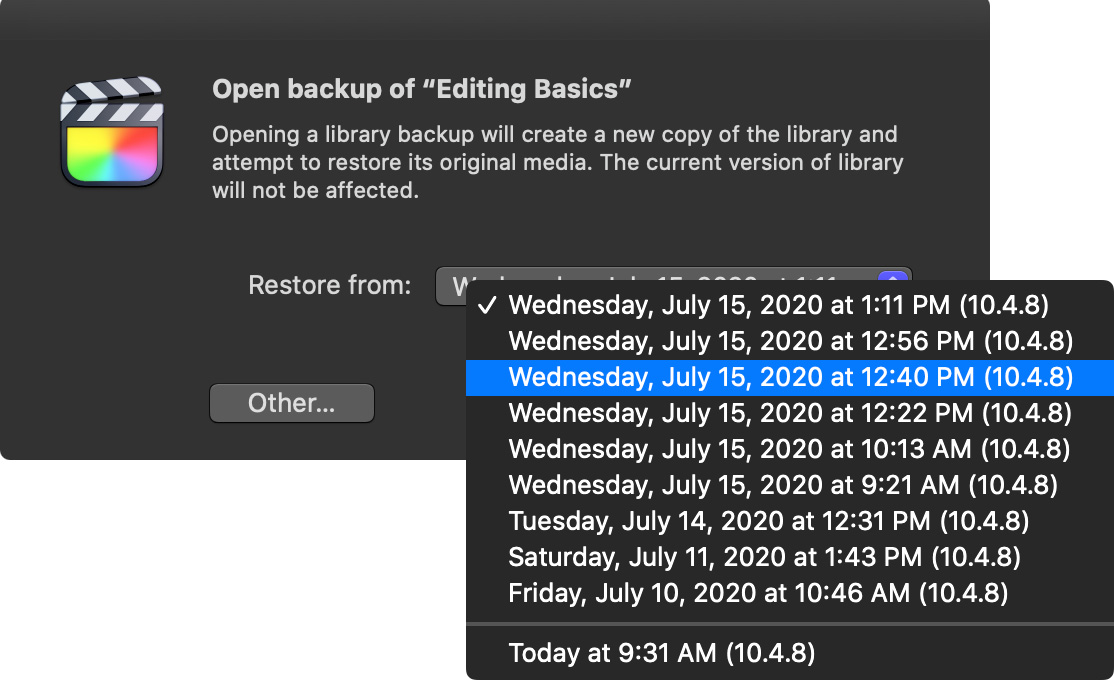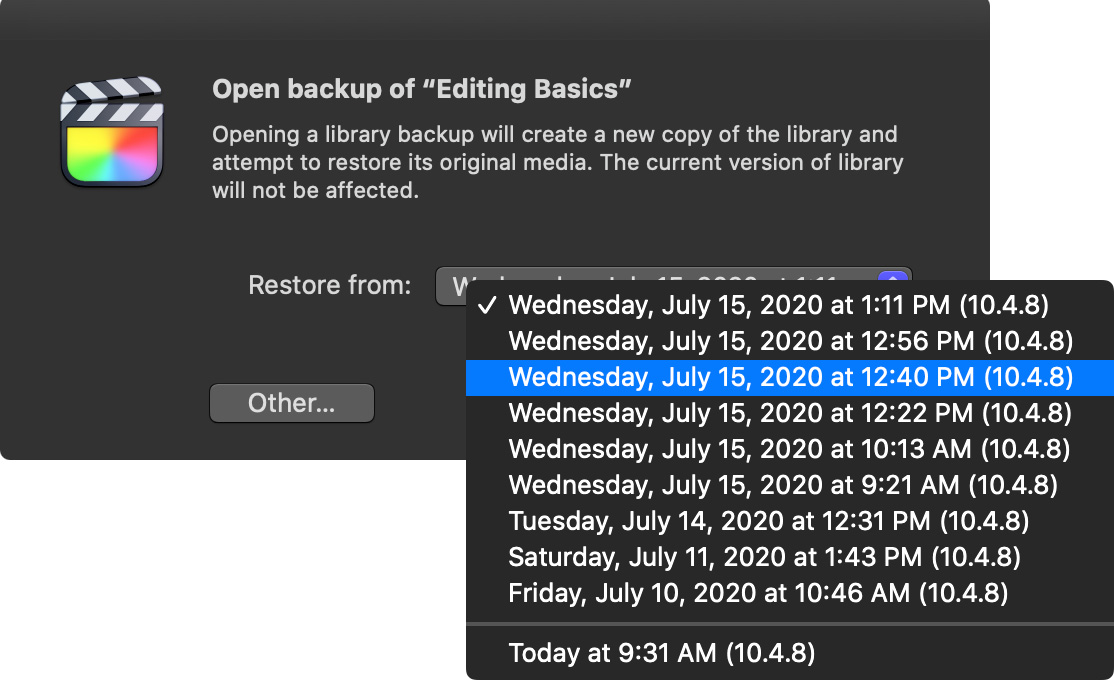 However, if the Library isn't corrupt:
Open it into Final Cut
Select the Library in the Library List
Go to File > Open Library > From Backup
Choose a recent backup in the Restore from menu
NOTE: If the original Library contains major errors, but you don't know when they occurred, you may need to go back several versions in the backups. The Restore from list displays when the backup was created and the version of Final Cut that created it.
When you open a backup library, your current library is NOT changed. Instead, Final Cut opens the backup as a second library, so you can compare between the two versions and decide what you want to do next.
NOTE: Remember backup files are created, at best, every 15 minutes when you are busy editing. So, if you need to restore to a backup, some of your more recent work will probably be lost.
The backup library is named using both the current library name and the date and time the backup library was created.
SAVING STORAGE SPACE
When you are done with a project, or if you need to save space, you can safely delete any related backup files. These are backups and are not needed for editing a project. Since a backup is NOT your finished project library, you can delete old backups that you no longer need.
Deleting a backup does not damage a library, nor the media it contains. It just gives you some space back. However, as a caution, it is a wise idea not to delete any backups for projects you are working on currently.
Oh, yeah! To delete a backup file or folder, simply drag it to the Trash.
SUMMARY
The backup files are actual libraries – without media – and saved to a different location and using a different name than your current library. Most of the time, you won't need to use these backup files. But, when you do, knowing how they work can decrease your stress and get you back to editing as quickly as possible.
---
Bookmark the
permalink
.