Final Cut Pro X: Fun With Generators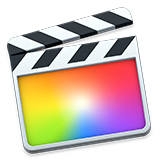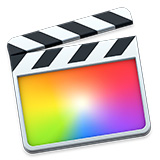 Generators, in Final Cut Pro X, are video elements which are created by Final Cut, rather than imported from other sources. Most are full-screen and can be scaled for frame sizes ranging from standard def up to 4K.
Some are really tacky, others are really useful. In this article, I want to highlight several of these and illustrate ways to use them.
NOTE: For this article, I'm using FCPX 10.4.6. Apple updates generators from time to time along with its software, so your list may be different.
FORWARD FULL-SCREEN AHEAD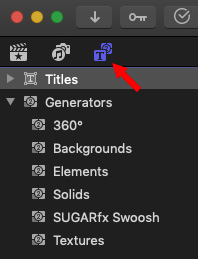 Generators are located in their own menu – third icon in from the top-left corner of the FCP X interface. They share space with Titles.
The Generators that ship with FCP X are grouped into five categories, as you can see from the screen shot above. (The SugarFX Swoosh are generators created by SugarFX, which are available separately.)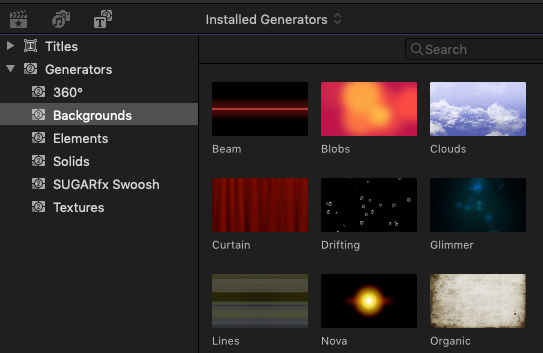 Background Generators are almost universally full-screen. They are designed to provide a background for info-graphics, compositing and anything else that catches your fancy. Most, but not all, are animated.
NOTE: My feedback to Apple is that we need more backgrounds that are darker, with slower animation and less detail. These would better support text graphics using white, or near-white, text. Most of Apple's backgrounds are way too light and far too busy.
You can't change the sort order or categorization of Generators; though it would be nice if you could. For me, the more interesting Generators are toward the bottom.
Adding a Generator to the timeline is the same as adding any other clip – though, truthfully, I tend to use these two keyboard shortcuts on a regular basis:
E – Edit the selected Generator, or clip, to the end of the timeline.
Q – Edit the selected Generator, or clip, to the top layer at the position of the playhead.

Every Generator is different, but once you've edited a Generator to the timeline, select it and click the left-most icon in the Inspector. This reveals a variety of display options such as color, shape, even the ability to convert a motion graphic into a still frame.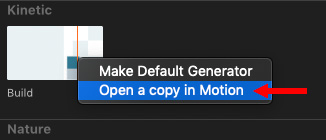 NOTE: All Generators are actually Motion projects. If you want to make major modifications, Control-click the Generator and choose "Open a copy in Motion." Whatever changes you make to the file in Motion will be reflected back to Final Cut when you save the file in Motion.
GENERATOR FILE MANAGEMENT
You can't rename or delete Generators that are suppled by Apple, they are protected and hidden. But you can delete any Generators you modify or create yourself.
You'll find them in:
[ User home directory ] > Movies > Motion Templates > Generators
IMPROVE THE LOOK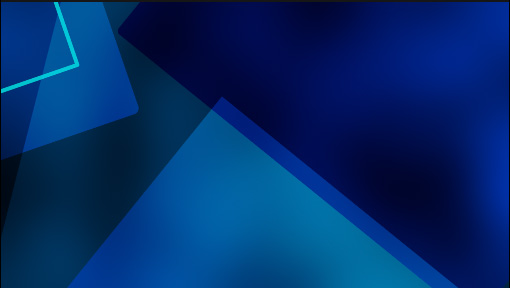 The problem with many computer-generated images is that they are too sharp, with too much detail. To mitigate this, try adding one of the following Blur category filters:
Focus. Set the Width to 50.
Radial. Set the Amount to 15 and change the X center.
Gaussian. This is my go-to effect. Set the Amount to 50.
STAND ON SOLID GROUND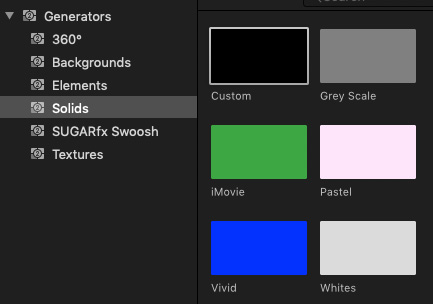 Thinking of full-screen, take a look at the Solids category. When I first saw these, I thought they were some of the lamest effects ever. And, while they won't win awards for creativity, they can be very useful.

For example, Custom allows you to create a full-screen solid color of any shade – just dial in the red, green and blue values you want. Even better, these colors can be keyframed to change over time.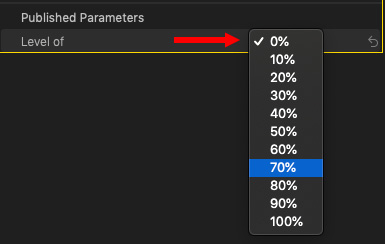 Grey Scale allows you to select shades of gray in 10% increments.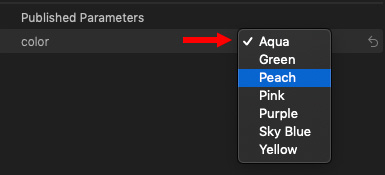 Pastel allows you to select between seven pastel shades. However, to make these more interesting, try adding all the following effects from the Effects Browser:
Add Noise. Set the Amount to 1
Pixelate. Set the Amount to 15
Vignette. leave at Defaults
Opacity. Set to 45% (This isn't an effect, it's located in the Video Inspector.)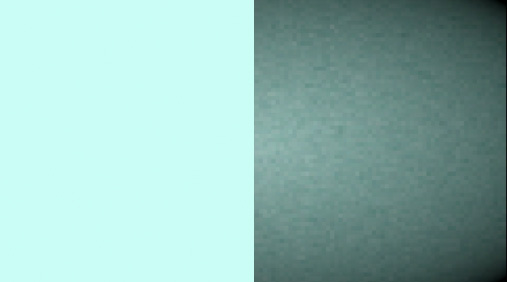 Here's a Before/After comparison. (Um, the After is on the right.)
TEXTURES ROCK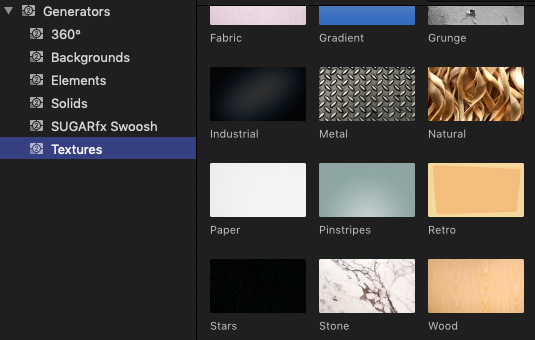 However, my favorite full-screen Generators are Textures.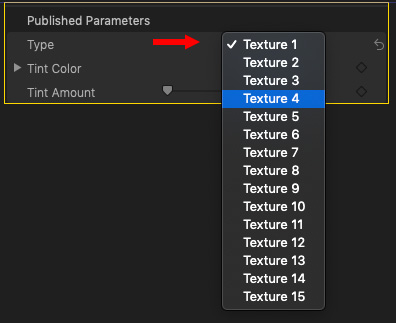 Every one of these images has multiple textures within each image. To find this menu, add a texture to the timeline then, again, click the top-left icon in the Inspector.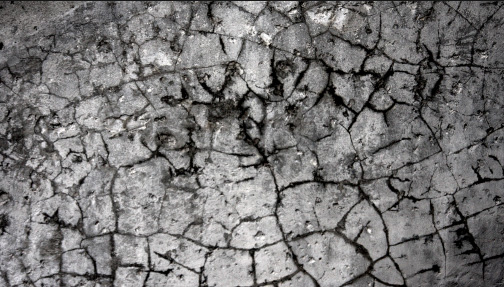 This is Grunge > Texture 8. You can apply any number of effects to this, but I most often blur these for full-screen info-graphics, to use them as a fill for text.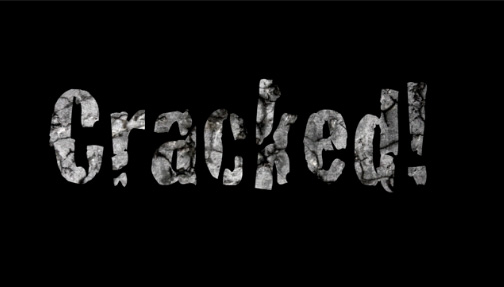 Here, the font is Cracked, with a Stencil Alpha blend mode applied to the text.
Be sure to take a look at the options in Stone and Wood. I've used these many times in training and actual projects.
BACK TO THE ELEMENTS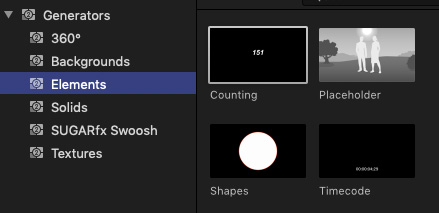 Elements are a variety of specialty shapes and, ah, stuff, that can solve specific problems.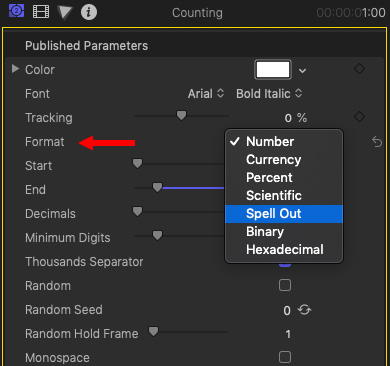 Counting is like the Count on Sesame Street. It counts stuff; as you can see from this popup menu.
The secret to Counting is that the speed of the count is dependent upon the duration of the clip combined with the start and end numbers. Using this secret allows you to have numbers change automatically every frame, second, or whatever period you need.
If you want to count UP, the Start number needs to be lower than the End. If you want to count DOWN, the End number needs to be lower than the Start.
You can also use Counting to generate random numbers or display numbers as words.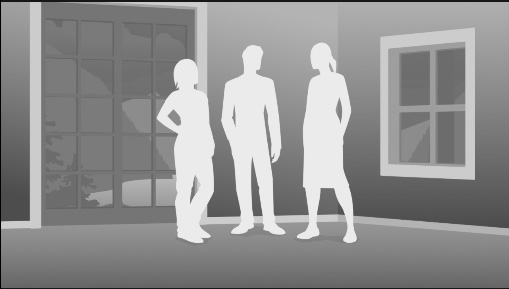 Placeholders allow you to create your own storyboards – except you can't change the position of the characters. It's often used to say: VFX shot goes here.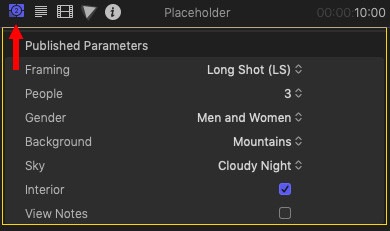 You can modify the look and contents of the Placeholder in the Inspector. There are multiple options to play with, including the ability to add text to the placeholder to explain details about the shot.
Timecode was part of the original release of FCP X. However, you have more flexibility using the Timecode effect in terms of format, labels and position.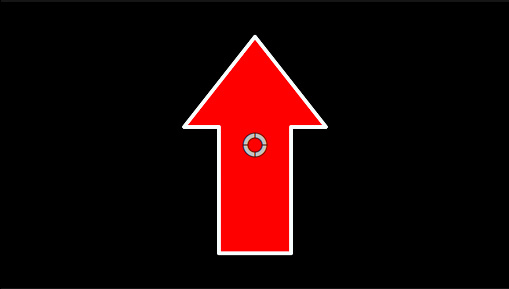 Shapes I use quite often, especially arrows. However, there's a trick to this as well.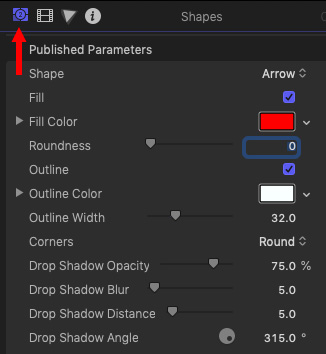 Format the shape using the Shapes Inspector.
NOTE: You can add a drop shadow directly in the Inspector.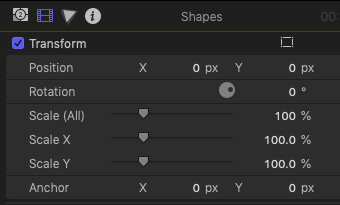 But you scale, rotate and, most importantly, position the shape using the Transform settings in the Video Inspector.
Even better, use keyframes in the Video Inspector to animate any of these shapes to resize, rotate, and reposition it during playback.
SUMMARY
Generators give us lots of different images to play with. But they really come into their own as we add effects from the Effects Browser or animation from the Video Inspector.
If you haven't played with Generators recently, take a look at what you can do with them. You'll discover all kinds of ways they can be useful in your next project.
---
Bookmark the
permalink
.