FCP X: Sharing Project Files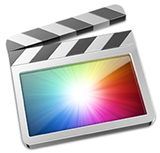 An email complaint that I get fairly frequently is that sharing FCP X projects between two editors is harder than FCP 7.
However, last week at the LAFCPUG User Group, Steve Martin of Ripple Training, presented a really cool workaround that was so good, I wanted to share it with you. (And, besides, I'm a long-time Steve fan, so it is nice to write this up.)
This process allows two – or more – editors to collaborate on the same project. However, only one editor can be working in the shared project at a time.
A COUPLE OF DEFINITIONS
In FCP X, Events are collections of media stored in a single folder named after the Event; and tracked via a database.
Projects are collections of edit decisions made to this media, which are also tracked in a database and stored in a single file in a folder named after the Project. There is one Project folder, and one Project database for each FCP X project.
GETTING READY
In order for two editors to work on the same project, they need to have the same Event media on both systems. Because media files are so large, these are almost impossible to share online. The best option is to duplicate the project and media to a separate hard drive, then ship the hard drive to the second editor.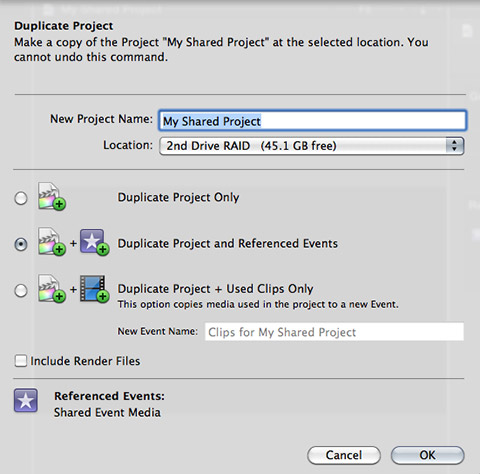 The easiest way to do this is using File > Duplicate project and Referenced Events in FCP X. The key point here is that you need to duplicate both the Project and the Event. This copies all necessary media and sets up the files and folders you need to be able to share the Project file.
NOTE: Duplicating Referenced Events duplicates all the media, which allows both editors to have access to the same files. Also, there is no need to duplicate Render Files – it is far easier to have FCP X re-render them.
HOW THIS WORKS
What you are doing is sending and replacing an FCP X project file between two different systems. Since the entire edit is contained in the project file, multiple editors can share the same project.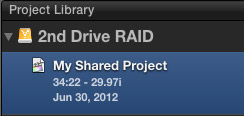 Editor 1 edits the project in FCP X until they are ready to share it with another editor. At which point, Editor 1 quits Final Cut Pro X.  (Quitting FCP X is an essential first step.)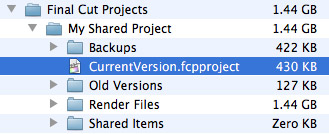 On the hard disk that stores the project file – named "2nd Drive RAID" on my system – there's a folder called Final Cut Projects. This master folder stores all active FCP X projects.
Inside that master folder is a folder for each project – in this case, I'm looking for the folder containing the project I want to share. Again, in my example, this is called "My Shared Project."
Inside the project folder is a database file called "CurrentVersions.fcpproject. This is the file that needs to be sent to the other editor.
Note that, when compared to media, this database file is very small – 430 KB in my example.
IMPORTANT NOTE: DO NOT RENAME THIS FILE!
Using the file transfer system of your choice – Dropbox, for instance – send this file to the second editor. (Be careful sending this via email, which tends to corrupt files. FTP or Dropbox will be better. Test this before working with live projects.)
INSTALLING THE FILE
On the second system, quit FCP X before replacing the database file.
When Editor 2 gets the database file, be very careful to put the new version into the correct project folder – the one named after the project itself.
NOTE: Because the database file is given the same name for every project, be very careful to put the database into the correct folder – otherwise, you'll accidentally erase the wrong project.

The Finder will ask if you want to replace the old file with the new file. Click Replace.
At this point, Editor 2 can start revising the project. When they are done, they send it back the same way described above.
SUMMARY
You can send files back and forth as many times as you want. The key to remember is that only one editor can work in the file at a time. Once you've sent the file, don't make any changes to it, until you get it back, because your changes will be lost.
Although this may seem cumbersome, the actual process, once you've done it, is very fast; taking just a few seconds to find and install.
The example Steve showed was one editor editing and the other editor creating titles and effects. After seeing this demo, I totally changed my opinion on sharing files – it isn't that hard at all.
A FEW NOTES
Never send render files – they are too big. Instead allow time to re-render each time the file is exchanged.
This process does not update any new media that's captured on one system. You have to handle media separately.
Thanks, Steve!
---
Bookmark the
permalink
.