FCP X: Select Multiple Ranges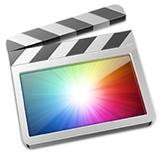 [ There are more than twenty significant new features in the 10.0.6 update to Final Cut Pro X. This article looks at one of them. Check out our latest training covering the Final Cut Pro X 10.0.6 update here ]
One of new features in Final Cut Pro X that drove me the most nuts was the inability of any clip to remember the In or Out when you clicked to another clip.
This made comparing clips really, really difficult. (Yes, I know, you could set favorites and keywords and all sorts of other shenanigans, but all that was really necessary was for the clip to remember the In and the Out.)
Now, they do. In fact, Apple took this one step farther, which provides even more benefits, as you'll see in a minute.
HOW IT WORKS
Brace yourself.
Select a clip in the Event Browser. Set an In. Set an Out. Click anywhere else. Click back to the first clip.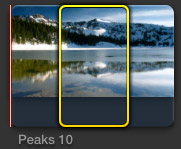 Ta-DAH!!!
The In and Out are still there! Whew… Even better, these selected ranges remain until you get rid of them.
NOTE: You can not set multiple ranges in the Timeline.
BUT WAIT, THERE'S MORE…
This ability to set, and retain, ranges exists in the Event Browser and the Import window. However, we can now:
Set multiple ranges in the same clip
Set multiple clips each with a combination of one or more ranges
Import multiple ranges from multiple clips at the same time
SETTING MULTIPLE RANGES IN THE SAME CLIP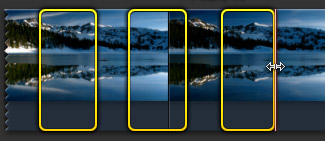 To set multiple ranges in the same clip – this is especially useful when importing multiple portions of the same source clip – press Command while dragging to select a range within a clip.
Each time you drag, you create a new selection range.  (There were initial reports that Apple included keyboard shortcuts for this function, but they do not seem to be in the released version.)
NOTE: If you edit the selected ranges into the Timeline, they will be placed in the Timeline in the order you selected each range; not in Timecode order. Cool.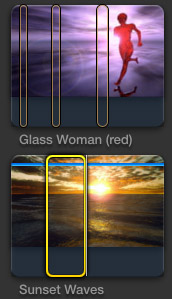 Notice here, the top clip still retains its three selected ranges, while the bottom clip has a single selected range. However, only the currently selected clip will edit to the Timeline. In other words, you can have lots of ranges set, but only the selected clip's ranges edit to the Timeline.
DELETING SELECTED RANGES
Apple removed the keyboard shortcut that deletes individual ranges – it used to be Option+X. So, to delete all selections: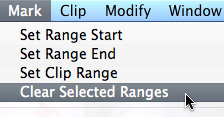 Select the clips from which you want to delete the selections and choose Mark > Clear Selected Ranges. You can use this menu to remove ranges from a single selected clip, or a group of selected clips in the Event Browser.
EXTRA BONUS VALUE
This ability to select multiple ranges within a clip is especially useful when importing. Now, we can select multiple ranges within a single clip, or multiple clips each containing a range. Prior to the 10.0.6 update, we could only import one range at a time. Which made importing portions of multiple clips really tedious.
Here's the secret you need to know to make this work:
Set all your ranges
Press Command+A to select all the clips you want to import
Click Import All
I'll write more about importing shortly, when I write up all the new changes Apple made to the Import process.
NOTE: You can't set ranges when importing from the Finder, or from some DSLR cameras using PTP protocol.
---
Bookmark the
permalink
.