FCP X: Understanding Optical Flow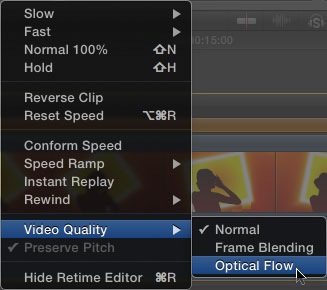 Optical flow, and it's less sophisticated cousin, Frame Blending, are techniques that Final Cut Pro X uses to smooth playback of extremely slow-motion clips.
The problem with slow-motion created using software (as opposed to that shot by the camera) is that the slower the video plays back, the more jerky the images appear. This is caused by not having enough frames to smooth out the movement. For normal or fast video, this isn't a problem. But for clips running at 20% of normal speed, or less, it's a big problem.
This week's online training (#59 – Changing Clip Speed in FCP X) shows how to create speed changes in Final Cut Pro X. The video below is an excerpt from this webinar and illustrates what optical flow is, when to use it, and how to apply it.
NOTE: This is an excerpt from a recent webinar entitled: Changing Clip Speed in Final Cut Pro X. You can buy the complete webinar now and download it from our store or, for only $5.00 more, get all my training in my new subscription membership.
NOTE: Be sure to view the video at full screen so you can see the subtle changes that frame blending and optical flow add to the playback.
---
Bookmark the
permalink
.