FCP X: Modify Shortcuts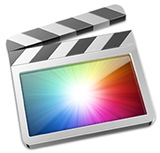 Recently, I wanted to change the key assignments on two keyboard shortcuts inside Final Cut Pro X – and I discovered it was trickier than I was expecting, which is why I decided to write this article.
It seems that I am completely unable to remember that Shift+Command+I is the Import Files command. I keep typing Command-I, which opens the Import from Camera window.
Sigh… Drives me nuts.
So, I decided I would swap the two shortcuts. However, I discovered that that you can't change an existing shortcut.
So, here's the process:
Select Final Cut Pro > Preferences > Commands to open the Keyboard Shortcuts window.

In the top right search box, I entered "Import" so that only keyboard shortcuts related to importing would be displayed in the Command list at the bottom. (This search box is really helpful in finding relevant shortcuts in a hurry.)

The Command list displays six menu choices that contain the word "Import," two of which have keyboard shortcuts assigned to them.
We can highlight any of these shortcuts by clicking the Command in the list. But, once selected, the keys assigned to a shortcut can't be changed.
So, what we need to do is create a new shortcut with the appropriate keys, then delete the old shortcut. The easiest way to do this is to select the Command and type the key combination you want to assign to the new version.
In this case, I selected "Import Files…" in the Command list and pressed Command+I.

A warning message pops up warning me that the keyboard shortcut is assigned somewhere else and asking me what I want to do.
Because I want to reassign the shortcut keys, I clicked "Reassign."

I now have a duplicate of the Import Files command – one with the old shortcut and one with the new.
I repeated this process with the Import from Camera command.
Now, I have at least one duplicated keyboard shortcut. (In point of fact, I had about six as I was figuring this out.)

Here's the key part (sorry, ignore the pun): in order to delete unwanted shortcuts you need to be sure that none of the modifier buttons at the top – Command, Shift, Option, or Control – are selected (dark). Click a text button to make it inactive. The buttons illustrated above are all inactive.

Once the upper buttons are all disabled, select the shortcut you want to delete in the Command list and press the big Delete key.

At which point, create a new Custom Command Set by clicking the Duplicate command in the upper right popup menu, assign the new Set a name (I used "Larry's Shortcuts") and click OK.

Then, save your work by closing the Keyboard shortcut window.
Done.
---
Bookmark the
permalink
.