FCP X: The Case of the Missing Preference
With the release of FCP X: 10.0.3, Apple made a subtle change to both transitions and preferences. I covered this in my New Features video training, but haven't written about it.
First, some background. In order for any transition – other than a cut – to occur, we need to have some overlap between the out-going clip and the in-coming clip. This is because for any transition, other than a cut, we see both clips for the duration of the transition.
This additional media is called a "handle" — extra media before the In and after the Out. If you don't have handles, you can't do a transition because there's no overlap between the two clips.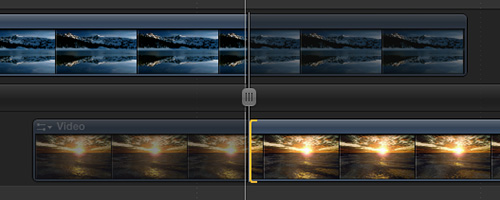 Here, for instance, the Precision Editor shows the extra video after the Out (top row) and before the In (bottom row).

In earlier versions, there were two preference options in Edit Preferences covering how transitions were handled:
Full Overlap
Available Media
These preferences determined what Final Cut would do if there were not sufficient handles at the edit point where you wanted to apply a transition.
If Available Media was selected and there were more than 4 frames of video overlap at the edit point, FCP would apply the transition but limit the duration of the transition to the amount of available overlap. If there weren't at least 4 frames of overlap, no transition would be applied. This was the traditional way that virtually all video editing systems handled transitions and handles.
The new option was Full Overlap. What this did was pull up, or shift to the left, all downstream clips starting at the edit point by the exact duration of the transition. This guaranteed that any transition could be applied by creating all necessary handles.
However, there were two problems with this: First, clips would shift position even if you had sufficient handles at the edit point for the transition. And, in shifting, the timing of the in-coming clip would get messed up.
Sigh… Confusion reigned.
THE SOLUTION

With the 10.0.3 update, that preference disappeared. FCP X now defaults to Available Media – the traditional way of handling transitions and handles.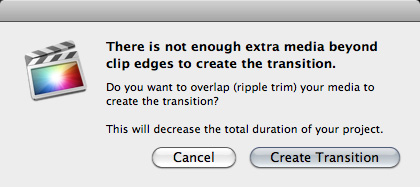 BUT, if you attempt to apply a transition to an edit point in the Timeline that doesn't have enough handles, this dialog appears.
If you say "Cancel," no transition is applied.
If you say "Overlap," all downstream clips shift left to provide handles for the full duration of the transition.
The preference may be gone, but the ability to invent handles out of thin air still remains. The cool part is that now, we can select what to do on a case-by-case basis without worrying about how our preferences are set.
---
Bookmark the
permalink
.