FCP X: Match Audio Between Clips
Final Cut Pro X provides a very easy way to match audio between clips. This is useful when you have recorded the same talent on different days using different mics. Getting the audio to sound consistent between different recordings on different days is often challenging because, many times, the same microphone can't be used; or the mic position, actor's costume, or vocal intensity changes.
This feature does not match LEVELS, it matches sound QUALITY, often referred to as EQ, or equalization. Fortunately, FCP X makes this matching process fast and easy. Here's how it works.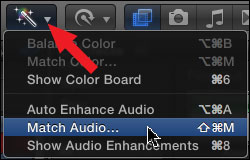 Last week, I wrote about how we can use the Audio Enhancements menu to fix audio  problems. However, this menu has other enhancement options, and the one I want to talk about now is Match Audio.
Let's say you have two different clips with audio quality that doesn't match. Before you do anything else, set the audio volume levels on both clips so the audio volume, indicated by the audio meters, essentially matches. The Match Audio technique affects audio quality, not volume levels.
NOTE: The easiest way to adjust audio levels is to drag the black horizontal line in the audio waveform of a clip up or down until the levels between the two clips matches reasonably closely.
Select the clip with the bad audio, choose the Match Audio option in the enhancement menu (or type Shift+Command+M).

Click the clip with the audio quality you like, then click the blue Apply Match button in the lower right corner of the Viewer. Provided the audio levels are similar, the sound quality of the two audio clips should match as well.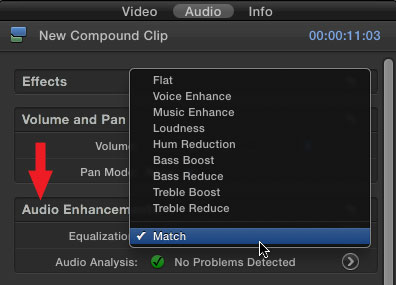 If you need to make changes, or remove this effect, you can do so in the Audio tab of the Inspector. Select the clip, go to the Inspector, and click the Audio tab.
Under Audio Enhancements > Equalization, reset this from Match to Flat. This removes any audio match effect added to a clip.
Audio matching can solve a very difficult problem very quickly.
---
Bookmark the
permalink
.