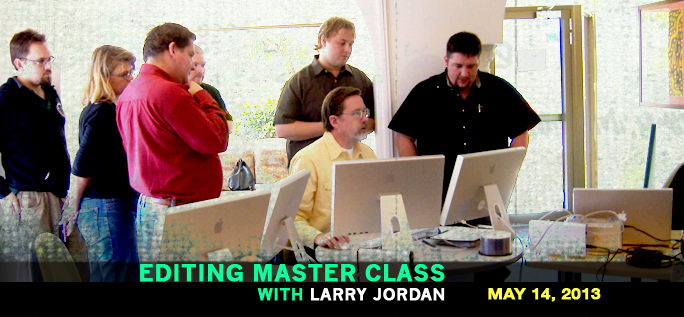 Editing Master Class — May 14, 2013.
Need an objective critique of your project?
Looking to improve your editing skills?
Stuck for ideas on where to take your project from here?
Looking for better ways to tell stories with video?
The idea of this Editing Master Class is to give you ideas to improve your editing and story-telling, not simply learn new technology.  What's working, what isn't. Bring your media and your projects, and show Larry what you've got. He will give you ideas on how to make it better. This is not a lecture, this is a group discussion looking at the media and projects you are working on now.
Whether you use Final Cut, Premiere, or Avid, this class will help you improve your story-telling.
Join Larry Jordan for an Editing Master Class.
May 14, 2013
Sheraton Hotel in Thousand Oaks, CA
Easily accessible from both L.A. International Airport and Burbank Airports
8:30 am to 5:30pm PST
Lunch with Larry included.
---
— If the event is sold out, contact us, we are creating a wait list —
---
BENEFITS:
Class size limited to 14 people – get personal, one-on-one attention from Larry and other class members
The price is right – learn without going broke
Work with your media and projects – apply everything you learn to your own work
You bring your computer and your projects, we'll supply tables, power, ideas, suggestions… and lunch. Plus, there's plenty of time to ask Larry questions.
SPECIAL BENEFIT: Lunch is on-site, with the group. Spend it sharing ideas and technology with Larry and class members.
---
Presented at:
30100 Agoura Rd Agoura Hills, CA 91301

(818) 707-1220
---
— If the event is sold out, contact us, we are creating a wait list —
---
BIG NOTE: This is a classroom setting. This means that if you are working on a confidential project, others in the class are going to see it.
---
About Larry Jordan
Larry Jordan is one of the most respected names in training in the world. Long known for his knowledge of Final Cut Pro X, he is an internationally-renowned consultant and Apple-Certified trainer with over 35 years experience as a television producer, director and editor with national broadcast and corporate credits. His informative and entertaining teaching style provides video and film editors around the world with unique editing techniques, methods and resources to increase productivity and enhance their skills. Jordan is on the faculty at both USC and Video Symphony.
Visit his website here.
---
Larry's 100% Guarantee
"I've taught a lot of classes, for a wide variety of students. I'm so confident you'll learn more than you ever expected at one of my seminars that I guarantee it!
"If you take one of my seminars and feel it wasn't worth your time, let me know and I'll refund 100% of your registration fee. Guaranteed. It's that simple."
---
Questions?
Any problems or concerns with registration? Contact us directly at: seminars@larryjordan.com or call: (818) 879-5105.
---
Refund Policy
Send cancellation requests to: seminars@larryjordan.com.
100% refund if you cancel 14 days or more before the event.
50% refund if you cancel 7 days or more before event.
No refund if you cancel less than 7 days before event.
If this seminar is canceled by us due to low attendance or Acts of God, you will receive a full refund. If Apple does not ship FCP X prior to this event, the event will be postponed.