FCP X: Delete/Add Custom Templates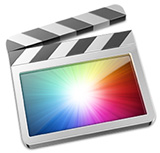 The effects engine behind Final Cut Pro X is Motion. Motion allows us to create custom effects, generators, transitions and titles.
While I don't, generally, use Motion to create custom effects, I do use it a lot to create custom titles. Which is great until I need to delete them – or move them to a different computer.
Explaining how to do this is what this Final Cut Pro X training article is about.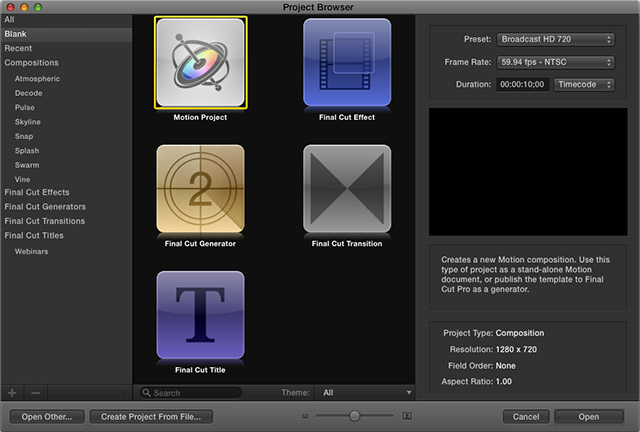 When you first create a project in Motion, this opening screen asks you to choose the type of Motion project to create. This choice does two things, one obvious and one hidden.
The obvious is to configure Motion. However, under the hood, this also tells Motion to ask for Theme and Category information during the save, store the file in a specific place, and notify Final Cut Pro X that a new effect exists.
NOTE: To learn how to create Motion projects for Final Cut Pro X, check out this video training.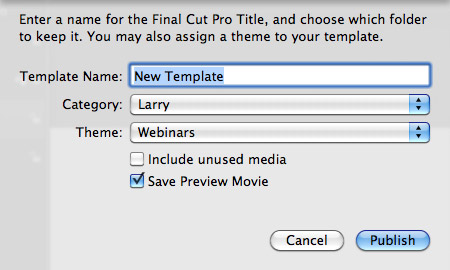 When you save your Motion project, you are prompted to add Themes and Categories so that Final Cut can organize your effects properly. Adding a Theme or Category creates special folders within which your effects projects are stored. What this means is that it is very easy to find, move, or delete any of your custom Motion projects.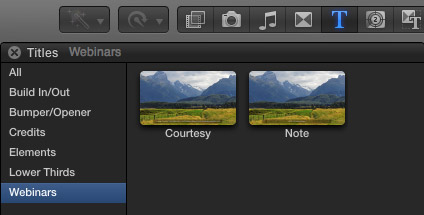 For instance, here in the Titles Browser for Final Cut Pro X, are two custom title effects that I created. Both are in a Theme called "Larry" and a Category called "Webinars" — "Courtesy" and "Note." (I use both of these in editing my weekly webinars to provide on-screen comments.)
WHERE CUSTOM EFFECTS ARE STORED
All custom Motion projects that need to be accessed by FCP X are stored in the Home directory of the computer that created them.
To open the Home Directory, either choose Home from the Go menu, or, my preference, is to type Shift+Command+H.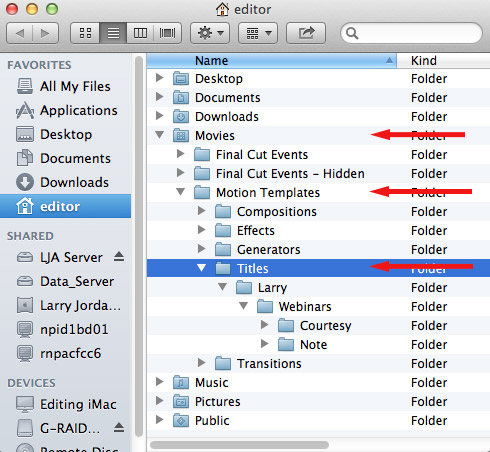 The Home directory opens.
Locate the Movies folder and open it. Inside is a folder called "Motion Templates."
Inside it, open Motion Templates. Inside it are folders for each of the Motion templates: Compositions, Effects, Generators, Titles, and Transitions.
Open the Titles folder. Inside that you'll see a folder for each Theme ("Larry"). Inside that is a folder for each Category ("Webinars"). Inside that is a folder for each title.
Inside each title folder are all the elements needed for each effect. I strongly recommend not touching anything inside this project folder.
DELETE AN EFFECT
To delete a custom effect, first Quit Final Cut. This is essential, because otherwise FCP X will get confused and, potentially, unstable.
Then, drag the effect folder you don't want to the Trash.
When you restart Final Cut, it will only look inside the Movies folder for effects. Anything stored in the Trash will be ignored.
NOTE: You can also use this technique to temporarily remove a custom effect. Simply move the effects folder out of the Movies folder and store it somewhere else. When you need the effect again, drag it back into its original location in the Movies folder. (Remember to always quit FCP X before moving any folders.)
SHARING A CUSTOM MOTION EFFECT
Just as with deleting an effect, when sharing effects between computers, be sure to first quit Final Cut Pro X to prevent any problems.
To copy effects that you created from one computer to another, drag the folder with the effect you want from your Movies folder to the Movies folder of the computer.
NOTE: If you plan to email the effect, be sure to compress (ZIP) it first.
When you restart Final Cut, it automatically finds any effects stored in the Movies folder.
Done.
---
Bookmark the
permalink
.