FCP X: Better Slow Motion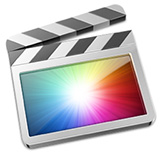 You can change the speed of a clip using the Retiming menu. (Here's an article on creating variable speed changes in a clip.)
However, the problem with making speed changes using software is that the image quality is artificial. To speed a clip up, the software drops frames. To slow a clip down, the software plays the same frame more than once.
NOTE: For instance, playing a clip at 10% speed means holding a frame of video for ten frames. This creates the illusion of slow-motion. It also looks like a bunch of very short still frames.
If you didn't plan while shooting to slow a clip, changing the speed in software is your only option. However, if you thought ahead and shot your video with slo-mo, or fast-motion, in mind, there is a very cool – and very easy – better option: Conforming.
DEFINITION
Conforming, in this case, means to play every frame that you shot, at the speed of your current Timeline.
As an example, if you shot an action sequence at 60 frames per second (fps), but play it back in a 30 fps timeline, your video would run at half speed (Timeline speed (30) / Clip speed (60) = 50% of original clip speed)
As a second example, if you shot video on a DSLR camera at 1 fps, but played it back at 30 fps, your video would look like a really high-quality time-lapse, running 30 times faster than real time.
THE PROBLEM
The problem is that, by default, FCP X assumes you want all video to run at "normal" speed, so it compensates for differences in frame rate by adding or removing frames automatically so that the speed of action in all Timeline clips matches.
CHECKING TIMELINE FRAME RATE
Here's the key point: In order to take advantage of this technique, you need to shoot your video at a frame rate OTHER THAN your Project's Timeline.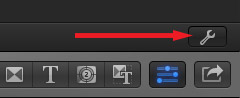 To find the speed of your Project, after you've edited a clip into it, type Command+J (or choose File > Project Properties). In the lower right corner of the Inspector, click the Wrench icon.

The speed of your Project is displayed in the Project Properties window as the Rate.
CHANGING THE TIMELINE FRAME RATE
Once you've edited at least one clip into the Timeline, you can't change the frame rate of the Timeline. Frame rate can only be changed when you first create a Project, or when the Timeline is empty.
So, a relatively easy way to change Timeline frame rate is:
Select all clips (Command+A) in the Timeline you want to change
Cut all clips to the clipboard (Command+X)
Edit a single clip with the frame rate you want into the Timeline. This "locks" the frame rate and prevents it from changing.
Paste all clips after that clip (Command+V)
Delete the clip you edited into the Timeline to set the frame rate
RESETTING THE FRAME RATE OF A CLIP
All that was a long preamble to a very simple process. Once you have the Timeline set at the rate you want, edit the clip you want to conform into the Timeline.
Select the clip.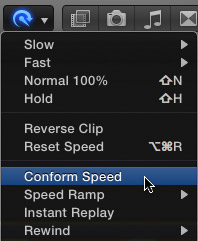 Go to the Retiming menu – it looks like a Smurf on a headset – and click Conform Speed. (You can also use Modify > Retime > Conform Speed.)
Done.
Once you start experimenting with over-cranking – creating slow motion by shooting more frames than your Timeline frame rate – or under-cranking – creating fast motion by shooting fewer frames than your Timeline frame rate – you'll never like the look of computer-driven slo-mo again.
---
Bookmark the
permalink
.