FCP X: Using Coremelt TrackX [Video]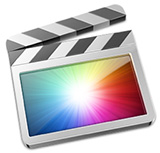 [This is an excerpt from our latest webinar: 3rd-Party Plug-ins for Final Cut Pro X, which you can download from our store. You can also access all our Final Cut Pro X training by becoming a subscriber.]
One of the best features in Final Cut Pro X isn't made by Apple — it's the vast collection of 3rd-party plug-ins and programs that support and extend Final Cut itself.
Recently, Lary Jordan showcased several new plug-ins for Final Cut. One of the more amazing is TrackX, by CoreMelt. (CoreMelt is a long-time developer of effects plug-ins for Final Cut, Motion, Adobe Premiere Pro and Adobe After Effects.)
In this demo, see how you can use TrackX to motion track an object in Final Cut Pro X without using tracking markers or prepping the background. Then, watch as Larry shows you how to insert one video clip into another video clip, then track the movement.
---
CoreMelt TrackX
TRT: 8:39 — MPEG-4 HD movie
NOTE: This video may not play inside FireFox, please use a different browser.
Visit our website to see Final Cut Pro Training & more!
---
Bookmark the
permalink
.