FCP X: Use the Broadcast Safe Filter Safely [Video]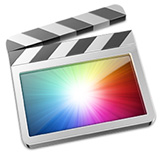 [This is an excerpt from a recent on-line video training: Advanced Color Correction in Final Cut Pro X, which you can download from our store. You can also access all our training when you become a Video Training Library subscriber.]
The Broadcast Safe filter – in the Effects Browser – prevents white levels from exceeding safe parameters when sending programs to broadcast, cable or DVD. The problem is that when you apply it like any other effect, the protection you expect doesn't work.
In this short video tutorial, Larry Jordan explains what the Broadcast Safe filter does, how to apply it and how to determine if it is working. He also explains when to use the Broadcast Safe filter and when to adjust gray-scale levels using the Color Board.
---
Demo: Applying the Broadcast Safe Filter
TRT: 5:19 — MPEG-4 HD movie
NOTE: This video may not play inside FireFox, if so, please use a different browser.
Our website offers lots more video training in our store.
---
Bookmark the
permalink
.