FCP X: Test an Effect FAST!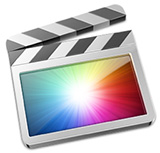 Here are two very fast ways to test the look of an effect in Final Cut Pro X without first applying it to a clip in the Timeline.
METHOD 1
Hover your cursor over the effect you are considering in the Effects Browser. After waiting a few seconds for the effect to load, you'll see what the effect looks like when applied to the currently selected clip, WITHOUT actually applying it to the clip.
This is a very nice way to check out how an effect looks.
METHOD 2
But… the double-secret way to test an effect is to press the Option key while hovering over the same effect in the Effects Browser. Now as you slowly drag from left to right, you'll see the principal setting for that effect slowly increase. This second method allows you to see whether adjusting the settings will improve the effect.
This second option works best for Blurs and Looks and doesn't work at all for some effects that have multiple controls, such as keying.
Still, this technique is always worth a try because previewing is faster than adding the effect to a clip then modifying it.
---
Bookmark the
permalink
.