FCP X: Slo-mo and Image Stabilization
FCP X: Slo-mo and Image Stabilization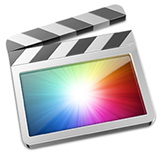 Rick Gennaro was wondering if a combination of optical flow slo-mo combined with image stabilization could salvage an otherwise very shaky clip.
So, he experimented. In the video below, he reduced the speed by 50% with optical flow selected, then applied image stabilization to the slo-mo clip using Final Cut Pro X.
In this first example, Rick slowed the clip first, then stabilized it.
NOTE: These videos may not play inside FireFox, please use a different browser.
NOTE: The bump in the middle of the tilt was in the master file.
In this second clip, he first stabilized it in Final Cut, then reduced the speed 50% with optical flow turned on.
Then, after making these changes, in this third clip he sped it back to 100% speed to see if the overall smoothness was retained.
Clearly, the final version is much smoother than the original, though web playback seems to add a small bit of jitter.
To me, it also seems that the order these two effects are applied makes a difference. The second clip, where the image is stabilized first, then slowed, seems smoother.
Thanks, Rick, for sharing your tests with us.
Visit our website to see Final Cut Pro Training & more!
---
Bookmark the
permalink
.