FCP X: Shape Masks for Color Effects
FCP X: Shape Masks for Color Effects
[This is an excerpt from a recent PowerUP webinar: Color Correct a Scene in Final Cut Pro X, which you can download from our store. You can also access all our webinars by becoming a subscriber.]
This short video tutorial illustrates how to create and modify shape masks in Final Cut Pro X to make color and exposure adjustments to a portion of the frame.
In this scene, the window and bookcase are too hot (white levels are too high), while the actress is too dark. We can't just make the whole scene brighter, we need to make adjustments to elements within the frame. (This is called making a "secondary color adjustment.")
In this video training on Final Cut Pro X, you'll learn how to create shape masks and use them to adjust exposure levels (gray-scale) on different visual elements of this clip.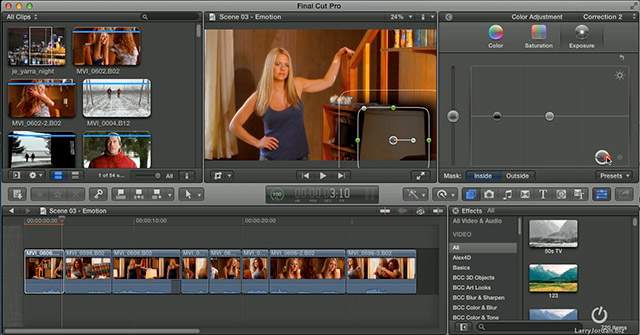 ---
FCP X: Shape Masks for Color Effects
TRT: 7:54 — QuickTime HD movie
NOTE: This video will not play inside FireFox, please use a different browser.
Visit our website to see Final Cut Pro Training & more!
---
Bookmark the
permalink
.