FCP X: Rename or Delete Custom Generators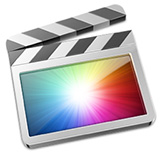 When you use Motion 5 to create new generators for Final Cut Pro X, they show up automatically in the Generator Browser of Final Cut. This is great, but Dave was wondering how to rename or delete these?
Great question!
While we can't delete generators, or any other effects supplied by Apple, we can delete custom generators, or other effects, that we created for ourselves.
However, the process isn't obvious, so here's how.
GET STARTED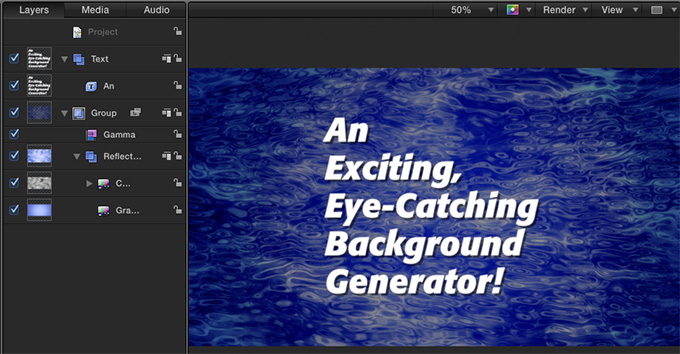 This first step isn't necessary, but to give me something to rename, I decided to create a custom generator first.  In Motion, I created a new project as an FCP X Generator. At which point, I created this effect. (I wish! Motion had more backgrounds that were dark.)
So, to make this background darker:
I selected the folder (group) containing the background and faded the opacity to 30% using the HUD.
I then added a Color Correction > Gamma filter to the group and adjusted it darker, as well.
Opacity darkens everything. Gamma darkens, or lightens, the mid-tone gray-scale values, which can make for a more vibrant image.
I then added the text, which can be changed in Final Cut, just because I could.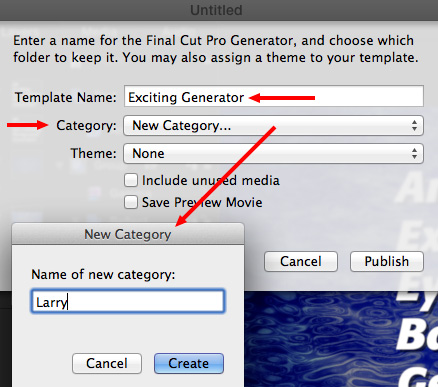 I saved the file and created a new category to put my custom generators in. Because I created this in Motion as an FCP X Generator, Motion saved it automatically in the right spot for Final Cut; the Generators Browser.
NOTE: There is no limit to the number of custom categories we can create.
IN FINAL CUT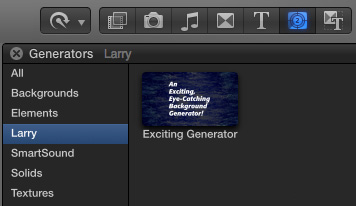 When we open Final Cut and check the Generators Browser, there's the file.

But, while right-clicking the generator and selecting Open in Motion will allow us to make changes to the file, it won't allow us to rename or delete the file.
To do that, we need to quit Final Cut Pro X.
NOTE: In many cases, renaming a generator does not require quitting Final Cut. But I've found that renaming and deleting is more reliable when Final Cut is not running.
RENAME A GENERATOR
After quitting Final Cut, go to the Finder. Type Cmd+H to open the Home directory.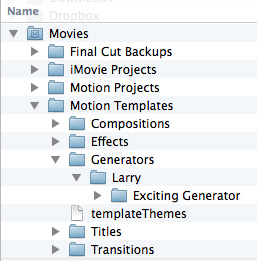 Open the Movies folder, then open Motion Templates > Generators.
Inside that folder, you'll find a folder for every category you created (in my example, this folder is called "Larry"). Inside the Category folder, you'll find a folder for each generator.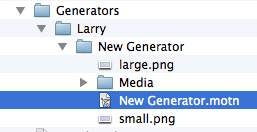 To rename the generator, rename BOTH the containing folder and the generator file itself; that's the file with a .motn extension.
NOTE: If you only rename the folder or the file, FCP won't be able to find them.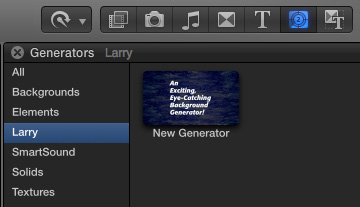 When you restart Final Cut, the generator displays the new name.
DELETING A GENERATOR
To delete a generator, again, quit FCP X.
Then, navigate to the [ Home Directory ] > Movies > Motion Templates > Generators and delete the folder containing the generator you want to remove.
In my example, I would delete the folder originally named "Exciting Generator."
Done.
EXTRA CREDIT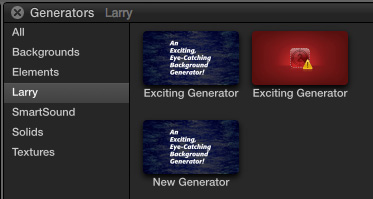 If you end up with multiple generators in Final Cut, its because you forgot to quit the application before renaming or deleting the generator. Quit Final Cut, then, when you restart, the Generators Browser will reset with the correct files and names.
---
Bookmark the
permalink
.