FCP X: Remove Saved Custom Text Styles and Formats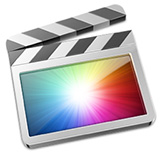 [ Updated with new info regarding FCP X 10.3.]
Final Cut Pro X provides the ability to save text formats and styles. (Though this option tends to be "hidden in plain sight.")
While we can't remove styles supplied by Apple, we can remove custom settings, as this article explains.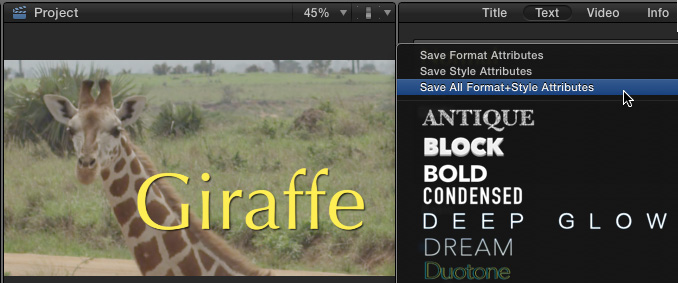 Here, for example, I've created a title for my latest documentary on Giraffe's. (OK, so my project only has one shot, but it makes a great-looking title.)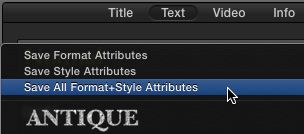 Because I want to reuse this text style multiple times in my project, I'm saving both Format and Style attributes.
Format saves everything in the Basic text setting of the Text panel in the Inspector.
Style saves everything in the Text panel, except what's in the Basic text setting.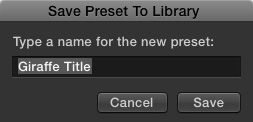 In this dialog, give the Style a name so you know what it is. I'm picking something obvious.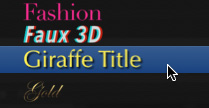 Final Cut saves the setting, then displays it, in alphabetical order, in the Styles list.
REMOVING THE STYLE
Quit Final Cut.
NOTE: Deleting items that appear in Final Cut menus is always done most reliably by first quitting Final Cut.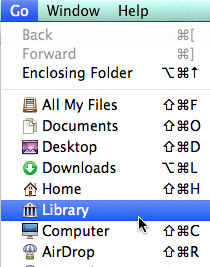 Make the Finder active. Then, press the Option key when opening the Go menu. Select Library.
NOTE: The Library option only appears when the Option key is pressed while accessing the Go menu.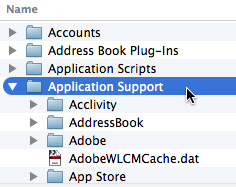 In the Library, twirl open Application Support.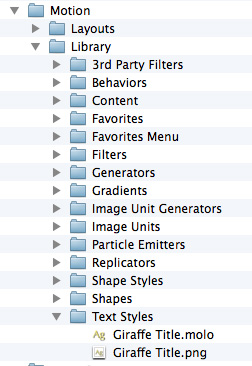 Scroll down till you find the Motion folder. Then, open Motion > Library > Text Styles.
Delete both the .molo and .png files of the text style you want to remove.
When you restart Final Cut, the option will be removed from the Style menu.
UPDATE – Nov. 15, 2016

With the release of FCP X 10.3, creating text styles now creates three files, rather than two, in the Motion > Library > Text Styles folder. Also, with the initial release of 10.3, as a reader points out below, deleting these styles does not remove the Style name from the Style menu.
EXTRA CREDIT
Deleting a style from the style menu does not delete any styles applied to clips in the Timeline. Styles are presets, once applied, they are disconnected from the text.
---
Bookmark the
permalink
.