FCP X: Remove Audio Hum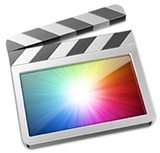 Final Cut Pro X has two built-in tools that allow you to remove low-frequency hum from your audio.
Most commonly, this is caused by mic cords getting too close to electrical cords or improperly shielded electrical appliances. This type of hum is either 50 Hz or 60 Hz, depending upon your local power.
AUTOMATIC REMOVAL DURING IMPORT
If you suspect hum in your audio, the easiest way to remove it is during import.

Once you've selected the clips you want to import, check the Analyze and fix audio problems checkbox. Final Cut will check your audio and, if it finds a problem will apply one of three fixes:
Remove hum (if it is present)
Boost soft audio levels
Reduce background noise (if it senses background noise is present)
While all three of these fixes are useful, I tend to prefer adjusting audio levels manually because it gives me more control and I definitely prefer to manually adjust noise removal.
On the other hand, if your audio has problems and your deadlines are crushingly tight, these three fixes can make a big improvement in your sound.

NOTE: In real life, I check all three of these checkboxes during import. Fixing audio problems can easily be modified, as you'll learn in a few paragraphs, while the other two options simplify mixing.
Once you've imported the clip, you'll discover that the hum is missing. This is very fast, very simple and very cool.
REMOVE HUM  IN THE BROWSER
If you've imported a clip and discovered that it has hum, don't worry, it is still easy to remove using Audio Enhancements.
If the clip is in the Browser:
Select the clip, or clips, that have the hum you want to remove
Choose Modify > Analyze and Fix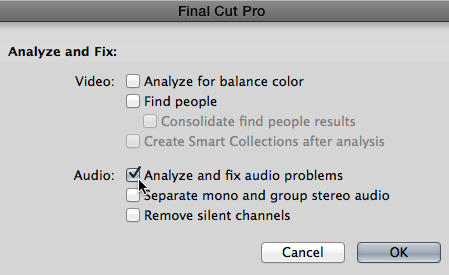 Check the Analyze and Fix Audio Problems checkbox. This is, essentially, the same option you had during import, except that it works for clips that are already in the Browser.
The hum should instantly disappear.
REMOVE HUM IN THE TIMELINE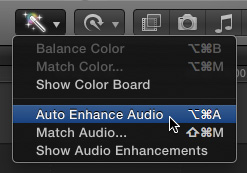 If you have a clip in the Timeline that has hum, you are still not out of luck.
Select the clip, or clips, in the Timeline that have the hum you want to remove.
Click the "Magic Wand" icon in the Toolbar and select Auto Enhance Audio (shortcut: Option+Cmd+A)
As before, the hum should instantly disappear.
AUDIO ENHANCEMENTS PANEL
In all three of these examples, the same tool is doing the work and you'll find it in the Audio Enhancement panel. To display this menu, select the clip you want to modify then do one of the following:
Choose Window > Go to > Audio Enhancements menu
Type Cmd+8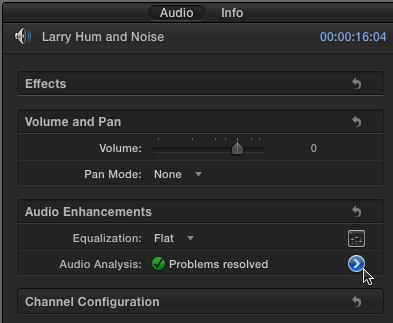 Open the Inspector, click the Audio tab, show Audio Enhancements, then click the small right-pointing arrow.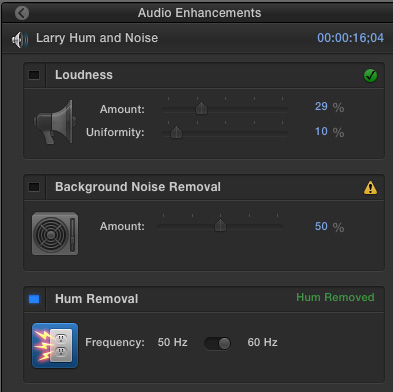 This displays the Audio Enhancements panel.
If a checkbox is gray, that correction is not applied. If a checkbox is blue, that enhancement is applied.
If an enhancement has a green checkbox, Final Cut does not feel that the clip needs fixing for this setting.
If an enhancement has a yellow alert, Final Cut feels that this enhancement should be applied.
If an enhancement has a green "Hum Removed" (or something similar for the other two settings), it means that the enhancement has been applied and the problem no longer exists.
In this screen shot:
Loudness does not need to be corrected
Background noise was detected, but the enhancement checkbox was turned off
Hum was detected and removed

Here's what the hum dialog looks like when hum is detected, but the enhancement is turned off. (Indicated by the Red alert.)

Generally, FCP guesses the power frequency of the hum correctly. But, in case it makes a mistake, click the frequency slider to the opposite position. Pick the side that sounds the best.
SUMMARY
Hum seems to be an ever-present annoyance. Thankfully, Final Cut Pro X has a very simple way of killing hum dead.
---
Bookmark the
permalink
.