FCP X: Performance Preferences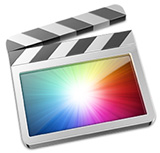 Preferences control the operation of Final Cut Pro X, but, sometimes, figuring out what's actually going on is harder than it should be.
For instance, take this Playback preference setting. What are we actually selecting and what is affected by it?
NOTE: These settings moved in the 10.1 update to Final Cut. You will now find these options inside the Switch in the top-right corner of the Viewer.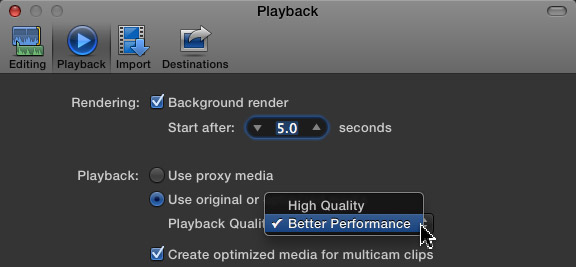 Apple's Help document is somewhat terse:
Playback Quality: Choose High Quality from this pop-up menu to prioritize high quality, or choose Better Performance to prioritize better performance.
What you are determining with these settings is where the CPU should spend its time.
When you select High Quality, the CPU will play every pixel in every frame, yielding the highest playback quality during editing.
When you select Better Performance, which is the default setting, the CPU will play every other pixel in each frame, yielding acceptable quality for video, but not imported stills, during playback for editing. In other words, this option reduces image quality to 25% of the source image, with a resulting boost in performance because the CPU is free to tackle other tasks during playback.
SO, WHICH TO CHOOSE?
Select High Quality if you are:
Editing images with lots of text created outside of Final Cut; for example Photoshop graphics or Keynote slides
Working with very finely detailed images that you need to see clearly, for instance, Photoshop graphics
Color grading
Taking "one last look" at a finished project
Select Better Performance if you are
Editing with optimized or proxy media
Editing with camera native media, unless you get dropped frame warnings. If so, switch to Higher Quality.
Editing with text created inside Final Cut Pro X
Editing multicam projects (multicam editing is enhanced further by converting your media to proxy media)
The short answer is that Better Performance works fine for most editing situations, except looking at bitmapped images created outside of Final Cut Pro X.
Keep in mind that Final Cut always outputs at the highest quality, regardless of how this preference is set.
---
Bookmark the
permalink
.