FCP X: Opacity vs. Blend Modes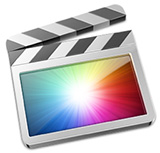 [This is an excerpt from a recent online training: Create Better Effects Using Blend Modes in Final Cut Pro X, which you can download from our store. You can also access all our Final Cut Pro X training by becoming a Video Training Library subscriber.]
If blend modes are new to you, then you need to watch this brief video tutorial.
Blend modes, which Final Cut Pro 7 called "composite modes," combine images based upon their gray-scale or color values. Which sounds weird until you start to play with it. Think of blend modes as "sharing textures between images." What makes blend modes so exciting is that they are easy to apply, yet open up a world of creative possibilities.
In this short video tutorial, Larry Jordan explores the difference between opacity and blend modes, highlights the different categories of blend modes and shows how to add texture to text.
---
Opacity vs. Blend Modes
TRT: 8:07 — MPEG-4 HD movie
NOTE: This video may not play inside FireFox, if so, please use a different browser.
Visit our website to see Final Cut Pro Training & more!
---
Bookmark the
permalink
.