FCP X: Find Clips FASTER!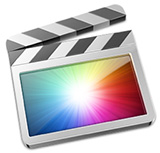 This next tip was suggested by Ian Stubbs, an Apple-Certified Trainer who teaches at the National Film and Television School in Beaconsfield, UK. Ian and I spent a lot of time chatting about editing and Final Cut during my recent training sessions there.
BACKGROUND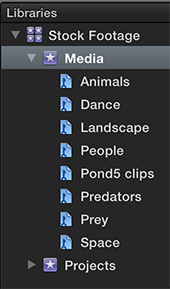 You probably know that you can add keywords to clips in Final Cut Pro X (Cmd+K). And those keywords appear in the Libraries panel attached to the event that clip is stored in. (These keyword listings are called "Keyword Collections.")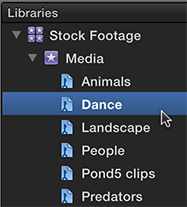 To see all the clips that were assigned the same keyword, simply click the keyword collection text. All clips that are associated with that keyword are displayed in the Browser.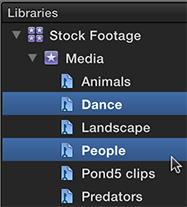 NOTE: You can even see clips associated with multiple keywords by Command-clicking to select multiple keyword collections. Clips associated with any selected keyword collection are displayed.
SOMETHING FASTER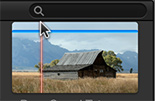 However, Ian suggested an even faster way to work. Click the microscopically small magnifying glass in the text search box in the top right corner of the Browser.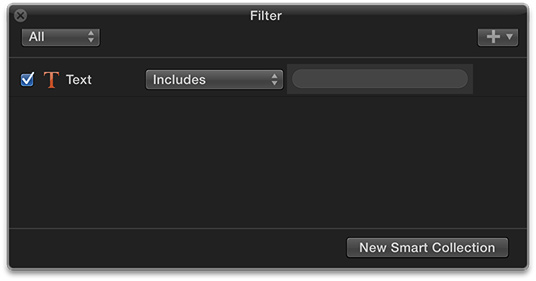 This opens the Find Filter window.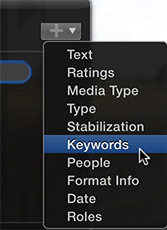 Click the Plus button to display various search options and select Keywords.

Uncheck the Text search text box so that searches only involve keywords, though you can easily add as many search criteria as you want using this window. (For instance, all clips containing audio that have the keyword "dance.")

Next, click the keywords you want to search on and instantly all the associated clips appear in the Browser. For instance, here I'm searching for all clips containing keywords for either people or dance.
Leave this window open (that's the cool secret part of this technique) and tucked into a corner of your screen. Now you can click different keywords as you need different clips. Click multiple keywords to see all the clips that contain any one of the selected keywords.
The speed comes from leaving this window open and clicking whatever combination of keywords you need at any instant.
A SEARCH CHOICE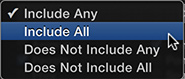 There are two powerful search choices included in this menu:
Include ANY. This includes all clips that contain at least one of the selected keywords. (This is called a Boolean OR search – show all clips that contain dance OR people.)
Include ALL. This includes only those clips that contain ALL selected keywords. (This is called a Boolean AND search – show all clips that contain dance AND people.)
GET BACK TO NORMAL

To reset this search box back to normal, close the Filter window, and click the small "X" in a circle to the right of the blue key.
The more you use keywords, the more helpful they become – and this tip makes finding clips even faster.
NOTE: Although you can assign an unlimited number of keywords to clips, this Find Filter box cannot be resized. For this reason, keep your total keywords to about 30 to avoid having to scroll around to find stuff in this window. It is my hope that Apple makes this window easier to use in a future version.
---
Bookmark the
permalink
.