FCP X: Export Problems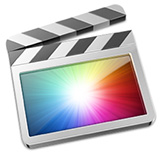 I'm getting a lot of reports about error messages when using File > Share.
YOUTUBE EXPORT PROBLEMS
This first surfaced the middle of April with problems when exporting to YouTube.
This article explains that the problem was caused by Google, and how it was resolved.
"BAD FRAME" EXPORT PROBLEMS
Another problem that others are reporting is a project export failing due to a "bad frame." While I have not seen this personally, it seems to occur when exporting for DVDs or Vimeo.
This is generally caused by either bad media or bad render frames. However, the problem is particularly perplexing, because the Project will render without any errors, but not export.
My first suggestion is to export as a Master File, which tends to minimize this problem. If it continues to occur, the only known workaround is to divide the number of the frame reporting an error by the frame rate of your project to determine its location in the Timeline. Then, replace the clip with the bad frame with another clip.

NOTE: To determine the frame rate of a Project, select File > Project Properties and click the small wrench icon that appears in the lower right corner of the Inspector.

The frame rate is listed in the Rate popup menu.
CHAPTER MARKER EXPORT PROBLEMS
Currently, after upgrading to Final Cut Pro X 10.0.8, I am having problems exporting chapter markers for a project.

Specifically, at the end of the export, this error message appears and cancels the entire export.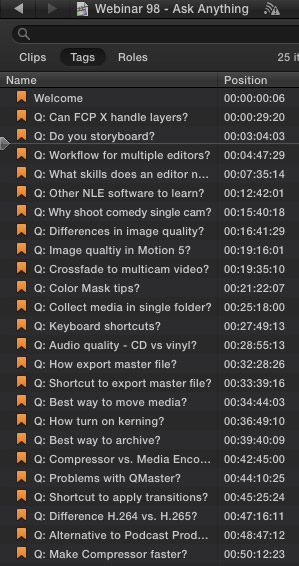 This is a list of the markers I'm using in this project. A general rule of chapter markers is that they cannot be within one second of each other or, in the case of a DVD, exceed 99 markers per project.  In this project, there are 25 markers in total. As you can see, all of my markers are a couple of minutes apart.
In this case, all markers were created in 10.0.8. (I mention this because an older Apple support thread described an error when trying to export chapter markers using FCP X 10.0.6 that were created in FCP X 10.0.5. The solution there was to replace all the markers.)
This export error persists even after trashing FCP X preferences and moving marker positions. However, the file will export perfectly when chapter markers are not included in the export.
Hmmm… let's see if I can track this down.
Apparently this message indicates a corrupt marker. The way to fix this, since there is no indicator in FCP X about which markers are corrupt, is to delete markers, individually, starting with the end of the project. (When deleting a marker, write down the timecode location and title of the marker, because, ultimately, you'll be creating a new marker at that location.)
Keep deleting markers until the Project exports properly with chapter markers. In my case, deleting five markers, starting from the end of the Project, did the trick. Yes, this is a bit time-consuming, but it has the benefit of solving the problem.
Then, create NEW markers, don't use Undo, at the locations of the markers you removed. The new markers will not be corrupted and the project should export properly.
TELL APPLE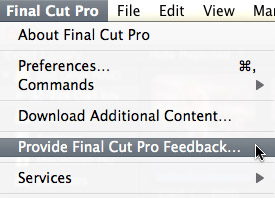 If you are having export problems, be SURE to report them to Apple using the Final Cut Pro > Provide Final Cut Pro Feedback menu option.
Apple has assured me on many occasions this is the best way to report problems, even if they don't personally respond to your report.
---
Bookmark the
permalink
.