FCP X: Create a Motion Path [Video]
FCP X: Create a Motion Path (Video)

[This is an excerpt from a recent PowerUP webinar: Animation and Keyframes in Final Cut Pro X, which you can download from our store. You can also access all our webinars by becoming a subscriber.]
A "Motion Path" is the path an animated image takes as it moves across the screen. Motion paths can be straight or curved, simple or complex.
In this video tutorial, I illustrate what a motion path is, how to use keyframes to create a straight-line path, then how to add curves to the path and change the shape of the curves using Beziér control points. It sounds complex, but Final Cut Pro X makes this really easy.
If you want to learn how to make your images move, then how to get them to move all around the screen, you need to watch this video. After you watch this, making things move will be both fun and easy!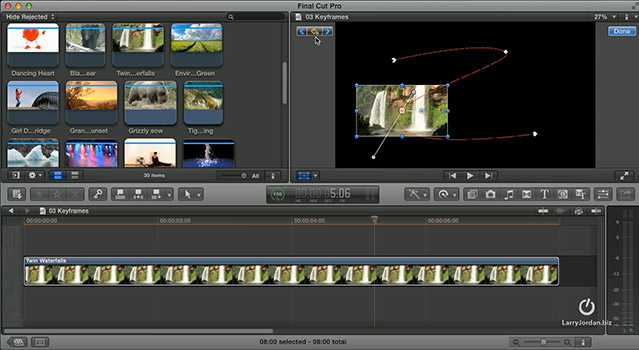 ---
FCP X: Create a Motion Path (Video)
TRT: 5:58 — QuickTime HD movie
NOTE: This video may not play inside FireFox, please use a different browser.
Visit our website to see Final Cut Pro Training & more!
---
Bookmark the
permalink
.