FAQ: Problems with Scaling Video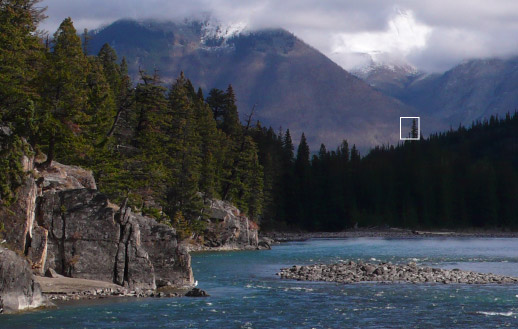 A question I am asked frequently is: "Why is it bad to scale video, or still images, larger than 100%?"
First, regardless of what video editing software you use, all video images are bitmapped. This means that an image is composed of small rectangles of color – called pixels – organized into rows and columns. (Most video formats use square pixels, but some, like DV and HDV, do not.)
By definition, a pixel can only contain one color and this rule is never violated.
For example, see the white rectangle in the image above. Let's zoom into that so that we can see the individual pixels that make up the image of the tree poking above the rest of the forest.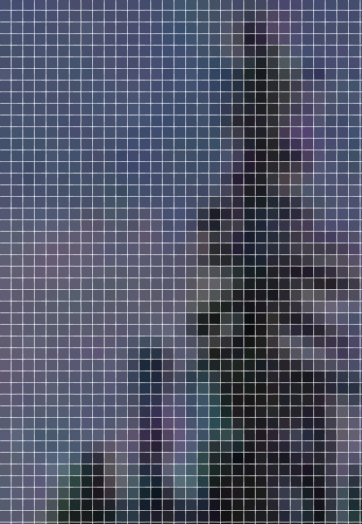 Notice how all these pixels are organized into perfect rows and columns? Also, notice that each pixel has only one color. However, there are so many of them that they can create almost any shape and texture when you zoom back to see the entire picture.
However, not only are these pixels fixed in terms of color, rows, and columns, they are also fixed in size.
When you zoom using the lens of your camera, you are not changing the size of the pixels, you are changing the size of the image passed from the lens to the sensor in the camera. Once a pixel is recorded into a video frame, that pixel is locked in size, shape, and position.
NOTE: In spite of the best efforts of Harry Potter to convince us otherwise, the moving images that we see in film and video are actually a rapidly changing series of still images, each of which is composed of rows and columns of pixels.
Now that we've established that pixels are fixed in size, shape and position, it is easy to understand why enlarging a video image is not a good idea – all we are doing is taking the existing pixels and making them fatter.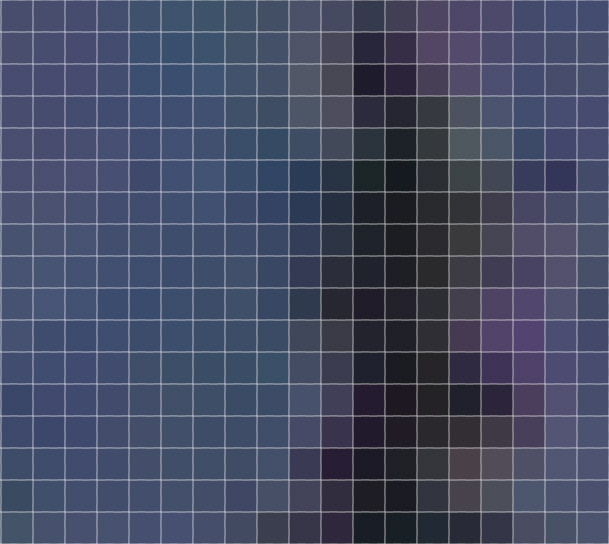 Here, for instance, we are zooming closer to the top of the tree. Notice how the pixels are bigger, and the shape of the tree is much less distinct. Fatter pixels equal a blurrier image. Scaling an image larger than 100% stretches the existing pixels to expand to fill a larger space.
In general, you'll notice a drop in quality once you scale an image more than about 104%. Your audience will notice the drop in quality once the image gets larger than about 110%.
Q: Can't I use a video format with more pixels?
Well, yes and no. There are four "magic" video image sizes:
NTSC: 720 x 480 (broadcast TV uses 720 x 486)
PAL: 720 x 576
720p HD: 1280 x 720
1080p HD: 1920 x 1080
And that's it. Yes, there are larger image sizes – currently lumped into the category of "digital intermediates," but they are used for projects designed for theatrical projection, not broadcast TV or web distribution.
This means that at the instant your camera records an image, the pixels are locked into one of these four sizes, depending upon how you configured your camera, and from that point on, the pixel size and dimensions can't be changed without affecting quality.
Q: Does this scaling limitation exist with both interlaced and progressive footage?
Yes. In fact, enlarging interlaced footage looks worse than enlarging progressive images by the same amount.
For this reason, I always encourage filmmakers to shoot 1080p or 720p. A distant third choice is 1080i. It is far easier – and provides higher quality – to convert a progressive image to interlaced, than to convert an interlaced image to progressive.
Q: Does scaling an image smaller than 100% cause the same problems?
No, because when you scale images smaller, you are squeezing more pixels into smaller space. This is like squeezing water from a sponge. Even after you squeeze the water out, the sponge is still wet – you have plenty of pixels (um, water) to make the image smaller.
Q: What do you do if you want to zoom into a image, i.e. use the "Ken Burns" video editing effect, without losing image quality?
With video, you need to shoot a larger image size than your project. For example, you could shoot a 1080p image and edit it into a 720p project. (Though, truthfully, it is often easier to just shoot the moves you need during production.)
For stills, the accepted practice is to import stills which have the same aspect ratio of your project, but include more pixels. For my projects, I create stills that are 2.5 times bigger than my video format.
For instance, the videos that I create for the web are always 1280 x 720.  If I need stills that don't need moves, I create them at the same size as my video project: 1280 x 720.  If I need stills for moves or zooms, I create the stills 2.5 times larger than the project. For a 720p project, I create stills at 3200 x 1800. This allows me to zoom in, zoom out, or pan without scaling the still larger than 100%.
When compared to still images, video is very low resolution. You don't need to import gigantic images; in fact, your projects will look better if your stills are roughly the same size as your video format.
Q: Where can I go to learn more about this?
Here's an article I wrote a while ago that goes into this subject in more detail.
Here's the key point: If you want your images to look as good as possible, make sure you never scale them larger than 100%, regardless of what video editing software you use.
---
Bookmark the
permalink
.