Future-Proof Media Projects: Export XML Files From Premiere or Final Cut [u]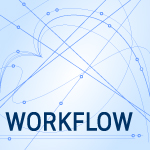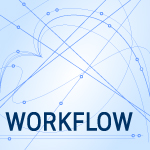 [Updated March 28, 2021, with a new intro.]
For long-term archiving of any media project, I strongly recommend you export an XML version of every project you want to save – regardless of whether you use Adobe Premiere Pro or Apple Final Cut Pro.
Project files are proprietary, XML files are designed for transfer and archiving. Protect yourself.
EXECUTIVE SUMMARY
One of the big, painful, lessons we learned with the demise of Final Cut Pro 7 was that it stored our edits in a proprietary format. Only FCP 7 could open FCP 7 project files. Once FCP 7 stopped working, we lost access to ALL our old edits. Not the media, but the edit.
However, if we had simply exported our FCP 7 projects as XML, we could access them today via Premiere or DaVinci Resolve or today's Final Cut Pro.
NOTE: As another example, Final Cut Pro X 10.0 projects are no longer readable by today's Final Cut. But they would be if we had exported them as an XML file.
The key point I'm making is that, regardless of the NLE we use, it is essential that we preserve our media and edits for the future. And that means exporting a finished project as an XML file, as well as saving the original project file.
XML files are designed for transferring files and data between applications. These text files are quite small, and readable by a wide variety of applications. This is because XML files do NOT contain media – they simply contain a "pointer" to your media. This is the path and file name of where your media is stored. So, exporting an XML file does not preserve your media, it only points to it.
If you open an XML file in the same application that created it, virtually all your project data should be safe. If you are moving XML files between applications from different developers, media files, edits and dissolve transitions, for example, safely transfer while most titles and effects do not.
Always archive your projects. The fastest and best way to open a project is to open the native project file. This preserves everything. But, for protection, also archive an XML of the same project.
NOTE: Keep in mind – because it's important – that because XML does NOT contain media, you will need to archive media files separately.
EXTRA RESOURCES
Here's a tutorial showing how to transfer projects from Final Cut Pro to Premiere Pro.
Here's a tutorial showing how to transfer sequences from Premiere to Final Cut Pro.
EXPORT AN XML FILE FROM FINAL CUT PRO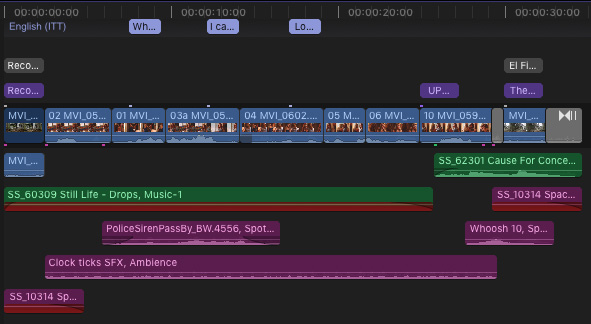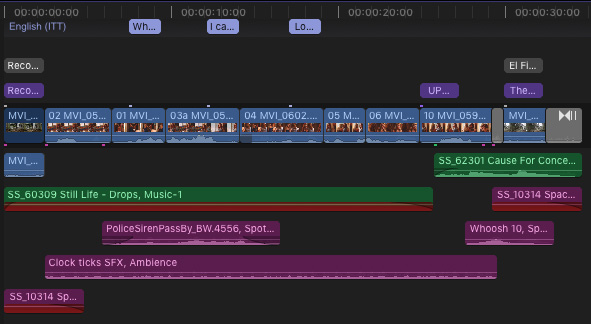 Here's a typical project in FCP; though short, this can easily illustrate the export process. It contains video and audio clips, transitions, titles and captions.
An XML (eXtensible Markup Language) file contains pointers to all clips, but not the actual media, as well as settings for just about everything in the project file.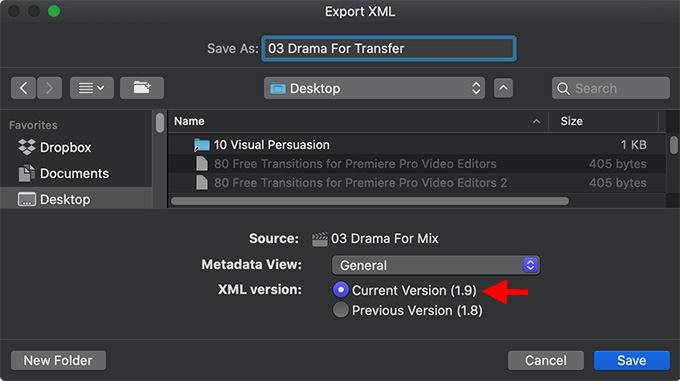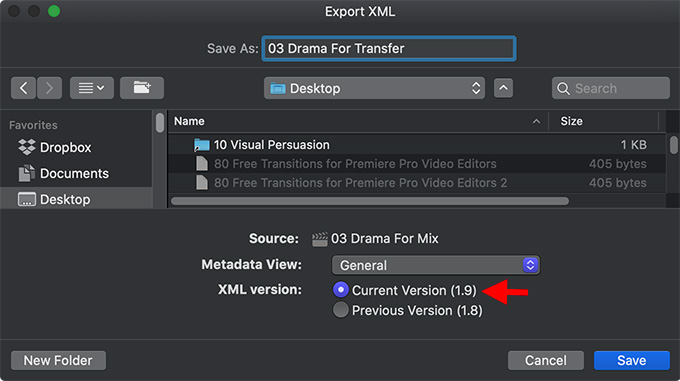 Select the project in either the Timeline or the Browser, then choose File > Export XML. In the resulting dialog, give the XML file a name and storage location. Then, click OK.
NOTE: Be sure to always pick the latest version of XML (Version 1.9 in this screen shot).
In just a few seconds, an XML file is created. XML is a language similar to HTML that you see on many web pages, that explains exactly how the project was created, but doesn't contain any media. It just contains all the different settings applied to each clip.
NOTE: For long-term archiving, I strongly recommend you save an XML version of every project you want to save. For example, we can convert FCP 7 XML projects easily today, but can't convert a single FCP 7 project. XML is a long-term archiving format.

NOTE: XML files are just text files. You can open them with TextEdit and see what's inside; for example the screen shot above is from my project. The good news is that you don't need to understand how to read an XML file in order to use it.
At this point, the XML file is complete and ready for archiving.
EXPORT AN XML FILE FROM PREMIERE PRO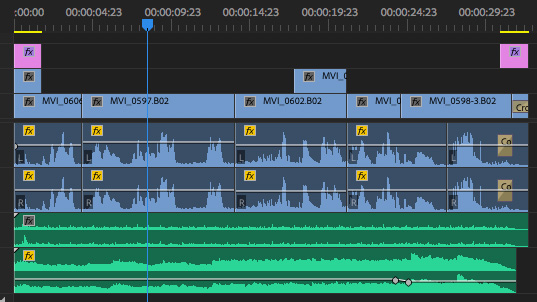 Here's a typical project in Premiere. Note that it has audio and video clips on multiple tracks, transitions, and titles. While this is a short sequence it will serve to show how the export process works.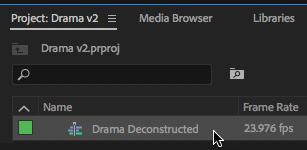 Select the sequence you want to export.
NOTE: You can, if you want, export an XML file of the entire Premiere project. However, I tend to export the specific sequences that I need.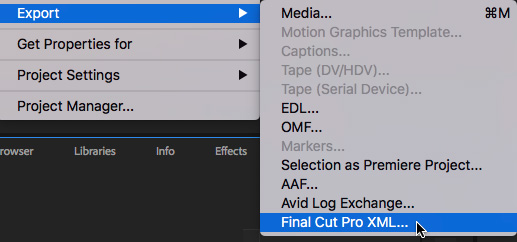 Choose File > Export > Final Cut XML.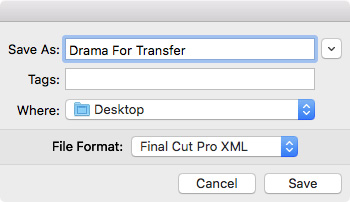 First, Premiere simplifies the XML associated with this sequence, then opens a dialog where you can give the XML file a name and storage location.
NOTE: I tend to store XML files on the desktop while I am working with them, to make them easier to find, then move them into a dedicated location after the export is complete. This isn't required, it's just how I work.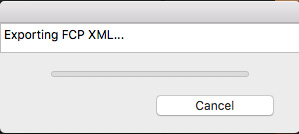 Premiere generates, then exports an XML file to the location you specify.

Next, it creates a Translation Report of anything that won't successfully translate.

Here's what the Translation Report looks like for this sequence. Your Report will look different, depending on the contents of your sequence.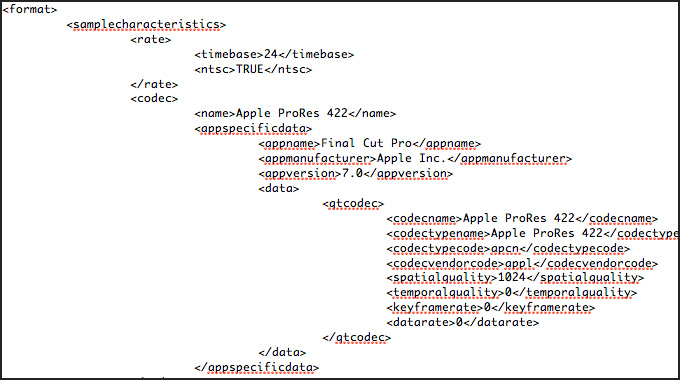 At this point, you can quit Premiere Pro CC. We are done with it.
The last step is to find a safe home to store your XML files. Oh! And be sure to give them a file name that allows you to find them again in the future.
---
Bookmark the
permalink
.