evrExpanse Updated for Performance and Codecs

Earlier this month, Antonio Marogna, developer of EXIF Video Resolved and ChronoX Pro, updated his media transcoding app, called evrExpanse, to version 2.1.6. It provides very high-speed EXIF metadata export and media transcoding based on the FFmpeg engine.
Antonio tells me the new 2.1.6 update:
Added support for alpha channel in ProRes 4444 and 4444 XQ
Added CineForm RGB 4:4:4 – 12-bit profile
Improved Full/Video data level management
Added an option to create Media Hash List file (MHL) with MD5 checksum
Added support for Python 3, for those users that have it installed
General performance and stability improvements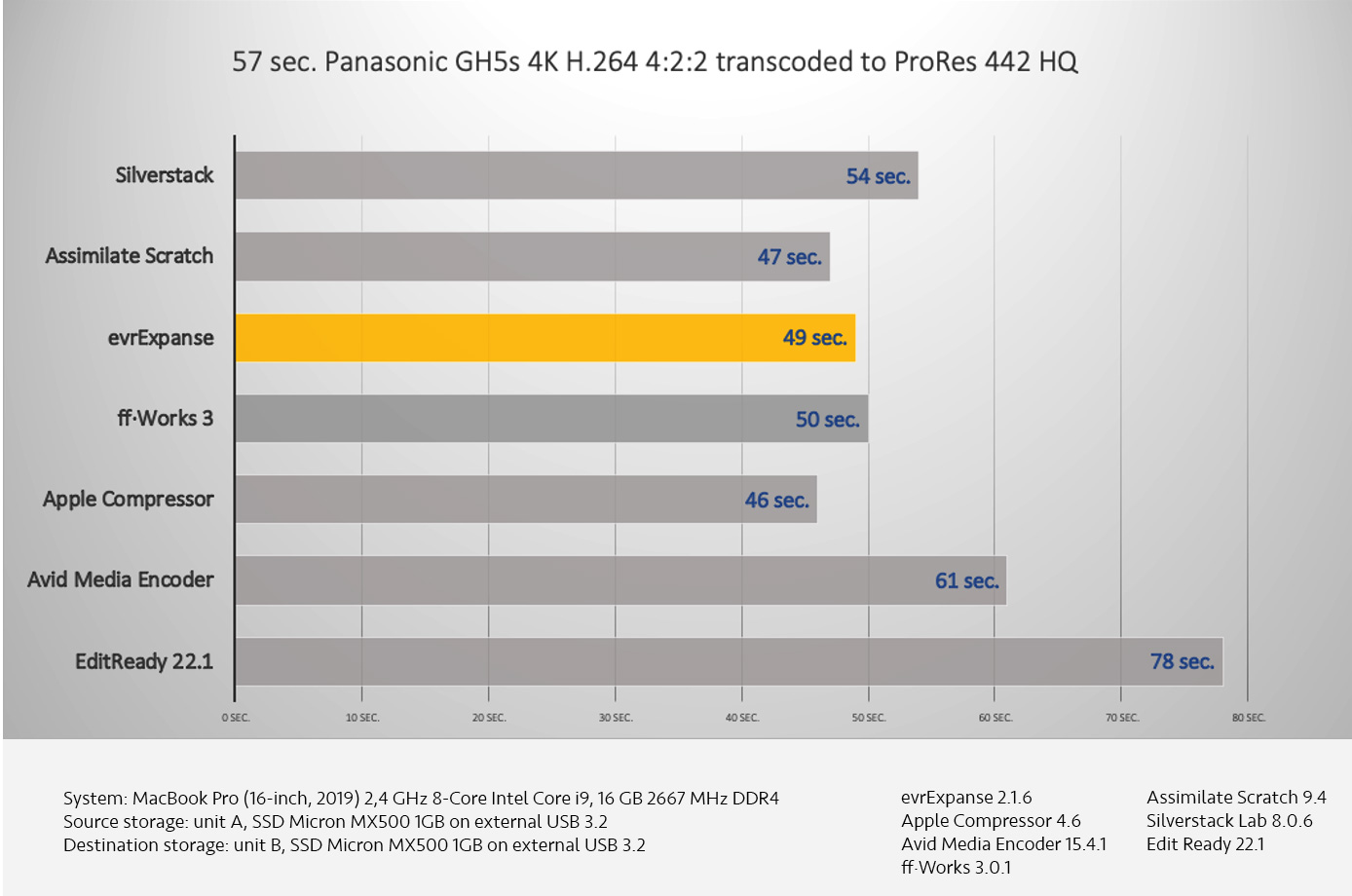 To give you a sense of its performance, Antonio sent this chart. I have not verified these numbers personally, but the speed and flexibility of FFmpeg is well-known, as it is the compression engine for products like Handbrake, ffWorks and axle ai.
Antonio writes: "I think your readers may be interested to know that there is a friendly FCP option for Smart Mode Transcoding (transcoding files with CineForm or DNx codec if detected in the source file)."
evrExpanse is a multi-purpose tool. "Exif Video Resolved Expanse extracts EXIF metadata and Finder tags from media files and builds a compatible export file in CSV (Comma Separated Value) or ALE (Avid Log Exchange), giving you the ability to import metadata to other applications like DaVinci Resolve, Avid Media Composer, Assimilate Scratch and Pomfort Silverstack. evrExpanse can also export Sony Real Time Metadata (per frame).
"Exported tags include ShutterSpeed, FNumber, ISO, AutoWBMode, Focus Position (Image Plane), GyroscopeData (x y z;), AccelerometerData (x y z;), GPSLatitude, GPSLongitude, GPSMeasureMode, etc.
"Transcode any MOV / MP4 / MXF source media to Apple ProRes, Avid DNxHR or GoPro Cineform and copy the source metadata including any Finder tags (keyword and / or colors) into the transcoded file. The transcoding functionality is based on FFmpeg and has been designed with ease of use and efficiency in mind, giving the user only a few options to select from for a smart, smooth and fast experience." (EVRapp.com website)
evrExpanse supports cameras or devices from Panasonic, Nikon, Sony Alpha, Fujifilm, Canon, Sony XDCAM, Z Cam, Kinefinity, Atomos (Ninja & Inferno), McPRO24fps, GoPro, FiLMIC PRO, and Apple iPhone.
Website: https://www.evrapp.cloud/evrExpanse.html
evrExpanse costs €59.99 ($67.63 US)
A free trial is available.
---
Bookmark the
permalink
.