Drobo Launches Higher-Performance 8D

This morning, Drobo, released their newest storage device: Drobo 8D. Targeted at creative workflows, this is the fastest Drobo yet and connects using Thunderbolt 3.

Features include:
8 Bays
Two Thunderbolt 3 ports
Up to 128 TB storage volumes
Supports two 4K monitors or one 5K monitor
Dual fans for cooling efficiency
Internal power supply
Drobo's new Intelligent Volume Management
The 8D is designed upon Drobo's long-standing "radically simple storage" technology combined with user's need for faster data transfer. The 8D can support volume sizes of up to 128 TB with a total storage pool of 256 TB. This is the largest capacity for a direct-attached Drobo and the 8D is compatible with the latest 14 TB spinning-media drives (HDD) on the market.
The 8D intelligently combines both HDDs and solid-state storage (SSD) in the front slots to deliver both capacity and performance, as well as Data Aware-Tiering to accelerate both read and write performance.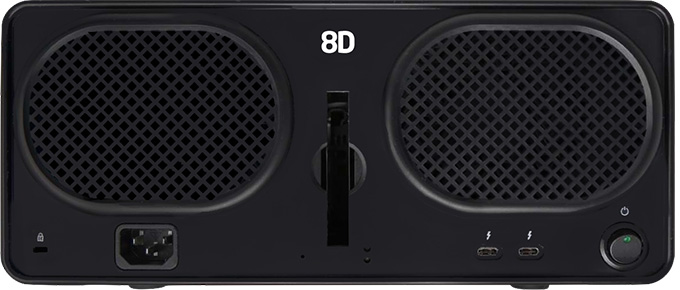 The 8D also comes equipped with a Drobo Accelerator Bay, enabling Hot Data Caching to deliver performance boosts for popular applications like Apple Final Cut Pro X, Adobe Lightroom and Adobe Photoshop.
According to materials supplied by Drobo, the unit supports up to 1.1 GB/second read and 380 MB/second write. This is more the ten times faster than the DroboPro. Disk packs from Drobo 5D3, 5D, 5Dt, Drobo S and Gen 3 can all be moved from earlier storage to the 8D with no loss of data and not reconfiguring of drives. The system also includes battery backup of memory and eUSB to protect data in case of sudden power loss.
New to Drobo is Intelligent Volume Management technology. This combines the flexibility of manual volume configuration with the convenience of Drobo's legendary automation, allowing separate of file systems as customer needs dictate.
"The 8D is the product that our customers hav asked for and need," said StorCentric CEO Mihir Shah. "The 8D was build on the immense popularity and demand of the 8-bay DroboPro. Creative professionals will experience the editing power for media rich, high-resolution workflows, while the simplicity of the 8D will maximize limited resources for SMBs. The self-management features save time and money and provide an affordable entry point for all end users and allows for a 'pay as you grow' model for expanding data needs."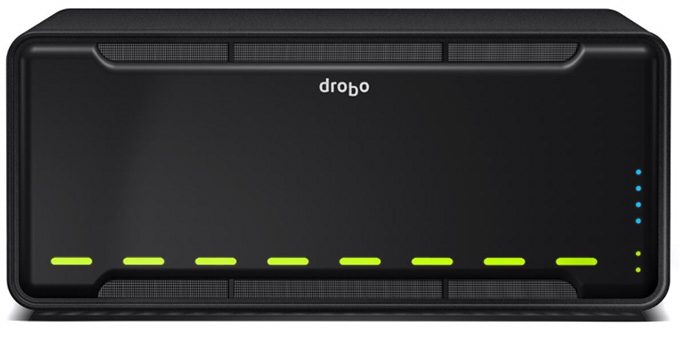 The Drobo 8D is available today at an MSRP of $1,299 (US).
Introductory video: youtu.be/661a_qDHTZ4
Website: www.drobo.com
---
Bookmark the
permalink
.