Do You Have Enough RAM?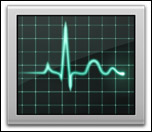 One of the questions I get asked frequently is: "How much RAM should I have in my computer?" The specific answer varies, but there is a tool that can help us determine the best number.
It's called: Activity Monitor. I've written about this program before in explaining how to use it to track down dropped frame errors by checking the speed of data moving between your computer and the hard disk. (Read that article here.)
However, it can also answer the question: "Do I have enough RAM?"
SOME BACKGROUND
RAM has always been much more expensive than hard disk storage. So, awhile ago, Apple developed a method of reserving a portion of your hard disk as temporary storage for data stored in RAM that wasn't immediately needed. The benefit to this system was that we could work with programs that required a lot of RAM without spending tons of money on the RAM itself.
This process is called "virtual memory," and it works perfectly fine. The only downside is that storing memory from RAM to the hard disk, then recalling it again when needed is very, very, very slow. This is because, while  the speed of a hard disk may seem fast to us, to lightning-fast RAM, a hard disk is similar in speed to molasses in January.
This is why, when we ask what's the best thing we can do to improve the performance of our computer system, we are often told "add more RAM." While this is a true statement, it isn't really helpful. RAM is still expensive, and no computer supports an unlimited amount of RAM. So… how much RAM is enough?
ACTIVITY MONITOR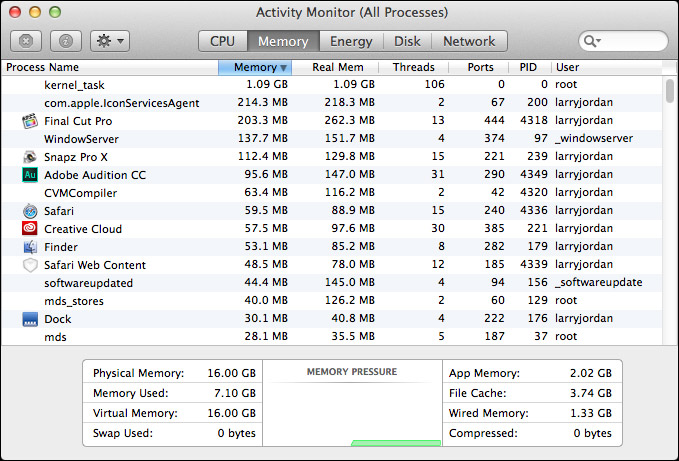 A great little application that helps answer this question is Activity Monitor; you'll find it in Applications > Utilities. This allows you to monitor a variety of important computer functions which can teach you a lot about how your system is operating.
There are five buttons along the top:
CPU
Memory
Energy
Disk
Network
The ones we are concerned with in this article are CPU and Memory.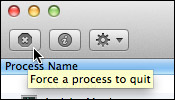 IMPORTANT NOTE: Opening, viewing, changing the tabs at the top, or column headers inside of Activity Monitor will not affect any operation on your computer, PROVIDED you do NOT click any of these three buttons in the top left corner. Please leave these alone. Also, do not try to delete any file in the list of running applications.
32-BIT vs. 64-BIT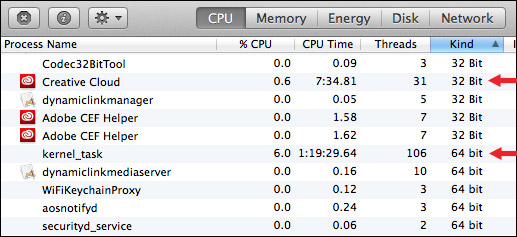 However, before we can answer the question of how much RAM we need, I also need to explain one other tech term: 32-bit vs. 64-bit applications. These terms define how much memory an application can address; meaning how much memory it can use in its calculations. A 32-bit application can access about 4 GB of RAM. This limit does not change regardless of how much RAM you have installed on your system.
A 64-bit application can theoretically address 16 exabytes! However, in today's computers the limit is about 128 GB.
Activity Monitor can show you how much RAM your application can address by clicking the CPU button, then looking in the Kind column. In the screen shot above, for example, Creative Cloud is 32-bit, while kernel-task is 64-bit. (The actual amount of RAM used by each application is displayed in the Memory tab, which we will get to shortly.)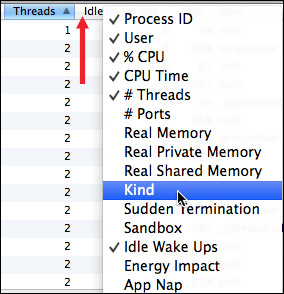 NOTE: If the Kind column is not visible, right-click any column header and select "Kind." Changing any column header or clicking any of the five buttons at the top does NOT change any operation in your computer.
If you are running a 32-bit application, adding more RAM beyond 4 GB won't improve the performance of that application. However, adding more RAM will improve switching between 32-bit applications.
SO HOW MUCH RAM DO WE NEED?
Let's assume we are running 64-bit applications, which can use more RAM. How much is enough? That's where the Memory tab comes in.
Click it.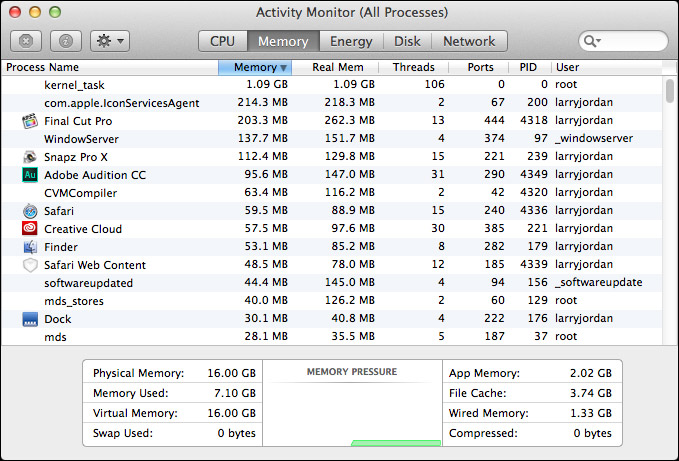 The list of files in the top portion are all the foreground and background tasks currently running on your system. (I am always amazed at the amount of software running at any give instant; frequently this includes hundreds of files.)
The "Memory" column shows the amount of RAM currently devoted to the application. The "Real Memory" shows the total amount of RAM and, potentially, virtual memory assigned to that application. While this information is useful in learning more about each application, it doesn't tell us about the memory needs of the system itself.

Instead, the key place to look is at the bottom of the screen (I've highlighted the important area with a red box):
Physical memory is the amount of RAM physically installed on your system
Memory Used is the amount of RAM used by all currently running applications and processes
Virtual Memory is the amount of hard disk space reserved to emulate additional RAM
Swap Used is the amount of hard disk space that is currently in use emulating RAM.
To see how much RAM you need, leave Activity Monitor open and running. Then, start the applications you tend to use most. Watch how the Memory Used number fluctuates.
In general, if Memory Used is less than Physical Memory, adding more RAM won't improve performance because you are not using all the RAM in your system.
If Memory Used is equal to Physical Memory, look at the Swap Used. This is the amount of hard disk that is emulating RAM. You will see a performance benefit by adding more RAM such that the total amount of RAM on your system exceeds the sum of Memory Used plus Swap Used.
In general, based on my conversations with Apple and Adobe, 16 GB is sufficient RAM for smaller editing projects (think commercials and short films), while 32 GB is sufficient RAM for larger projects (think features and documentaries).
Thanks to Activity Monitor, you can measure what your system is doing and decide the amount of RAM that works the best for the way you edit.
---
Bookmark the
permalink
.