Create a Performance Video Wall in Final Cut Pro X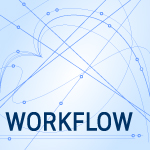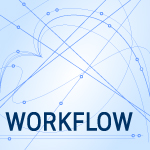 [ Product Disclosure. This tutorial uses the Griddy plugin from FXFactory. I used the free trial version to create this tutorial which is why there are lines through the images. ]
Dick Osso wrote: I've been asked to create a Video Dance Recital, where each dancer performs at home, but needs to be combined into the entire performance. Suggestions?
This is a great question. These projects are fun to watch, but they are really tricky to build. In this article, I want to discuss the workflow necessary to create these.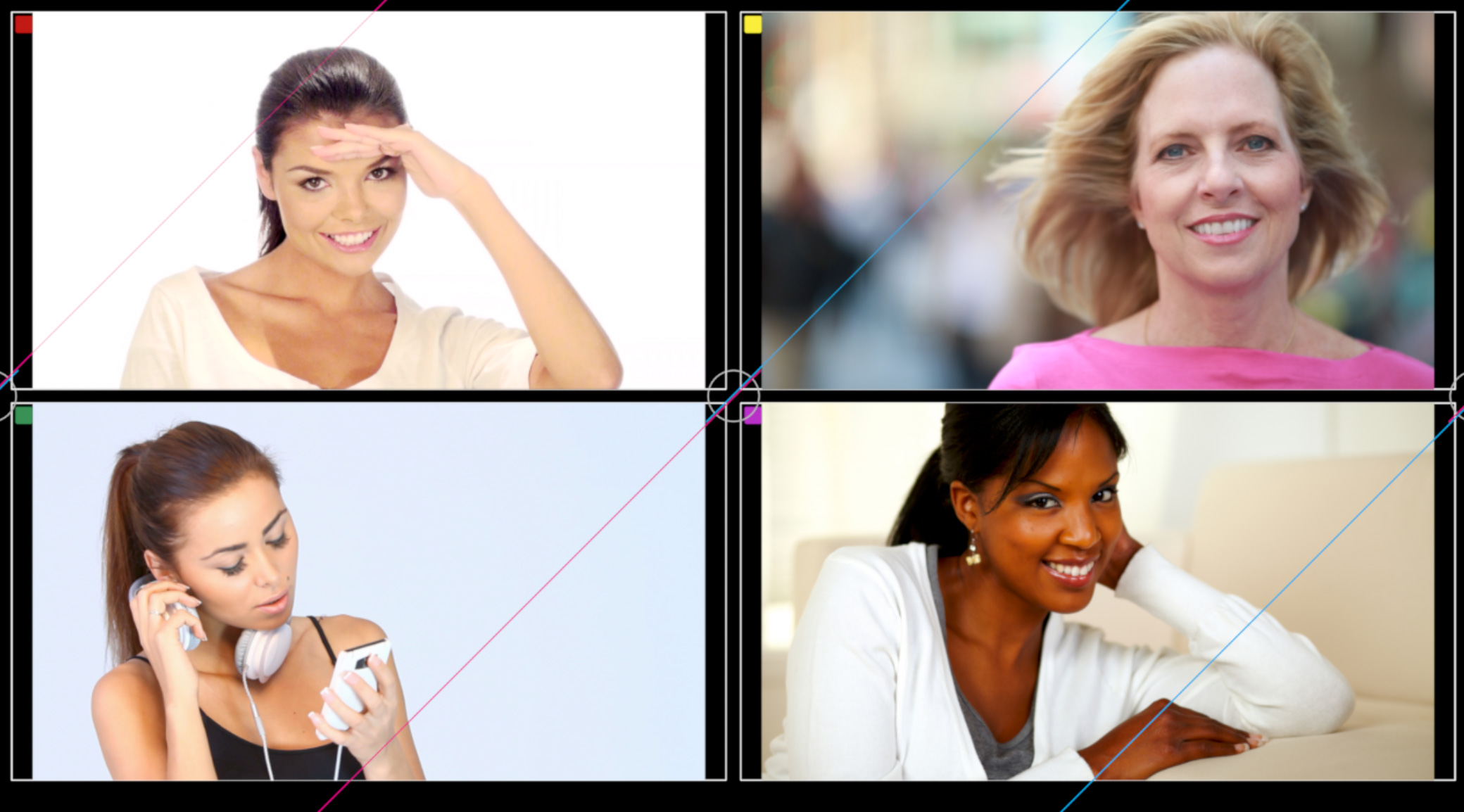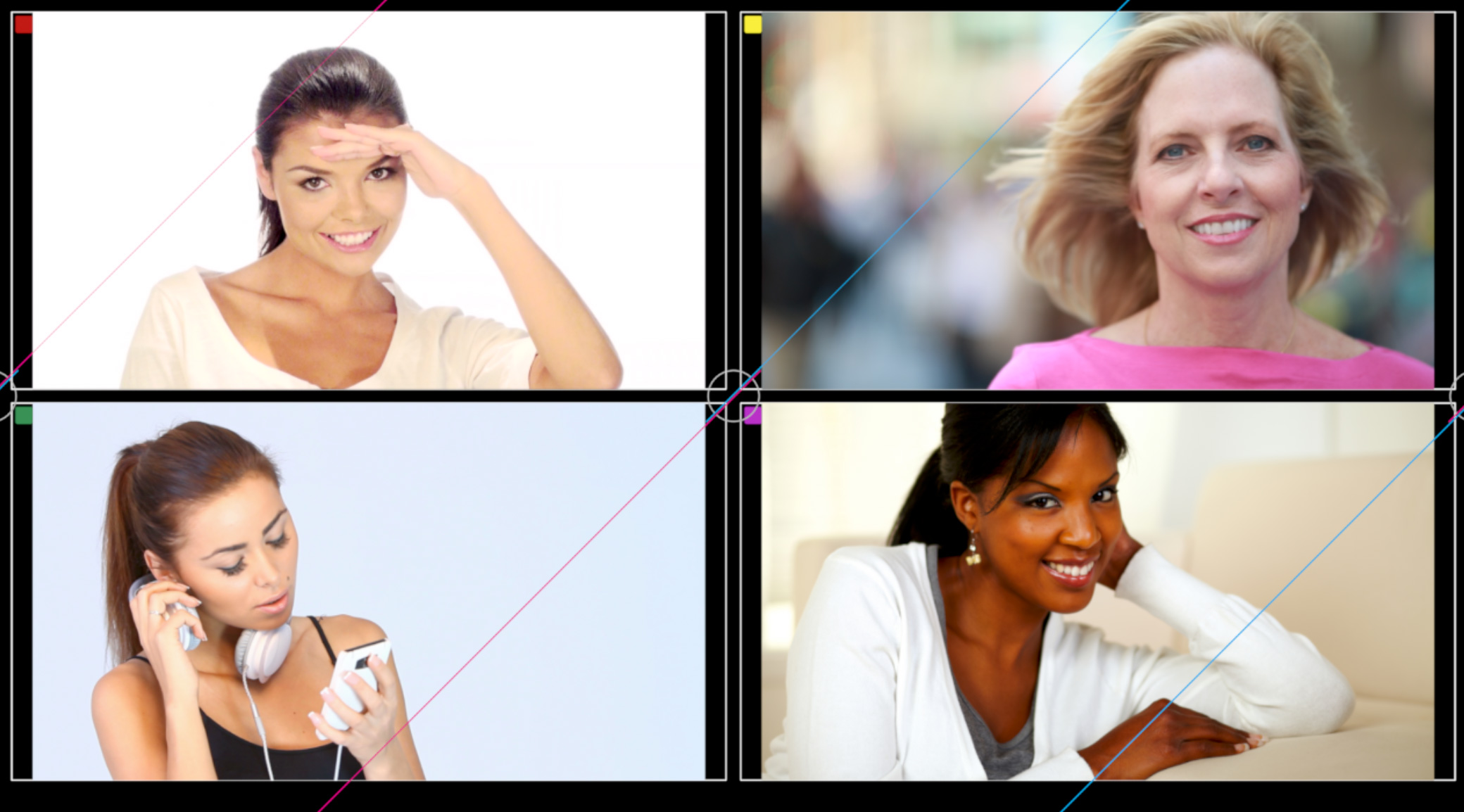 As part of this tutorial, I'm using a brand-new FCP X plugin from FX Factory – called "Griddy" – that helps with on-screen positioning.
Here's my overall workflow to create a performance video wall:
Distribute the same soundtrack with a sync point to all performers
Gather all elements to make sure you have what you need to create a performance
Create the final sound mix
Edit the images to the finished soundtrack
Output and distribute
Feel free to add more suggestions in the comments below.
– – –
BEFORE RECORDING
The biggest logistical challenge is to get audio to the performers for them to perform with. For example:
Dancers need the music they are dancing to, with a cue to start
Singers need the accompaniment, with a cue to start
A cappella singers and instrumentalists need a click track, with a pitch and cue to start
In all three cases, add a cue – like a beep – two seconds before the performance starts. This gives you a cue you can use to bring all these different elements roughly into sync during the edit. Without it, you'll spend far too much time getting everyone aligned for time.  However, given the vagaries of performance, you'll still need to allow time to manually tweak the sync for every clip.
NOTE: Singers and musicians will listen to the soundtrack on headsets, so determine a method for them to accurately indicate when they hear the cue. Your goal is to get this cue close, but it doesn't need to be perfect.
Also, you should stress to your participants whether they should shoot horizontal or vertical video. From experience, most people can handle this question. There is no way you can get them to standardize on a codec, frame size or frame rate. You can ask, but most people won't understand your question. Just hope for the best, and allow time for transcoding.
BEFORE EDITING STARTS
Gather all the media, clearly label it and verify that cue points exist. Then, spend time thinking about the look you want on screen. While you can change your mind once editing starts, a little planning at the beginning will save a ton of time later.
One of the things you want to check, before editing starts, is that you have enough elements to create a finished performance. It is very hard to edit a quartet if the tenor forgot to send their file.
CREATE THE AUDIO MIX
Before doing any video editing, create an audio mix of the entire performance AND INCLUDE THE SYNC POINT in the mix. Retaining the sync point is essential for the video edit. By mixing the audio first, you can clean up problems and get exactly the right sound you need. This will simplify the video edit.
NOTE: The easiest way to create an audio edit is to load all the clips into an audio editor, such as ProTools or Audition so that each singer has their own track. This allows easy adding of EQ and dynamic level processing. It is beyond the scope of this article to describe the best way to do an audio mix.
Export the audio as a stereo WAV file and import into Final Cut Pro X to begin the video edit.
CREATE THE VIDEO EDIT
This is not a multicam edit, though it may seem so at first blush. Multicam edits create one and only one image on screen at a time. A video wall requires multiple images on screen at once.
I strongly recommend transcoding all files into ProRes 422 with proxy files. Mobile devices shoot highly-compressed video (HEVC or H.264) which is really hard to edit when using multiple streams. Transcoding will simplify your life.
I also recommend proxy files to decrease the bandwidth you'll need from storage. In fact, because each image is getting significantly reduced in size, you may be able to use proxy files for final output. Just a thought.
NOTE: Here's an article on how to create and use proxy media in Final Cut Pro X.


Import all media and edit the finished audio track into the Primary storyline. This prevents it from moving as you add and adjust video clips. Be sure the sync point is both visible and audible in the timeline.
NOTE: It may simplify syncing the video clips to add a five second gap (black video) at the start of the audio. (Edit > Insert Generator > Gap)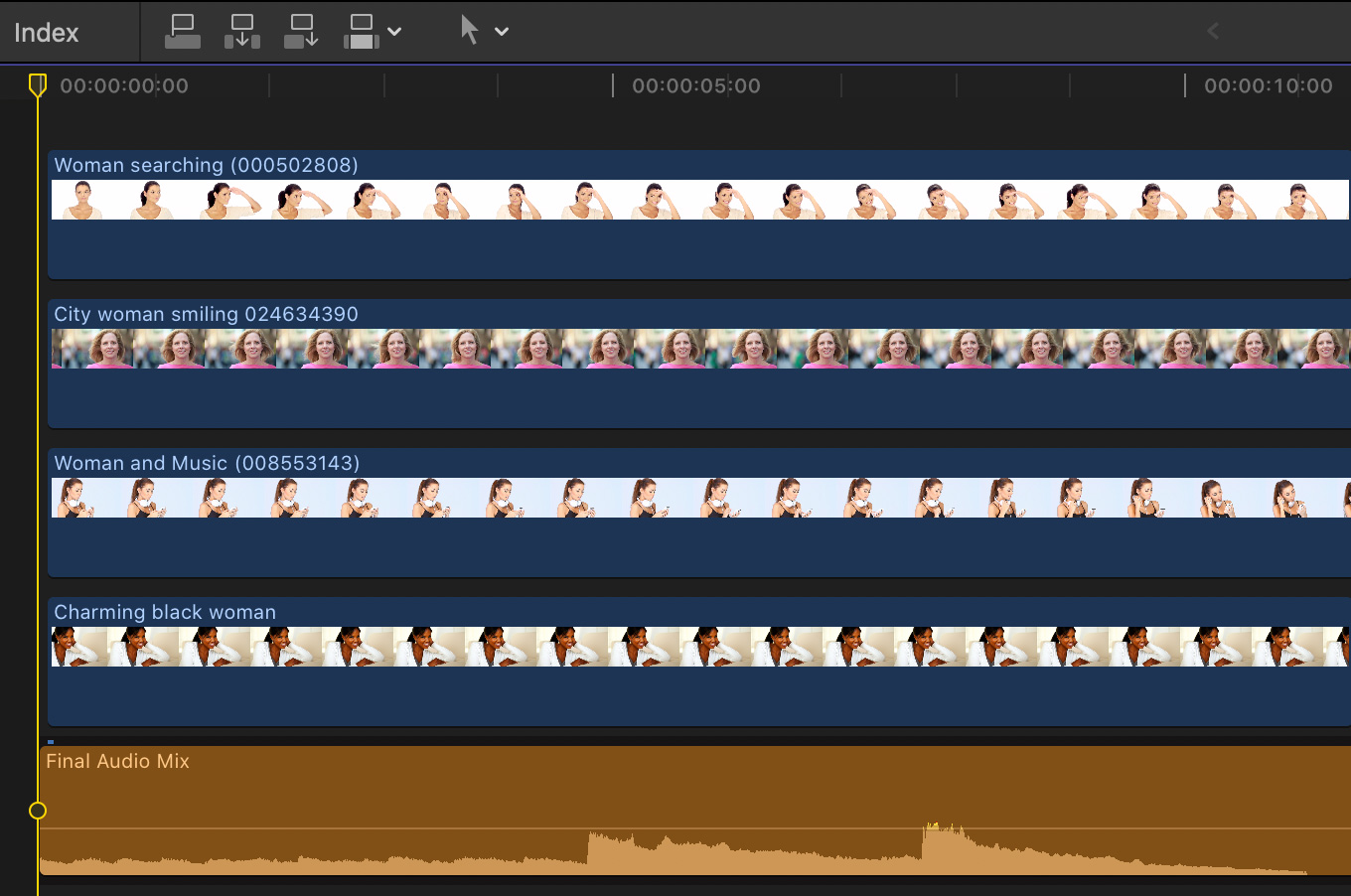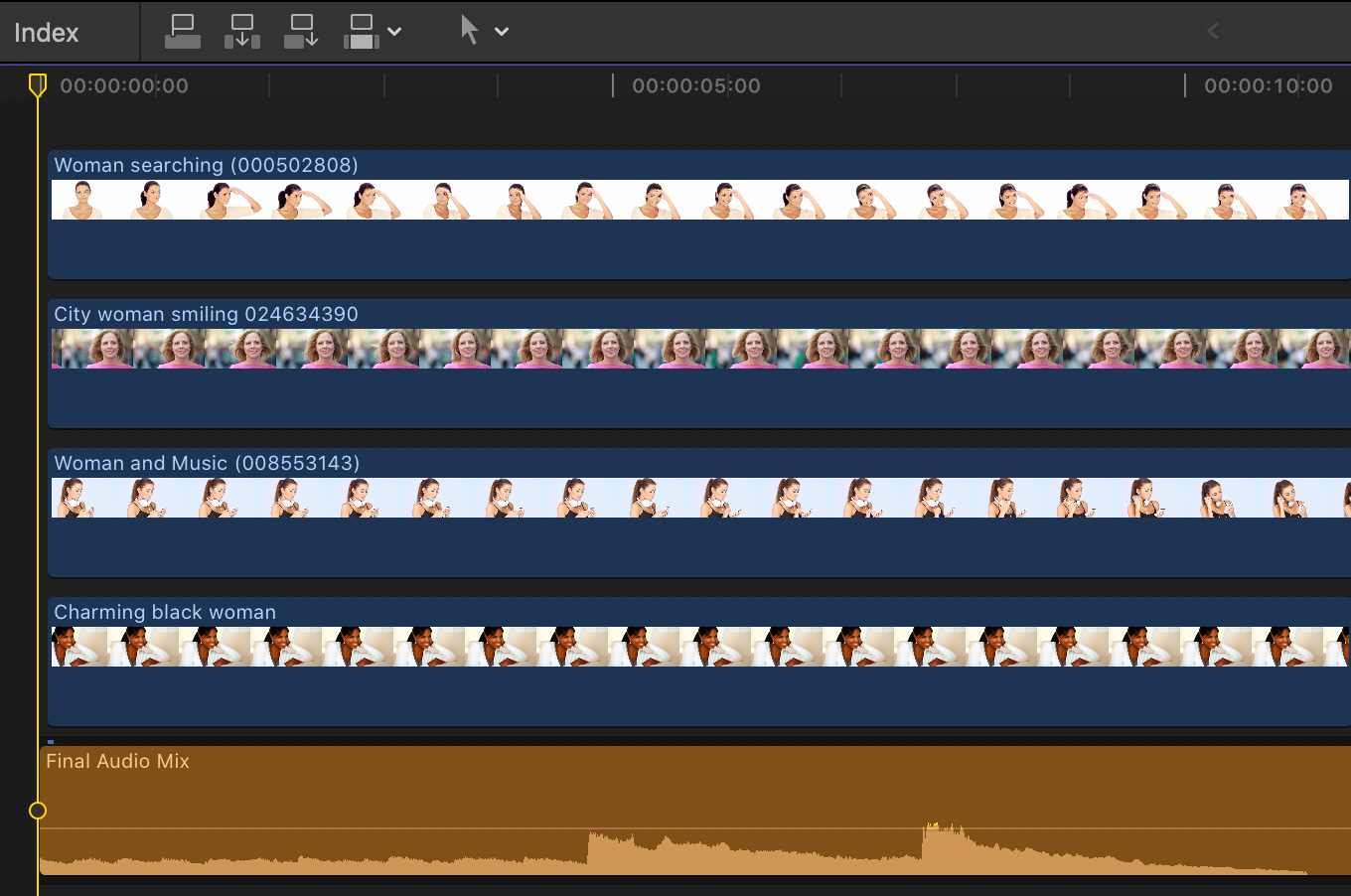 Stack all the video clips above the audio track, aligning each sync point with the master audio track. The precise vertical order doesn't matter, because each will appear in its own section of the grid.


Then, and this is the tricky part, adjust each video clip to get the best sync possible with the audio track. When all the video clips are aligned, put a marker on each clip that aligns with the audio sync, so that if you accidentally move a clip, you can quickly get it back into sync.
When all clips are aligned and marked for sync, select all layers except the top video clip and the audio track and type V; to make them invisible.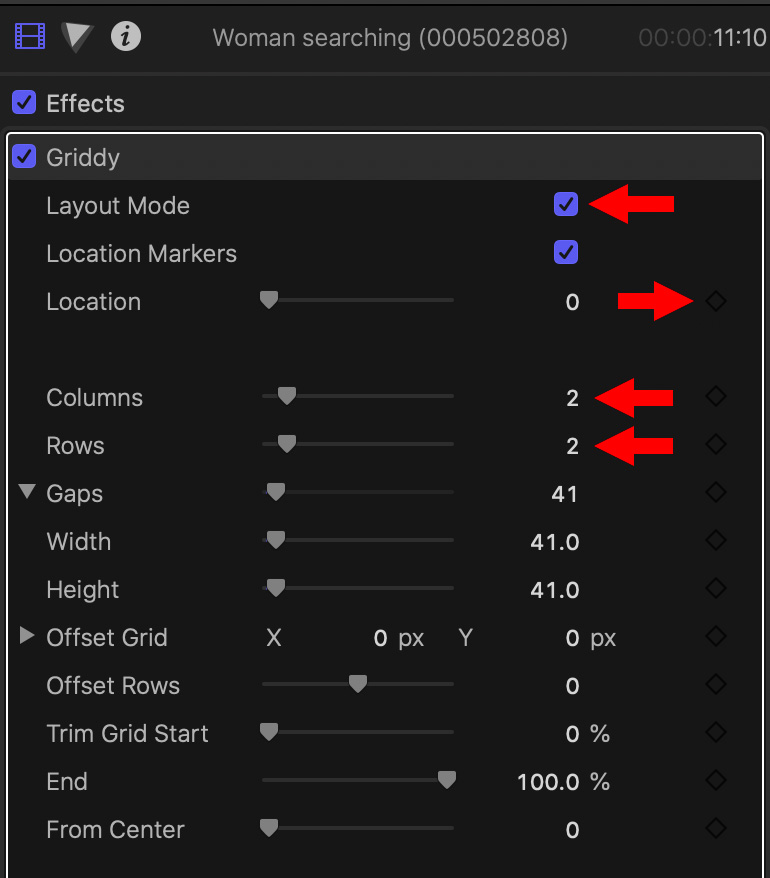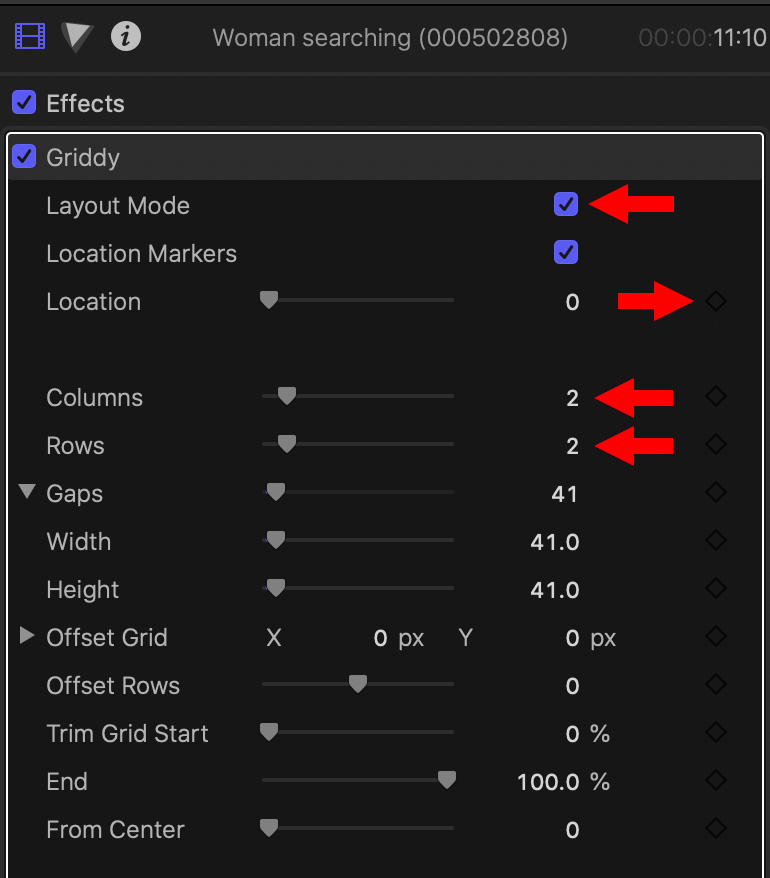 Apply the Griddy plugin to the top clip. Griddy is a new plugin from FXFactory that makes creating video walls much easier and more flexible. Use the Columns and Rows slider to determine how many images you see at once.
Product: Griddy
Website: https://fxfactory.com/info/griddy/
Developer: osmFCPX
Price: $49.00 (US) with free trial available
NOTE: For this tutorial I used the free trial version to learn the software, which is why you see diagonal lines through the images. Before creating your own projects, it will also help to watch the Griddy tutorial here. There are a LOT! of controls to tweak.
Griddy supports up to 400 simultaneous images, 20 columns by 20 rows, plus animation, titles, borders and highlights; far more than I am illustrating here.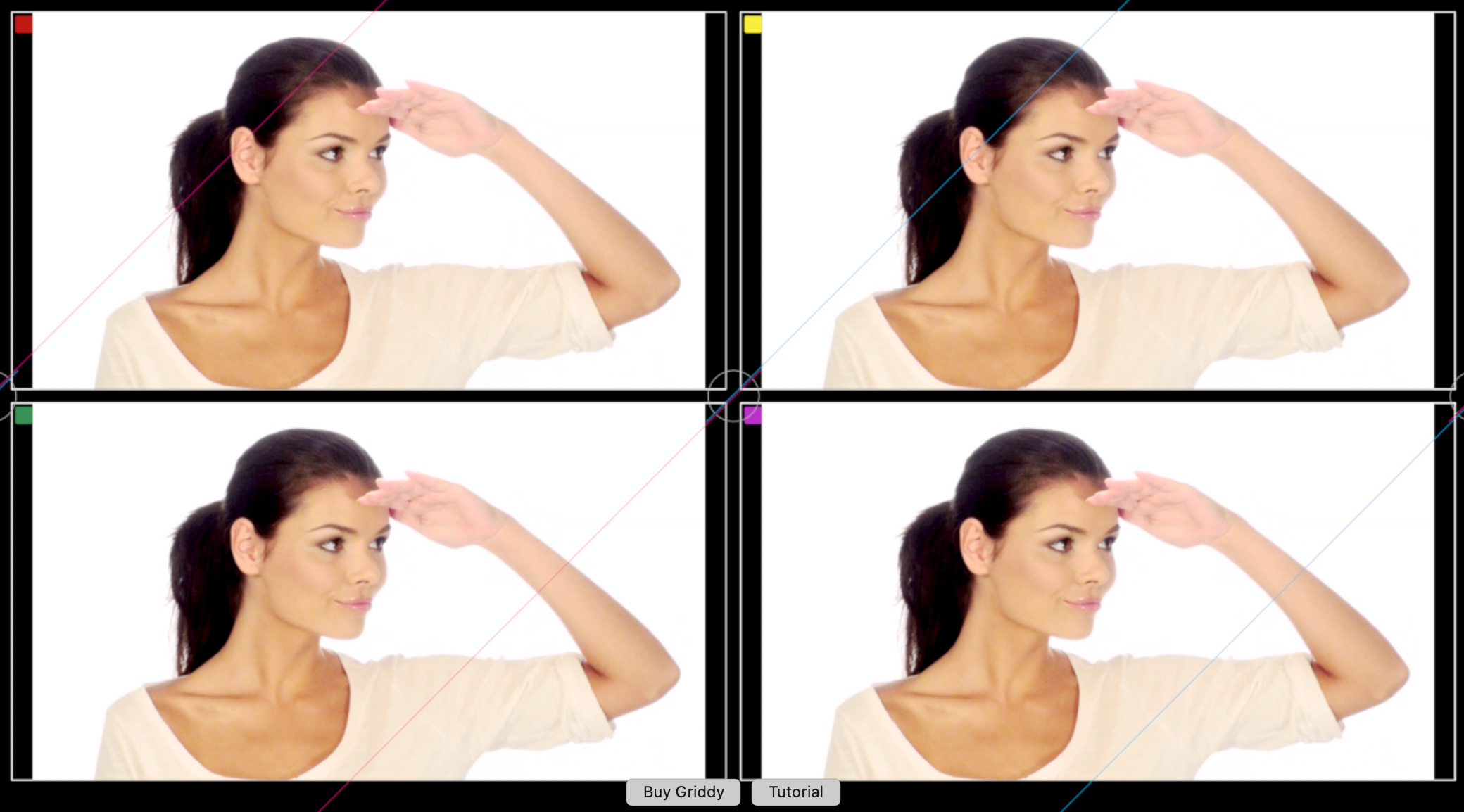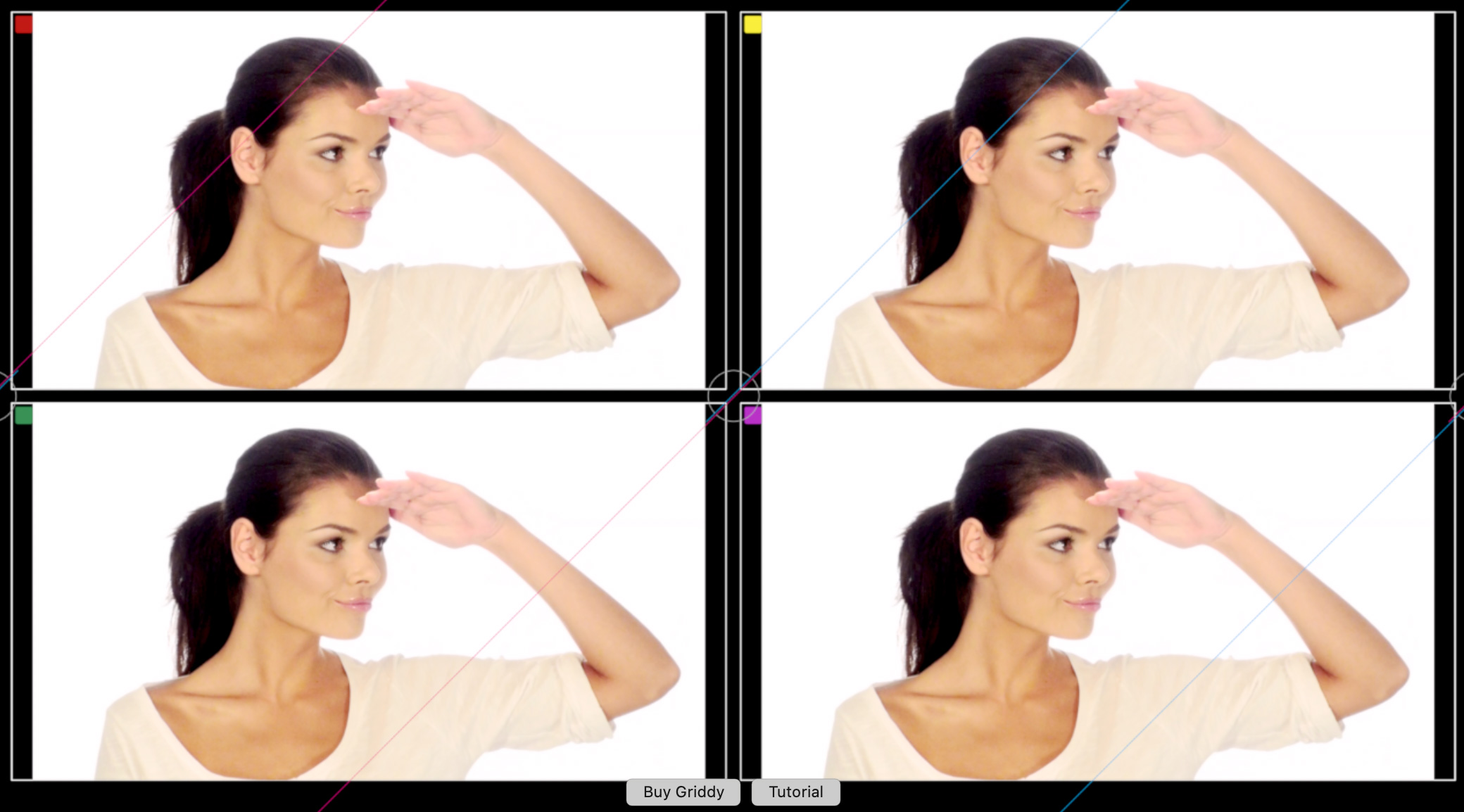 With Griddy set to "Layout Mode" create the overall look you want for the project using the top clip. While it is easy to change positions during playback, now is the time to create the overall layout and look for your project.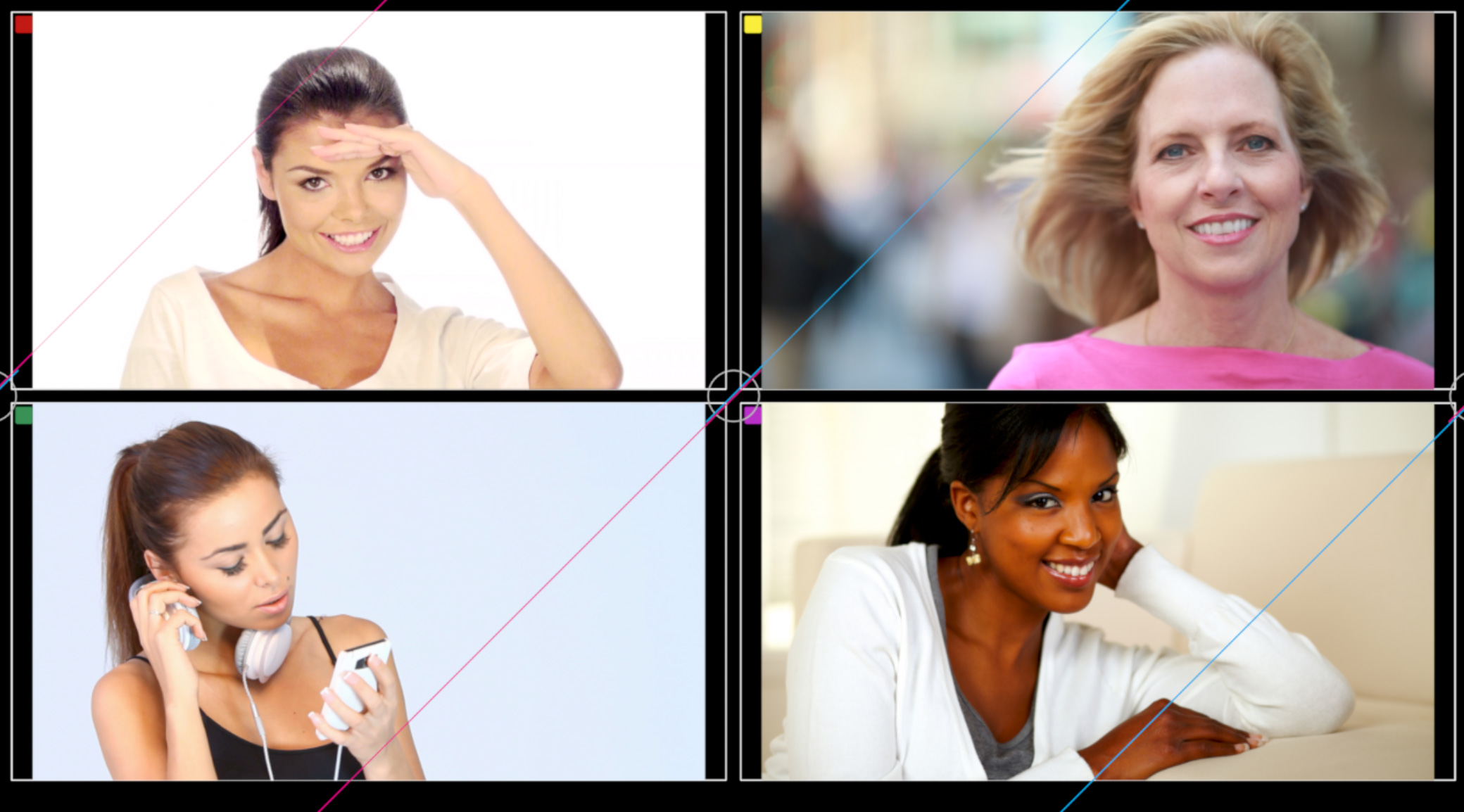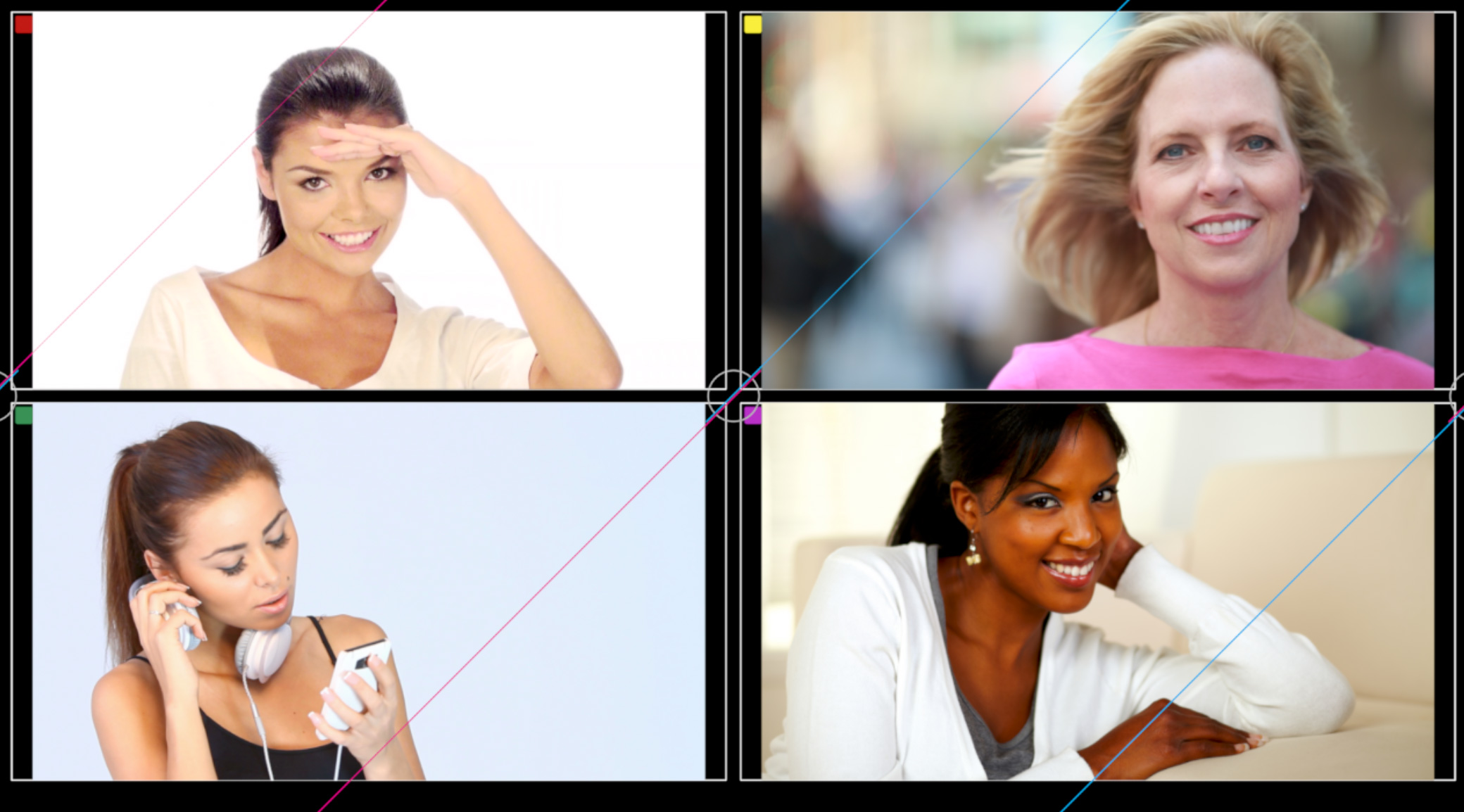 When you have the look you want, turn off Layout Mode, then copy the effects from the top clip (Edit > Copy), then paste the effect into all the lower clips (Edit > Paste Attributes).
NOTE: Pasting attributes will retain any effects, such as color grading or scaling, that you may have already applied to individual clips.


Adjust the Location slider until each participant locks into its own grid section. Make sure, before moving this, that you don't create keyframes accidentally.
NOTE: The Location slider is keyframable, which means you can animate a singer or dancer moving from one grid to another.
Tweak until you are happy – or the deadline arrives.
EXPORT
You export this project the same as any other, except that you need to set an In immediately after the sync point. This creates the look that everyone starts seamlessly.
Final Cut will use the In as the starting point for the final export.
SUMMARY
There are two hidden "gotcha's" you need to make this work:
Create a sync point for all performers that the editor can also reference
Create the audio track before starting the video edit.
Video wall edits are a fascinating way to harness the power of editing to create a group performance – even when each member of the group is isolated. These can be very effective ways to create compelling performances under very difficult performance conditions.
---
Bookmark the
permalink
.