Compressor 4: Deinterlace Video [Video]
[This is an excerpt from a recent PowerUP webinar: Advanced Compression Tips for Compressor 4 which you can download from our store. You can also access all our webinars by becoming a subscriber.]
Interlacing is the bane of a webmaster's video life. Interlacing was created when TVs were invented back in the 1930's, and it has refused to die ever since. You can spot interlacing by the thin, horizontal lines radiating out from all moving objects. The only way to get rid of it is to remove a field of video, which always degrades your image quality.
NOTE: As a side-note, if you are given the chance, ALWAYS shoot progressive video.
However, there are steps you can take to minimize the visual damage. Specifically, don't remove interlacing in your video editing application. The quality loss is too significant. Instead, use Compressor to remove interlacing. You have more options and, when you select the correct option, your image quality will look pretty darn good.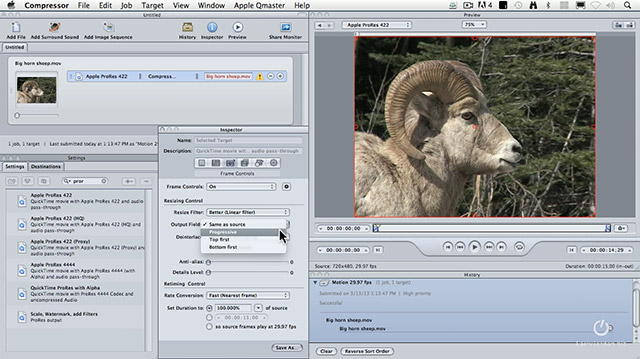 In this step-by-step video tutorial, watch host as Larry Jordan shows you the best way to deinterlace your video.
TRT: 5:20 — QuickTime HD movie
NOTE: This video will not play inside FireFox, please use a different browser.
---
Bookmark the
permalink
.