QuickTime: Display Chapter Markers
Chapter markers were traditionally the domain of DVDs. However, both QuickTime movies and MPEG-4 movies for the web can also contain chapter markers, which makes navigating through a long movie a lot faster when you are trying to find a specific section to review.
Starting last year, we included chapter markers in many of our training titles because viewers told me they watch our training multiple times to be sure they understand a subject. So, we added chapter markers to help them navigate between sections.
Which is a great idea… provided, that is, that you know how to find them. And that's what this article is about.
First, open your movie in QuickTime.
QUICKTIME X PLAYER

In QuickTime X, do one of the following:
Click the Show Chapter icon in the floating toolbar
Choose View > Show Chapters
Type Command+R
(Command+R, by the way is a toggle that turns chapter display on or off.)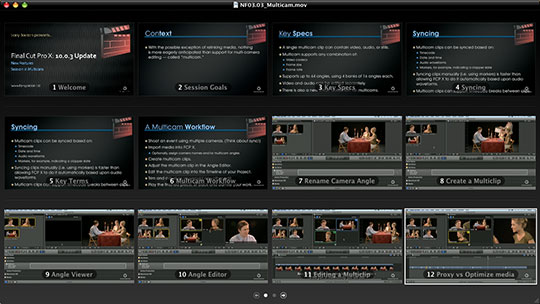 All available chapters in that movie are displayed, along with the name of that chapter.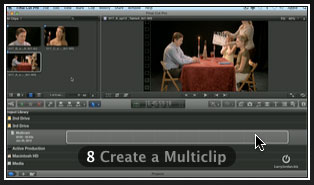 Click a thumbnail image which represents the chapter where you want to jump.
---
QUICKTIME 7

In QuickTime 7, look in the lower right corner of the player window. If you see text, click to reveal a pop-up menu.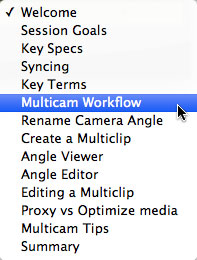 The checkmark shows your current location. Click the location where you want to jump.
Moving between chapters is easy, once you know how.
---
Bookmark the
permalink
.