Changes to Website
We are making changes to our website to make it easier to find stuff – especially for members.
TOP MENU

We retained the two red log-in options in the menu bar at the top right.
Subscriptions is a shortcut to sign-up for membership.
Log In allows you to quickly log into either our store or our premium video training.
DECIDING WHERE TO LOG IN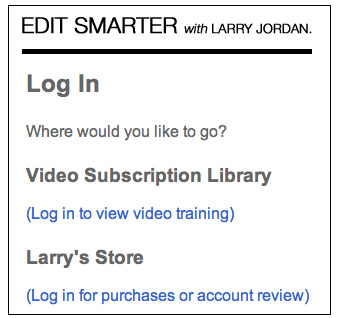 When you get to the Log In page, click the blue link below your destination. The top blue link takes you to our video training and the bottom link takes you to your account in our store.
REVISED SIDEBAR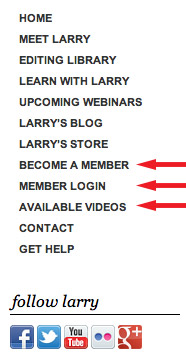 Our latest changes are in the sidebar on the left of almost all our web pages.
Become a Member is a fast way to sign-up for membership in our video training library.
Member Login is a fast way to directly log into our video training micro-site.
Available Videos is a list of all our available video training. If you are a member, this is a one-click button to everything. If you are deciding whether to become a member, this shows you the breadth and depth of our video training.
DECIDING WHERE TO LOOK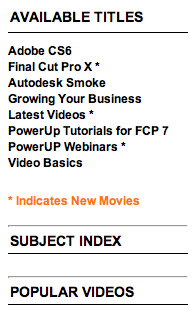 When you get to the video index page, the sidebar is your key to navigation.  Our video training is grouped by software, subject, and popularity.
Software Name. Click the name of the software on the left and, on the right, the titles that we have for that software are displayed.  Click a title icon for a description or table of contents of what it contains.
Subject Index. Here, we group our training by software (with a count of how many videos we have devoted to that application) and Function.
Popular Videos. This displays a list of the most popular videos, based on what other members have watched over the last seven days.
If all you want to know is "What's New," click the Latest Videos text button under Available Titles to see a list of all our recent webinars sorted by most recently added first.
IN THE FUTURE
We are also improving the search and navigation within the membership site itself. Our programmers are already working on this, and I hope to have more to talk about soon.
Thanks,
Larry
---
Bookmark the
permalink
.