Behind-the-Scenes: The Buzz @ NAB 2016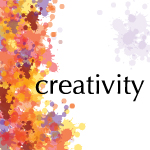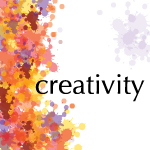 After weeks of planning, my team and I rolled into the Las Vegas Convention Center Sunday morning to begin setting the Digital Production Buzz for our NAB 206 coverage. And, because we talk a lot about production, I thought you'd be interested in a behind-the-scenes tour.
NOTE: For a complete list of shows and guests, click here.
BACKGROUND
This is the eighth year The Buzz has provided live coverage of the NAB Show – in fact, the Buzz was the First Official Podcast of the NAB Show, back in 2009. (You can look it up.) Now, you can't swing a USB cord without hitting at least two other podcasters.
As always, The Buzz focuses on new technology from companies that target the independent filmaker market. So, you won't hear about television transmitters, custom-made helicopters or high-end storage arrays that start at $50,000. Instead, we focus on much more exciting, cool stuff.
This year, The Buzz is audio-only. We are originating 13 shows – about 11 hours of content – spread across 4 days. We are interviewing 52 guests, live, directly from the show floor.
Here's how we put our broadcast system together.
IT ALL STARTS HERE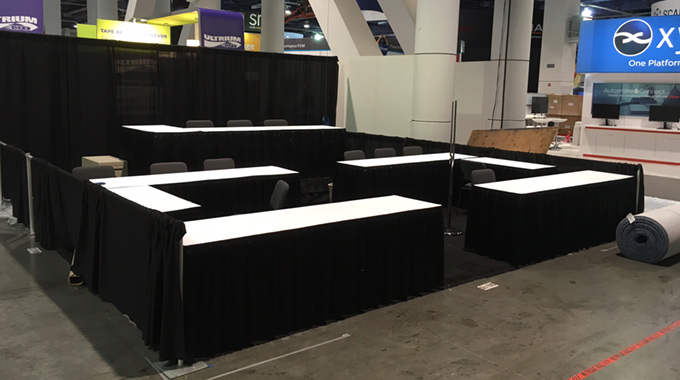 When I arrived this morning, our booth was already set by the NAB trade show team and this is what it looked like. The stage at the back is where our interviews will occur, the tables on the left will be replaced by audience seats and the area on the right will be for editing, streaming, social media and the producer's table.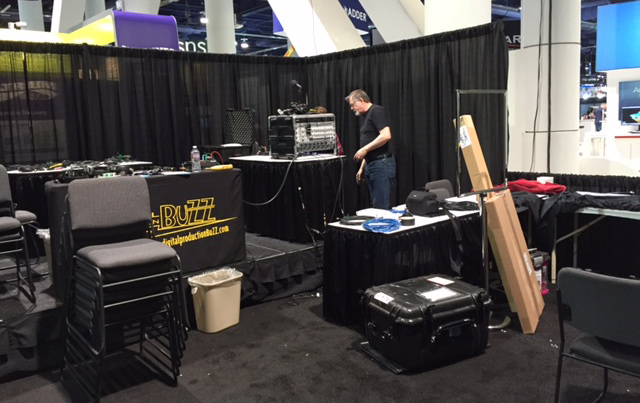 Time to go to work. We brought The Buzz table from our video studio to serve as our main set. The rack that I'm standing in front of contains all our audio processing gear. And most of the tables are already gone.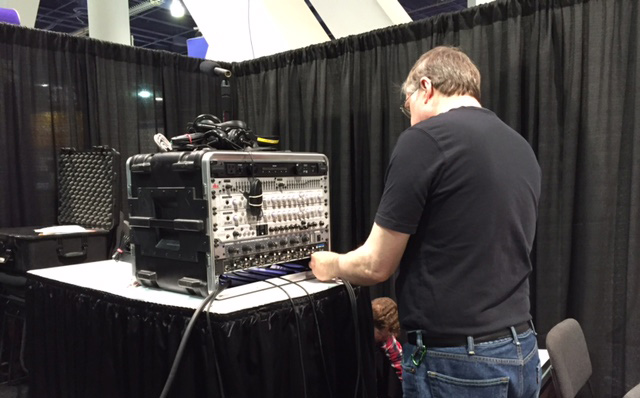 This rack handles all power conditioning, mic pre-amps and audio distribution. Its taken us a few years to figure out the best way to use it, but I like where this has ended up. (I could have other people put this together, but this is one part of the job that I especially enjoy, so getting this set up is my responsibility.)
Hidden, but still necessary, is the AC power that originates in a breaker-box on the floor behind the rack and network connectivity via Ethernet to all workstations. We have a smaller crew this year, but still have five people in the booth that all need to share files and access the Web.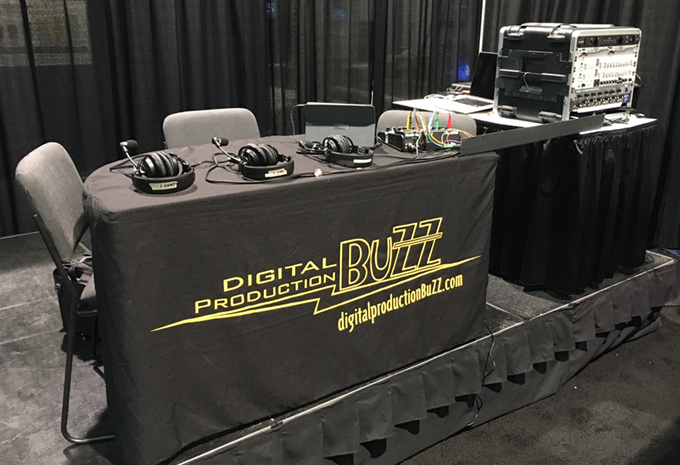 This is what our system looks like when it is all setup and mostly dressed:
Three guest headsets (Audio-Technica BPHS 1)
Audio mixer (Alesis FireBox)
A custom-made wire tray connecting the two tables (thanks, Debbie!)
The audio processing rack (more in a minute)
Network data distribution
A laptop for recording all shows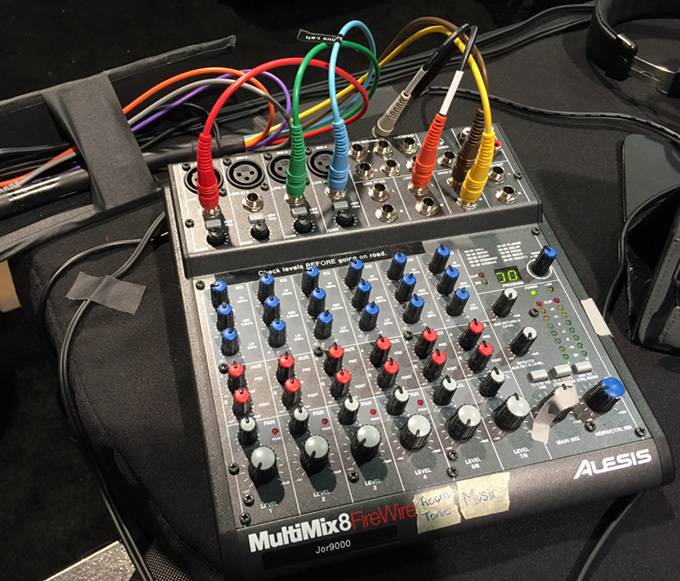 This is my station at the table. I handle all mixing:
Three mics
An iPad which plays back all themes, commercials and bumpers (we call this the "Show Bed.")
A Rode NTG2 shotgun for general purpose room tone
Because we are using the Aphex units as pre-amps, the mic signals coming into the mixer are all line-level; the red/green/blue connectors. Master audio out (yellow/brown) goes from the mixer to the Alesis audio distribution system.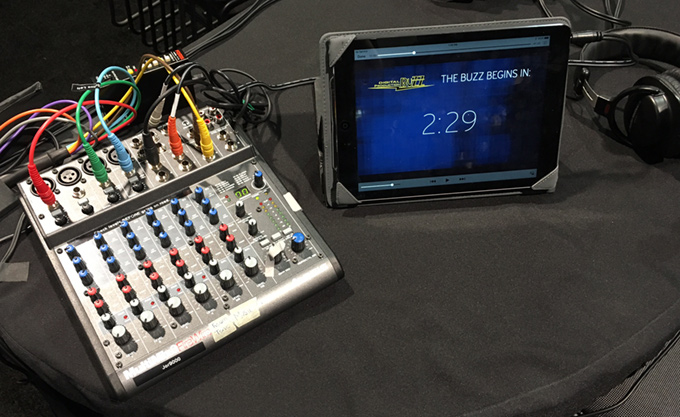 For anyone doing live podcasts using a small crew, I want to mention the Show Bed; illustrated here on an iPad, which I use for all live show playout. The Show Bed is a high-quality audio file that contains all audio that isn't live:
Billboards
Open
Bumper music
Commercials
Theme music
Plus, and this is the critical part, the video displays a countdown to the end of each segment. This means that all I need to do is handle the interviews and stop talking at the end of the countdown and the entire show will flow smoothly.  MUCH easier than trying to coordinate live audio playback during a show.
The Show Bed contains music that starts 15 minutes before the show – to allow people to tune in and make sure their connection is working – then, the Show Bed never stops until the live show is complete. Here, for instance, it says I have 2:29 left in this segment.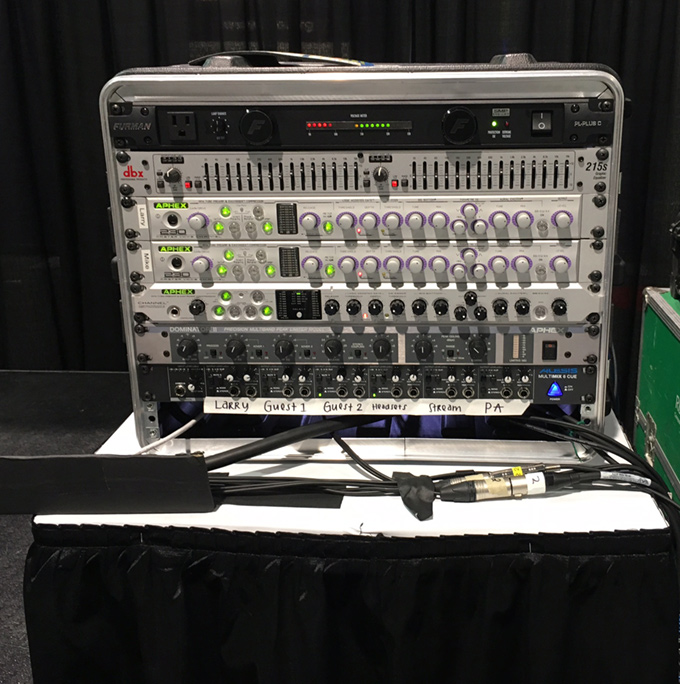 This is a closer view of the Rack:
Forman Power Conditioner
dBX Graphic Equalizer
Three Aphex Master Voice Processors which serve as mic preamps and audio "shapers'
Alesis Multimix 6 audio distribution system
The Alesis allows me to send audio with individual gain control to
Guest headsets
Headset for the PR rep
Headsets for the producer, social media and editing stations
Stage speakers
Live stream
We are using an iMac for streaming, FocusRight Scarlet for A/D conversion and Mixlr.com for distribution.
Why are we analog and not digital? Because analog sounds great, is easy to setup and is far cheaper than an all-digital system.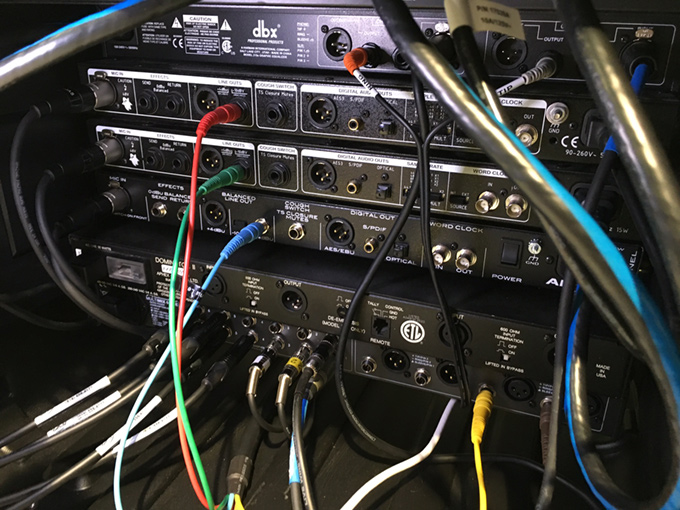 This is what the back of the rack looks like. For the first time, I brought a small desk light to light up the inside. Sheesh! Why didn't I think of that years ago? I can actually read the labels on the back of the gear.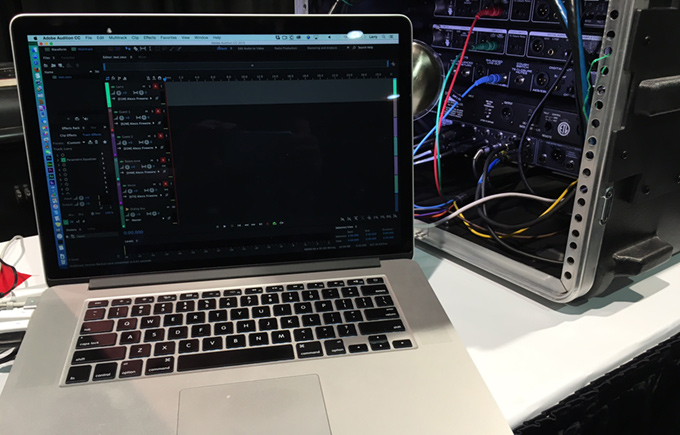 The reason I use the Alesis mixer is that it provides a FireWire feed sending each mic separately to the computer. Using a FireWire to Thunderbolt converter, I record each live show – as well as stream it – into Adobe Audition.
Then, in case there's a problem with the show, we have each mic on its own channel, along with a clean feed of the Show Bed, so that repairs can be made before we post. Our goal is to post each show 30 minutes after it is over. (We'll see how well we do this year…)
The big thing we generally need to fix are levels. I apply a multi-band compressor to all dialog channels to compensate for soft voices or a poor mic level setting during the interview.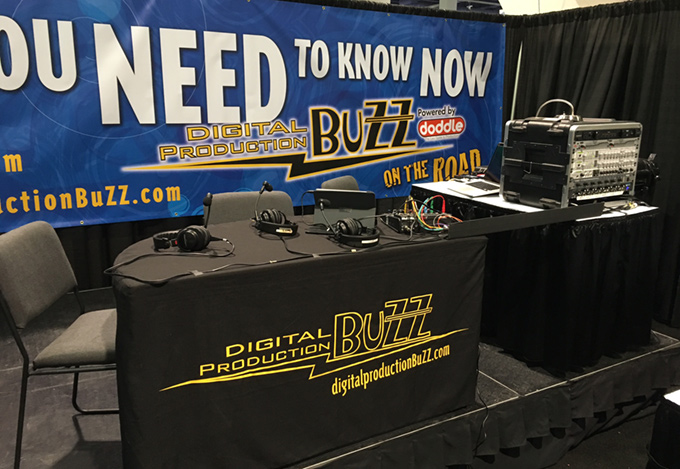 Here's what our set looks like with signage and all wiring complete.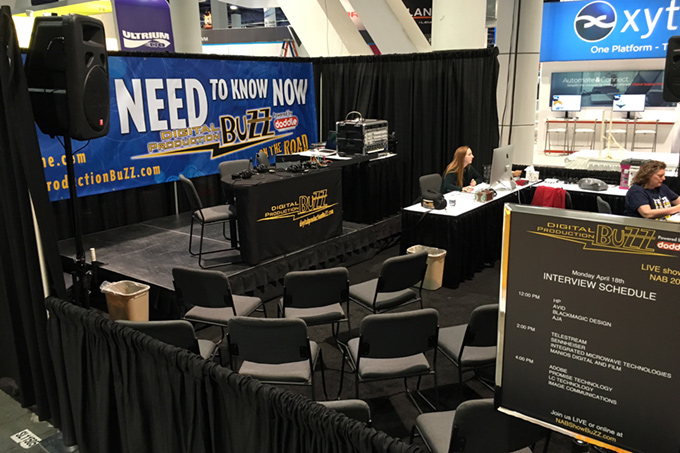 And here's what our finished booth looks like, with Brianna Murphy (editing) and Debbie Price (producing) busily working in the background.
SUMMARY
I enjoy hosting our NAB coverage, because there is always something new to learn. Our shows start Monday, April 18, at 12 pm – Las Vegas time. Then every two hours there after: 10 AM, 12 PM, 2 PM and 4 PM.
You can hear the results of our work live on NABShowBuzz.com – click the Listen Now button. Or posted later on NABShowBuzz, Digital Production Buzz, or iTunes (search for Digital Production Buzz).
This is a very fun system – I'm looking forward to putting it to work. And, as always, let me know what you think.
---
Bookmark the
permalink
.