Audition CC: Remove Audio Hum [Video]
Audition CC: Remove Audio Hum (Video)
[This is an excerpt from a recent PowerUP webinar: Repair Bad Audio in Adobe Audition CC, which you can download from our store. You can also access all our webinars by becoming a subscriber.]
This video tutorial illustrates how to use the DeHummer diagnostic tool to remove background hum from your audio.
The most common kind of hum comes from AC power leaking into audio cables. Whether you are using 60-cycle current, or 50-cycle current, the DeHummer can immediately remove this unwanted sound from your audio.
But there is also a variety of hums associated with bad phone lines, or poorly shielded mechanical equipment, that can mess up your audio as well.
This short video tutorial illustrates how to apply the DeHummer tool to a clip, how to adjust it remove your specific hum, and how to balance between getting rid of the noise while retaining the richest sound to your audio.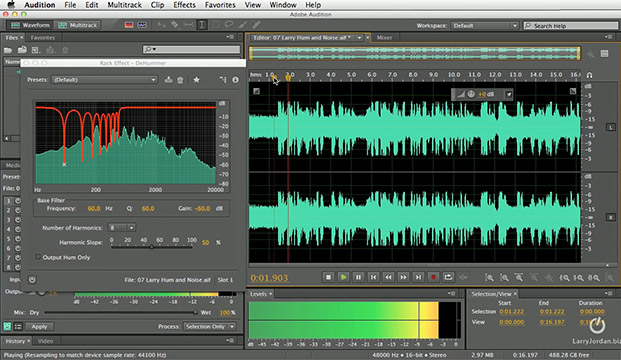 ---
Audition CC: Remove Audio Hum (Video)
TRT: 4:10 — QuickTime HD movie
NOTE: This video will not play inside FireFox, please use a different browser.
---
Bookmark the
permalink
.