Audition CC: Multiband Compressor [Video]
Audition CC: Multiband Compressor (Video)
[This is an excerpt from a recent PowerUP webinar: Repair Bad Audio in Adobe Audition CC, which you can download from our store. You can also access all our webinars by becoming a subscriber.]
This video tutorial illustrates how to use the multiband compressor in Adobe Audition CC to smooth audio levels. (Personally, I now prefer this method to using the Hard Limiter, which was my favorite levels filter for several years.)
The multiband compressor divides the audio spectrum into four bands of frequencies, then amplifies each band differently to provide a fuller, more "open," sound which is especially attractive for narration and on-camera interviews.
This short video tutorial illustrates how to apply the filter to a track or a clip, how to access a preset compression setting and how to modify the setting for your specific audio to boost soft passages and even out your audio levels for the entire track.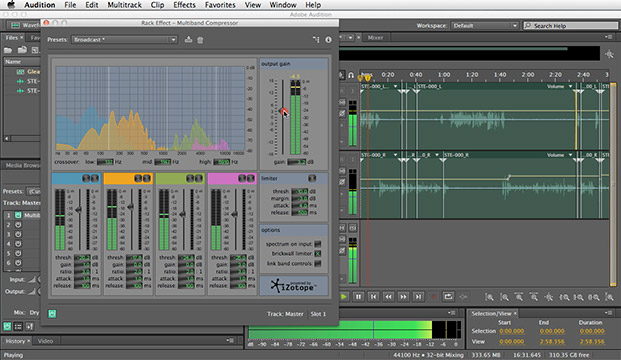 ---
Audition CC: Multiband Compressor (Video)
TRT: 4:10 — QuickTime HD movie
NOTE: This video will not play inside FireFox, please use a different browser.
---
Bookmark the
permalink
.