Audioburst Makes Your Audio Content Searchable [u]

[Updated 4/20/18 to include corrections from Audioburst.]
Audioburst is a new web service that makes audio content searchable using standard text searches on web browsers. While initially targeted at broadcasters, the platform expanded to include podcasters. Their plans include further expansion to support video in the future.
This week, I spoke with Assaf Gad, the Vice President of Marketing and Strategic Partnerships for Audioburst, about their service.
THE HIGH LEVEL VIEW

Audioburst links to streaming content, or uploads already stored content using an RSS feed, runs it through their system to create indexed audio snippets with metadata that supplies context, then allows this content to be searched using standard search engines such as Google or Bing.
For example, Assaf asked a digital assistant (it could have been Siri): "What's the weather forecast for New York?" Within seconds, a weather report that aired five minutes ago on WINS-AM New York was playing. Not text. The actual audio of the weathercaster.
Very cool.
According to their website, they have partnered with Bose, Samsung, SmartNews and others, with funding provided by 83North, Flint Capital, 2B Angels, Elron and AmiVoice Thai. The company is located in Tel Aviv, with US headquarters in Palo Alto.
Website: www.audioburst.com
Search website: search.audioburst.com
THE DETAILS

Audioburst started working on this platform three years ago. While development is still a work-in-progress, the system allows us to search for and listen to audio in near-real-time.
Basically, the system hooks into the RSS feed of a website, captures the audio and stores it on the Audioburst website (in order to create the short snippets that we listen to after a search), indexes it, then shares that metadata with search engines.
Because it uses the RSS feed, if a podcaster has stored content available using RSS, it would work with their system as well.
Assaf said: "Our system has three major benefits: First, we make [media] more available using standard search engines, second, we provide an on-demand experience for audio along with a longer shelf-life for the content, and, third, it allows content owners to re-monetize their content."
NOTE: "Remonetization" translates to "make money on."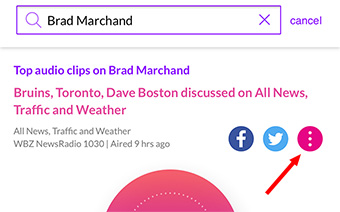 As we talked, I realized that this system is not creating a transcript (though Assaf tells me that a transcript is available online by selecting the option under the three dot button). However, similar to PhraseFind in Avid, we are use text searches to find matching content in audio clips.
The key, Assaf said, is that "we are able to understand the content and the context of the audio. We can support both general searches – "What is the weather report?" – and specific searches – "What is the weather forecast for New York tomorrow? What we do is build a word-cloud around each audio snippet to enable the search to understand context."
HOW IT WORKS – END USER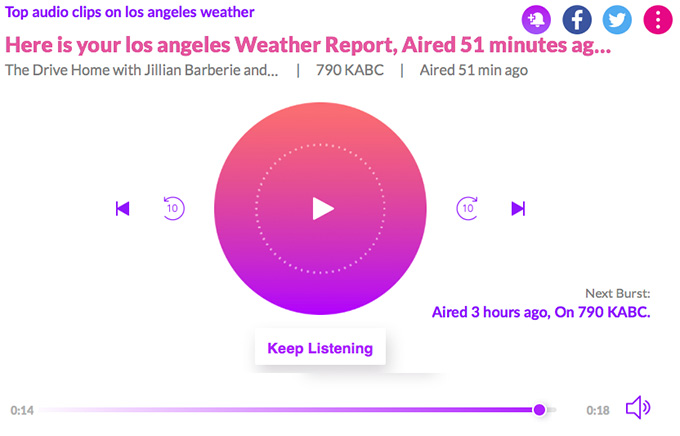 As an end-user go to: Search.Audioburst.com and either click one of the pre-built searches or type in your own. I decided to try Los Angeles Weather. As you can see from the screen shot above it found and played an LA weather report from KABC which aired about 50 minutes ago.
At the bottom of this window is a list of other audio clips that it found that meet your search criteria. Again, it is not displaying a transcript, you simply enter a question, then play the audio clip. The searches took just a couple of seconds to perform.
HOW IT WORKS – CONTENT CREATOR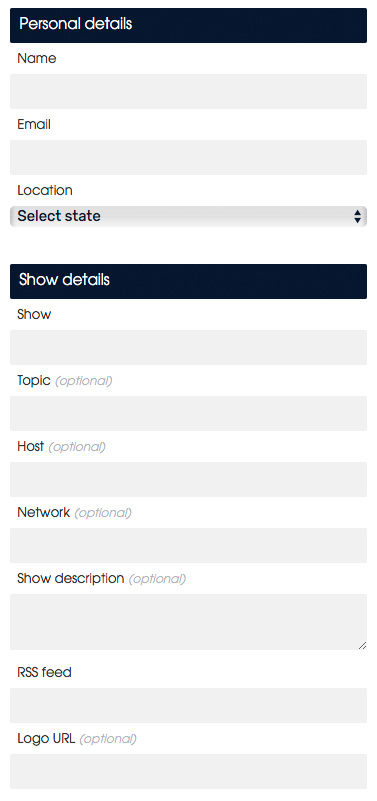 As a content creator, go to audioburst.com to register your audio – it's in the Broadcasters tab. Once you sign up, audio files are automatically uploaded to the Audioburst website, parsed into short snippets, indexed with metadata SEO tags which are then fed to the search engines.
Assaf invited me to try their service and provide feedback on what I like and what I don't. So, I entered the RSS Feed of our podcast – DigitalProductionBuzz.com – to be indexed as part of their coverage. After submitting our show, their website informed me that they will contact me. I'll keep you informed on how that turns out.
THE BUSINESS SIDE
Indexing original content, as well as accessing it via search is free. When I asked Assaf where they make their money, he told me it was ad-supported. Media creators would be paid based on ad revenues revolving around their content.
Right now, since the audio files are duplicated and hosted on the Audioburst website, they are audio-only so that their servers are not overwhelmed with video files. They hope to add video as the service continues to grow.
Recently, they announced a partnership with Samsung to support video, but the implementation is still under development.
SUMMARY

So much of our news and culture are currently locked inside media files which are desperately hard to search. Audioburst looks to provide a way for media creators to make additional money on their existing content, while offering society at large access to information that would be very hard to find any other way.
What I want to see is whether this service enables the smaller companies that do podcasting to extend their content into the larger audience, as well as it seems to work for the larger broadcasters. I also want to see how they handle advertising vs. user privacy, and how smoothly they can ramp up to support the massive amount of content that's out there.
In the meantime, visit the website and do some searches for yourself. It's a pretty amazing technology.
ONE OTHER NOTE
This technology is not designed for production or post; it's designed to allow access to audio files once they are finished and in distribution. But this technology also has great promise to open the vast media archives stored in museums and libraries around the world. I was talking with my son, who's an archivist at Brown University about Audioburst and we both agreed that allowing the public to find and browse audio content from archives in the past would be a great benefit. How Audioburst makes that possible is up to them, but I hope they are thinking about it.
---
Bookmark the
permalink
.