Apple Updates Final Cut Pro X, Motion & Compressor [u]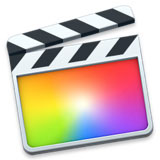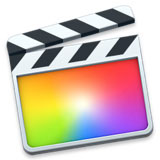 [Updated Nov. 16, 2018, with the Pro Video Format update and possible incompatible 3rd-party apps.]
This morning, Apple released free updates to Final Cut Pro X (10.4.4), Motion (5.4.2) and Compressor (4.4.2). This is the 28th free update to Final Cut since it was first released in June, 2011.
There are a variety of new features in this update, here are the highlights. I'll have tutorials on these new features in my weekly newsletter on Monday.
NOTE: Click here to register for my free weekly newsletter: "Edit Smarter, with Larry Jordan."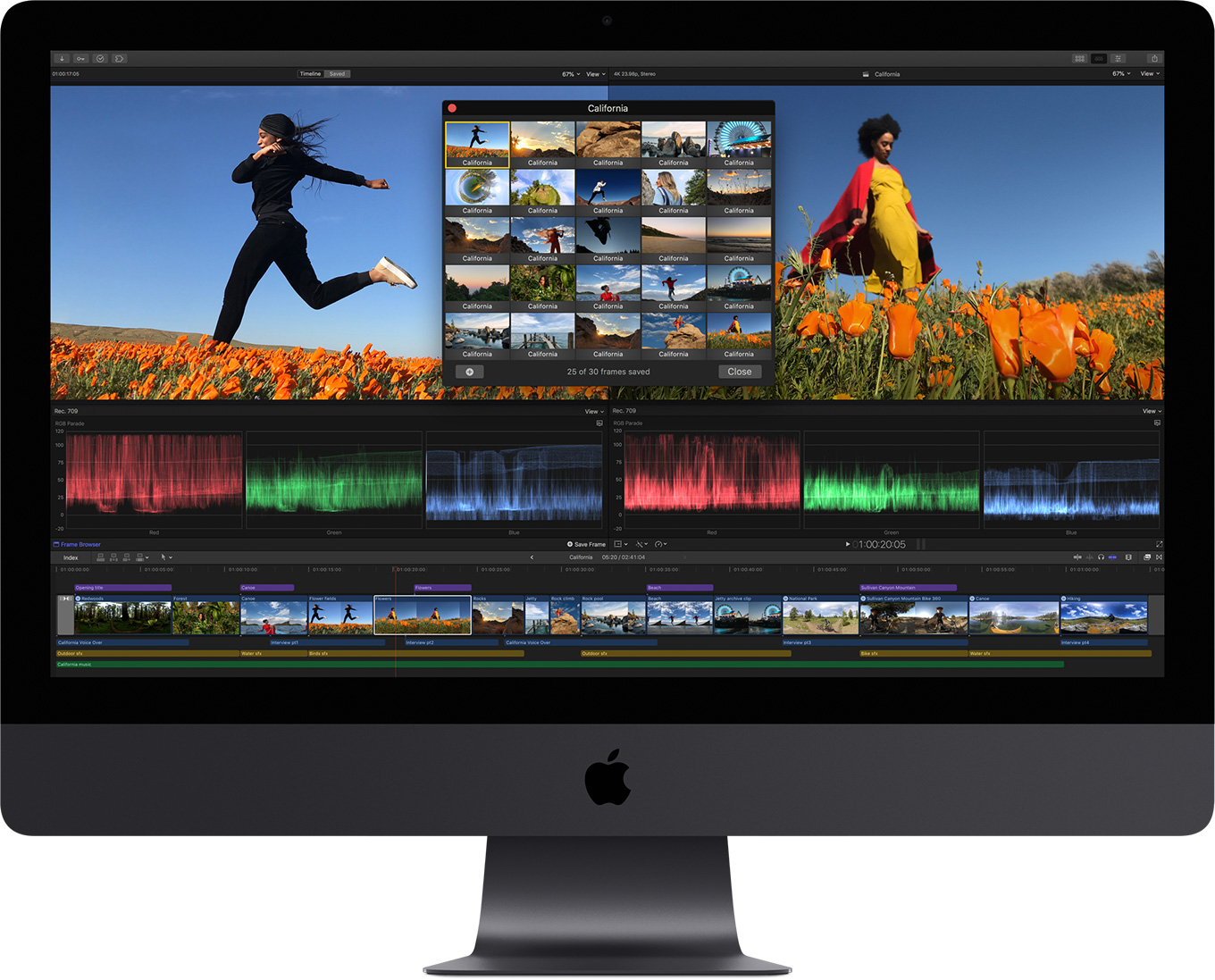 (All images courtesy Apple, Inc. Click to see larger image.)
UPDATE – Nov. 16, 2018
Before you upgrade, make sure any 3rd-party plug-ins you are using are compatible. I am getting email notices from companies indicating potential problems. All current developers are working on updating their tools, but, to be safe, check their websites before you upgrade. Most of these updates should be completed in a few weeks.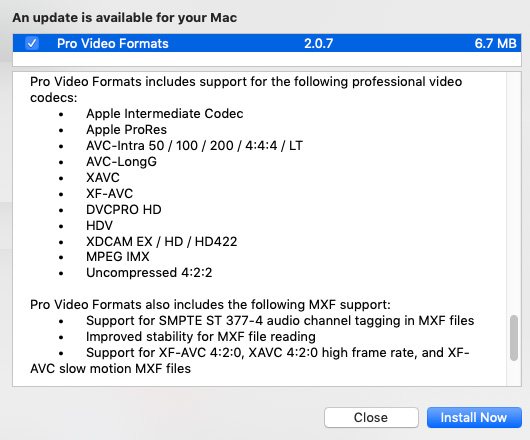 You will also need to upgrade your Pro Video formats, and this does NOT show up in the Mac App Store. Instead, go to: System Preferences > Software Update. The current version of the Pro Video formats is 2.0.7.
FINAL CUT PRO X
Workflow Extensions
The headline feature is Workflow Extensions. Similar in concept to plug-in panels in Adobe Premiere Pro CC, these extensions allow 3rd-party developers to add functionality directly in Final Cut. For example, dragging assets directly from the extension into the timeline or browser.
Extensions open directly in the interface without the need to launch a separate app or browser. They are designed to match the look of Final Cut Pro for a native experience with third-party tools. And extensions integrate tightly into the features of Final Cut Pro, allowing you to drag clips or projects between the extension and your library, navigate your timeline, and more.
Launching this morning with the FCP X update, are workflow extensions from Frame.io, Shutterstock and CatDV.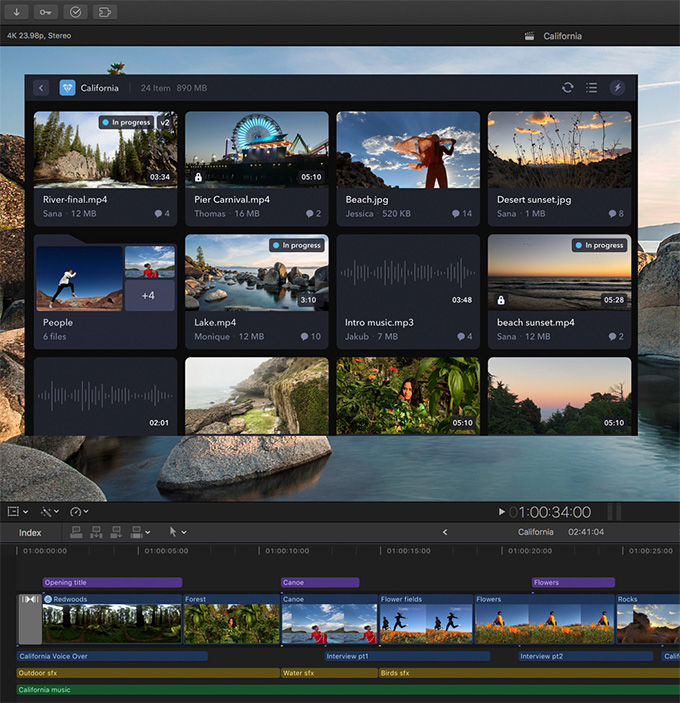 (The new Frame.io workflow extension, floating at the top.)
The Frame.io extension combines the core functionality of Frame.io with the advanced editing tools in Final Cut Pro X. Developed in collaboration with Apple, Frame.io in Final Cut Pro X is the first collaborative video review toolset that can be accessed right in Final Cut Pro X.
"Frame.io in Final Cut Pro X enables editors to … track progress, review work with teams, respond to comments and annotations, and even batch upload and download content," explains Emery Wells, co-founder and CEO of Frame.io. "…Having these tools within Final Cut Pro X means they're not switching context to collaborate with their team or partners. They're able to iterate very quickly on projects and stay focused on evolving their creative vision."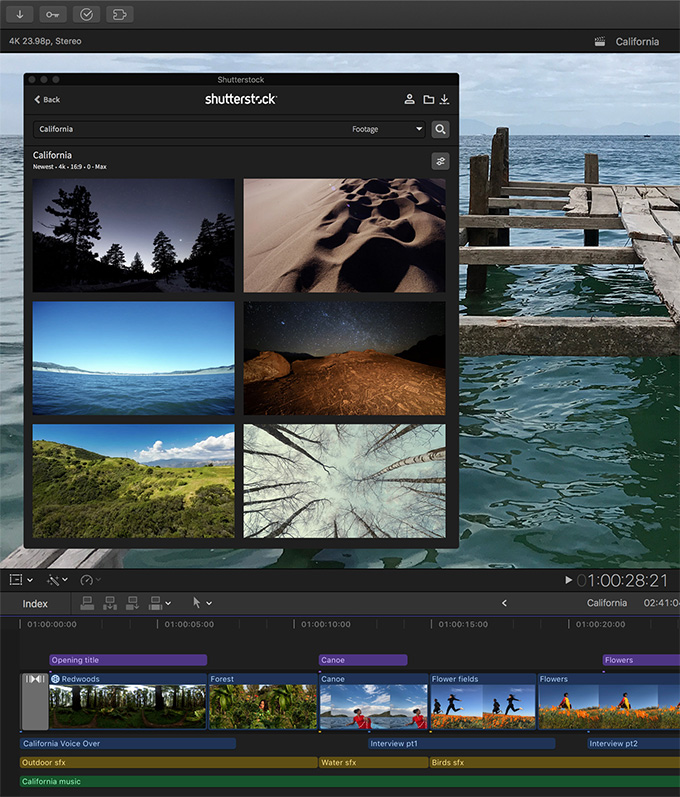 (The new Shutterstock workflow extension, floating at the top.)
Shutterstock also announced a new integrated workflow extension for Final Cut, offering more than 250 million video, image, and music assets available for license. This custom-built extension is the first multi-asset API tool Shutterstock has launched.
The extension also enables users to preview content by adding watermarked video, images, and music to their Final Cut Pro X project and then easily replace them with licensed, high-resolution assets at any time. The extension supports the same 21 languages supported by the Shutterstock site. It also supports the same pricing plans across all assets. Users without an existing Shutterstock account can create one directly within the extension.
Workflow extensions can be downloaded free from the Mac App Store starting today. Additional third-party extensions for Final Cut Pro X will be available on an ongoing basis. These workflow extensions are supported by an Apple API and SDK, which is available to all interested developers by contacting Apple Developer support.
Other New Features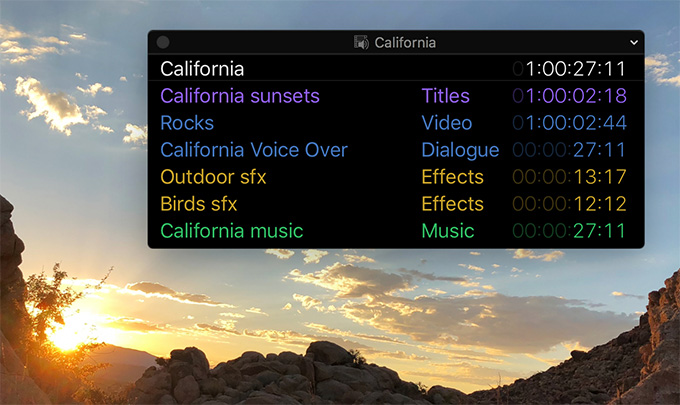 (The new floating timecode window.)
A new floating timecode window makes it easy for video editors to know where they are by displaying color-coded clip names, roles, project timecode, and source timecode in a customizable, resizable display.
Batch sharing (exporting) which allows a user to export multiple clips or projects in one step. This can be especially useful when transcoding dailies on set for quick turnaround or delivering multiple versions of a project.
Comparison Viewer, a new window that lets editors view reference still images while color grading to ensure a consistent look across their project. Similar to a frame store which holds multiple images, you can refer to a stored source image while adjusting another.
High-quality video noise reduction minimizes artifacts in low light or archival footage. Simple sliders allow restoring sharpness after noise reduction.
Closed captions now support SRT format captions, which is the preferred format for Facebook and Instagram.
Captions can now be burned into the video for compatibility with a wide range of video websites, as well as toggled on or off.
Improved, more intuitive marquee selection of connected storylines and clips.
A new tiny planet filter that transforms 360° video into spherical animations that can be keyframed to change over time.
MOTION
Motion adds a comprehensive set of color grading tools including color wheels, color curves, hue/saturation curves, and custom LUTs. However, there are still no video scopes in Motion.
A customizable Comic effect filter that instantly turns any image or video into color or monochrome comic book illustration.
A new tiny planet filter that transforms 360° video into spherical animations that can be keyframed to change over time.
COMPRESSOR
Compressor was rewritten to a new 64-bit engine that takes advantage of all the memory in a user's Mac for improved performance when encoding high resolution, high frame rate video, while still maintaining support for 32-bit codecs, to allow working with key legacy formats.
Compressor now supports SRT closed captions. SRT is the preferred caption format for Facebook and Instagram.
Improved hardware encoding for H.264 and HEVC formats.
UPDATE NOTE
As usual, I recommend never updating in the middle of a project. Finish the project, then update.
Also, there's no harm in waiting a few days to make sure there are no hidden bugs in this new version. Let others not under a deadline test the product. Once you know the software is good to use, feel free to update.
SUMMARY
All upgrades are free and available now in the Mac App Store; extensions from Frame.io, Shutterstock and CatDV are also available today in the Mac App Store.
I'll have tutorials and more coverage on these new features in my weekly newsletter on Monday.
---
Bookmark the
permalink
.