Apple Motion 5.4: Animate Text with Behaviors [video]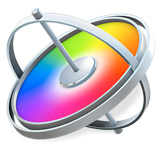 [This is an excerpt from a recent on-line video webinar: "Text Animation in Apple Motion 5.4" which is available as a download in our store, or as part of our Video Training Library.]
SESSION DESCRIPTION
Last week, we looked at creating text effects in Apple Final Cut Pro X. In that session, we discovered that there are substantial limitations on how we could move and animate text. So, this week, we look at how to use the more powerful text tools in Motion to create more extensive text animation.
Join host, Larry Jordan, as he presents text animation in Motion 5.4. In this session, you'll learn how to:
Create a text project in Motion
Create and format 2D and 3D text
Apply pre-built text behaviors
Apply Motion behaviors
Apply Motion simulations
Apply animation keyframes
Animate lights in 3D space
Create a stand-alone movie with transparency
Create an FCP X text template
The number one thing we can do to catch a viewer's eye is to make something move. In this short video excerpt, Larry Jordan shows how to animate text – both 2D and 3D – using Motion behaviors.
---
Apple Motion 5.4: Animate Text with Behaviors
TRT: 7:22 — MPEG-4 HD movie
---
Our website offers lots more video training in our store.
---
Bookmark the
permalink
.