Apple Motion 5.3: Interface Introduction [video]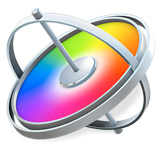 [This is an excerpt from a recent on-line video webinar: "Get Started with Apple Motion 5.3" which is available as a download in our store, or as part of our Video Training Library.]
DESCRIPTION
Whether you use Apple Final Cut Pro X, Adobe Premiere Pro CC, or any other video editing software, you can create high-quality motion graphics using Apple Motion. However, the interface to Motion changed dramatically with the 5.3 release. So in this webinar, we start at the very beginning to learn how to use the latest version of Motion.
Whether you are new to Motion, or just want help figuring out where everything moved, this session is for you. This session covers:
Motion Basics
Create a new project
Explore the interface
The Library
Add elements to a project
Behaviors and Animation
Add / Style / Animate Text
Save / Export a Project
Questions and Answers
In this short video excerpt, Larry Jordan walks you through the Motion 5.3 interface.
---
Introduction to the Apple Motion 5.3 Interface
TRT: 9:10 — MPEG-4 HD movie
---
Our website offers lots more video training in our store.
---
Bookmark the
permalink
.