Apple Motion 5.3: Create a Particle System [Video]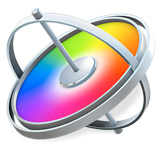 [This is an excerpt from a recent on-line video webinar: "Particles, Replicators and Parameter Behaviors in Apple Motion 5.3" which is available as a download in our store, or as part of our Video Training Library.]
DESCRIPTION
Here's the link to our 6-part Motion Bundle that contains this episode.
This session is part 4 in our 6-part series on using Apple Motion 5.3. This week, we look at particles, replicators and parameter behaviors.
Whether you are new to Motion or want to get deeper and more fluid with the application, this series is designed for you. Here's what we plan to cover:
Define Particles, Replicators and Parameter Behaviors
Explore existing particle emitters
Create and modify a new particle system
Explore existing replicators
Create and modify a new replicator
Lots and lots of demos
In this short video excerpt, Larry Jordan shows how to create an interesting particle system using elements from the Apple Motion 5.3 Library.
---
Create a Simple Particle System
TRT: 7:32 — MPEG-4 HD movie
---
Our website offers lots more video training in our store.
---
Bookmark the
permalink
.