Apple Compressor 4.3.1 – Still Not Perfect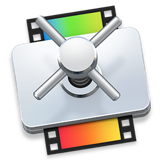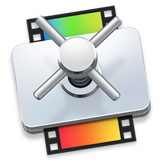 The 4.3.0 release of Apple Compressor was notable for the number of bugs it contained, including slow compression speeds, inability to burn DVDs and non-functioning watermarking.
Last week, Apple updated Compressor to version 4.3.1 specifically to address many of these issues, including:
Fade In/Fade Out filter is applied correctly when using distributed encoding
Disc name and titles are correctly displayed when using languages with double-byte characters
Location paths are respected when using Compressor using Terminal
Improves performance when exporting H.264 files and changing frame rate
Exporting ProRes 4444 files with transparency using Compressor creates a correct alpha channel
Fixes an issue that could prevent processing files using 32-bit codecs including Animation, PNG, Cinepak, and WMV
Fixes an issue in which marker buttons on the Touch Bar may be displayed incorrectly
Fixes an issue that could prevent burning Final Cut Pro projects to DVD using Apple SuperDrive.
SO, HOW'S THE NEW VERSION?
In a word – I'm not sure.

Watermarking, which worked great in all versions of Compressor prior to 4.3, is still broken. Since every video I compress is watermarked, this means that I need to reserve one system to run an older version of the software specifically so that I can create watermarks successfully.
NOTE: You can't store different versions of Compressor on the same system. Updating Compressor, Motion or Final Cut erases the old version with the new one.
In the screen shot above, the left-hand image is from Compressor 4.2.1, the right-hand image is from Compressor 4.3.1 (which looks the same as Compressor 4.3.0).
As for DVD burning, I don't burn DVDs on a regular basis anymore, so I'm not the best judge. However, I received almost twenty DVD complaints with the 4.3.0 release. So far, with 4.3.1, I've only had two.
If you are burning DVDs, let me know how well the new version (4.3.1) is working for you, in the comments below. If necessary, I'll share them with people that need to know.
NOTE: One reader posted, just a few minutes ago, that: "I upgraded in the early hours of this morning [to Compressor 4.3.1], tested when I exported from Compressor 4.3.1 and the grainy effect is no longer appearing on the DVDs. It also appears to be exporting to DVD faster." So this is good news.
TESTING BACKGROUND
For the last several years, I've been testing compression speeds of each new version of Apple Compressor and Adobe Media Encoder using the same suite of test files and settings.
In my previous tests, I assumed that whether I used an internal SSD or external hard drive, because compression speed was dependent upon the CPU, the speed of storage wouldn't matter. I discovered this is not the case. The speed of the storage has a major impact on compression speed, as I illustrate below.
Also, in past tests, I compared compression speed using both an iMac and MacBook Pro. Because watermarking is still broken, I can't upgrade my MacBook Pro because I need to use it for compressing all my videos. Once watermarking is fixed, I'll update these tests with additional numbers.
In all cases, my tests used the default YouTube HD 720 setting that ships with Apple Compressor. This defaults to multi-pass compression with a data rate of 9,765 kbps using the H.264 codec. The only change I made during these tests was to compare single-pass compression vs. multi-pass to see how much it affected the speed. (Answer: a lot!)
NOTE: Only the H.264 codec in single-pass mode is hardware-accelerated. Other codecs and multi-pass compression are done exclusively in software, which is much slower. Youtube, and other social media, presets all output H.264.
SO, IS IT FASTER?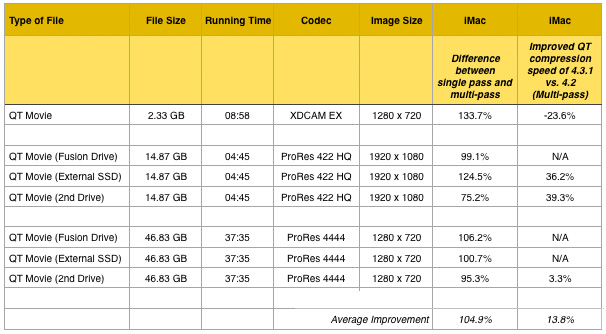 [Click here to see the full PDF with specific results and all my notes.]
The answer is: maybe; it depends upon the codec and storage speed.
Compression Speed
Version 4.3.1 is 24% slower than 4.2.1 when compressing XDCAM files
Version 4.3.1 is 36% faster than 4.2.1 when compressing ProRes 422 HQ files
Version 4.3.1 is 3% faster than 4.1.2 when compressing ProRes 4444 files
In short, if you compress a variety of different source codecs, 4.3.1 is about the same speed as 4.2.1. If you export exclusively in ProRes 422, it should be faster.
NOTE: I don't trust my results from the 4.2.1 multi-pass testing for ProRes 4444, which you can see in the PDF. I suspect I ran the 4.2.1 compression test in single-pass mode, which would speed the compression dramatically. Version 4.3.1 compresses about 3% percent faster than 4.1.2 when in multi-pass mode compressing ProRes 4444 files.
Storage Speed
The speed of your storage makes a BIG difference in how fast files compress. For example, with ProRes 422 in multi-pass mode, which is the default setting:
The internal Fusion drive was 15% faster than an external SSD
The internal Fusion drive was 28% faster than an external single spinning hard disk
For ProRes 4444 in multi-pass mode, which is the default setting:
The internal Fusion drive was 10% faster than an external SSD
The internal Fusion drive was 80% faster than an external single spinning hard disk
I ran both these speed tests twice, because the differences were so dramatic. I was very surprised with these results.
Single-Pass vs. Multi-pass
Strangely, the default setting for YouTube compression uses multi-pass mode. At the bit rate Apple uses for YouTube (9,765 kbps) there's no advantage to multi-pass. In fact:
Single-pass compression is, on average, 105% faster than multi-pass; i.e. twice as fast
Multi-pass files are, on average, 17% bigger than single-pass files
This increase in file size contradicts what I used to believe: that multi-pass took longer but created smaller files with higher quality. Neither of these seem to be true. First, because single-pass mode uses hardware to accelerate compression, which is vastly faster than software compression alone. Second, the high bit rate of the YouTube setting yields great quality, regardless of single vs. multi mode.
If Apple is using multi-pass mode to improve image quality, changing the bit-rate to about 12,000 kbps, while setting compression to single-pass mode would generate files of about the same size in less than half the time, with equal or better image quality.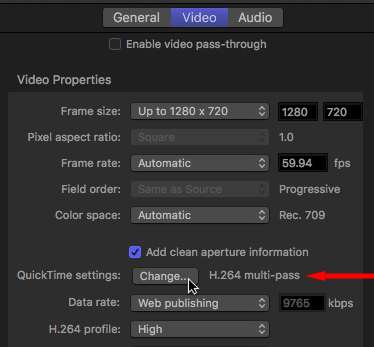 NOTE: You can change the default YouTube setting from multi-pass to single-pass in the Inspector, after selecting the compression setting applied to a clip.
WHAT SETTINGS SHOULD I USE?
For fastest performance with highest quality for YouTube (or any social media site accepting H.264 video), I recommend:
Use  a data rate between 10,000 and 12,500 kbps for 720 or 1080 HD
Set compression to single-pass to take advantage of hardware acceleration
Export the file directly from Final Cut Pro X to the internal drive; if you have the room
Data rates for personal websites should be set lower. In all cases, though, single-pass compression will be faster.
NOTE: If the master file is already stored externally on a RAID or SSD, you won't gain any speed savings by copying the file to your internal drive, as it will take longer to copy than the time you save in compression.
SUMMARY
I have mixed feelings about this update. Since Final Cut Pro X and Compressor use the same background compression process, upgrading your system to FCP X 10.3.x will automatically update the compression engine, even if you don't own Compressor.
NOTE: The only way to run Compressor 4.2 is to use an different system that hasn't been updated.
The speed improvements for some codecs are faster, but not in every case. The default YouTube settings generate unnecessarily larger files at speeds about 50% slower than they could be. The hardware you use to store source files will absolutely affect compression speed. While on-going problems with video watermarks mean that I, personally, can't use the current version of Compressor to compress my videos.
NOTE: These compression issues do NOT affect image quality when sharing your project as a Master File out of Final Cut Pro X.
If Compressor works for you, great. If you are having problems, you'll probably have the same problems compressing using either FCP X or Compressor. In which case, you'd be better off doing your media compression using different software.
At least until Apple releases Compressor 4.3.2.
---
Bookmark the
permalink
.