An Exercise in Frustration: Retrospect 16

[ Read my product review disclosure statement here.]
For 30 years, Retrospect has provided backup software for Windows and Mac systems. I've used it in the past, but haven't looked at it recently. Earlier this month, the folks at Retrospect asked if I'd be interested in reviewing the latest version of their software. When I said yes, they sent me a license for the multi-server edition of their Mac software.
As you'll read, Retrospect makes highly-respected software, but it is not intuitive, the video tutorials are woefully out of date and the User Guide explains the details but misses providing answers.
After two hours of reading and watching, I still haven't figured out how to get the software to do a simple backup. This is not the fault of the software, which I'm sure is good, but it is the fault of their documentation and tutorials. Ultimately, this review became an exercise in frustration.
EXECUTIVE SUMMARY
Unlike other backup software, Retrospect focuses on the enterprise. Which means, as a single user or small workgroup, you'll never outgrow it. Equally important is that Retrospect supports both subscriptions and purchase. This means you can buy it when you have cash from a project, then not worry about paying for it when you don't.
If you need backups of a single system, Retrospect is over-kill. If you are supporting multiple systems, need back-ups to The Cloud, online storage or tape, or need to include servers in your back-ups, Retrospect should be considered.
However, don't expect the documentation to be up-to-date or helpful. It has lots of details but very few answers.
Product: Retrospect for Mac
Developer: Retrospect, Inc.
Website: https://www.retrospect.com/en/products
Price: Varies, with both subscriptions and purchase available. Pricing is very affordable. A free trial is also available.
A BIT OF BACKGROUND
Retrospect has been protecting data since 1989, starting as Dantz Development. They were acquired by EMC in 2004, and seven years later, were spun off again as Retrospect, Inc. In June 2019, they joined Drobo and Nexsan as a subsidiary of StorCentric. Their Engineering, Sales, and Support teams remain the same.
WHY USE RETROSPECT INSTEAD OF TIME MACHINE
The short answer is that if you have a single system and enough storage for your backups, Time Machine is probably the best choice. It is built into the OS, it's easy to use and it works.
However, as your backup needs increase, Retrospect becomes a better option. For example, unlike Time Machine, Retrospect:
Supports Windows and Linux systems
Supports archiving to LTO tape
Supports Cloud backup
Provides a centralized management console to control backups across multiple devices
Provides flexible backup scheduling
Supports customized data retention policies
Provides an iOS app for remote monitoring of backups
As I wrote earlier, Retrospect is focused on the enterprise, managing backups across multiple systems running different OS, and integrating with Cloud, online and offline (tape) storage.
NOTE: Unlike programs like Carbon Copy Cloner, which copies files from one location to another, Retrospect builds your files into a "database," which means that if you look at the destination where your files are stored, you won't see individual files. Instead, you'll see a collection of .rdb files, which are the containers for your backups.
HOW IT WORKS
"Retrospect uses an archival method of backup that ensures backed up files are not deleted or written over until you request it. That way, they stay on the backup media indefinitely. For example, if you have been working on a particular document over a period of time, Retrospect backs up a different version of the document each time you back up. If necessary, Retrospect lets you retrieve a previous version of the file from any point in time it was backed up.
"Retrospect always performs Smart Incremental backups. A Smart Incremental backup intelligently copies only files that aren't already present on the current Media Set being used for backups (typically those files that are new or have changed since the previous backup). You don't have to specify whether you want a "full" or "incremental" backup. Retrospect, by default, copies any and all of the files it hasn't already backed up.
"Because Retrospect only needs to add one instance of each unique file to the backup, it saves space on the backup media that would otherwise be used up storing duplicate copies of files. This space-saving technique is known as file-level deduplication or single-instance storage.
"All of the backup, copy, and restore operations in Retrospect require a source and a destination. For a backup, the source is generally a hard drive or a folder on a hard drive (Retrospect calls these sources and Favorite Folders, respectively). The destination is generally a Media Set stored on backup media such as disk or tape.
"Retrospect uses a Catalog file, an index of the files and folders contained in a Media Set, to keep track of the different generations of modified files in a Media Set. The Catalog lets you quickly search for files without having to actually search the backup media itself, which would be considerably slower, especially with media like digital tape. By default, Catalog files are stored on the Retrospect server computer, in
Library/Application Support/Retrospect/Catalogs/. (User Guide)
INSTALLATION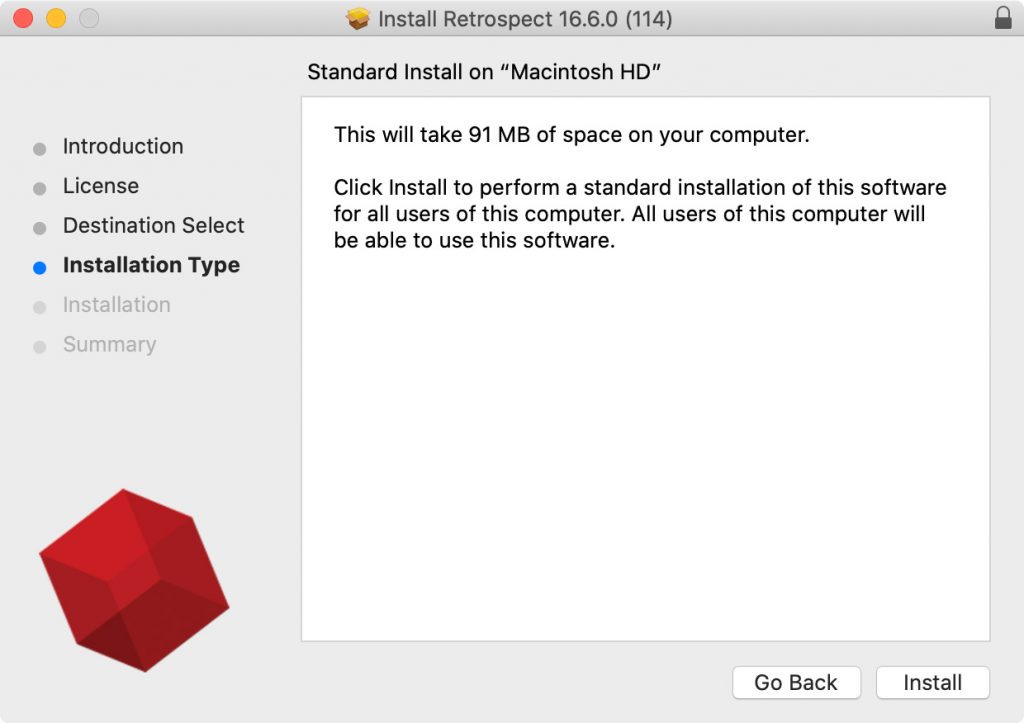 Retrospect is available only through the Retrospect website. Installation is simple and takes less than five minutes after the download is complete. As the screen shot illustrates, it requires about 90 GB of storage.
GET STARTED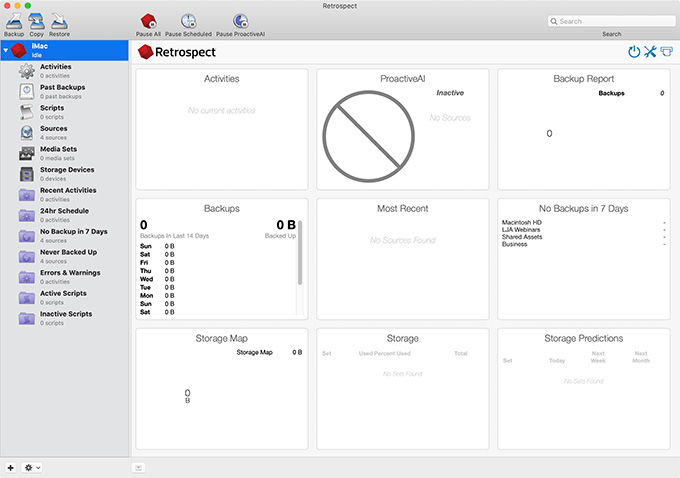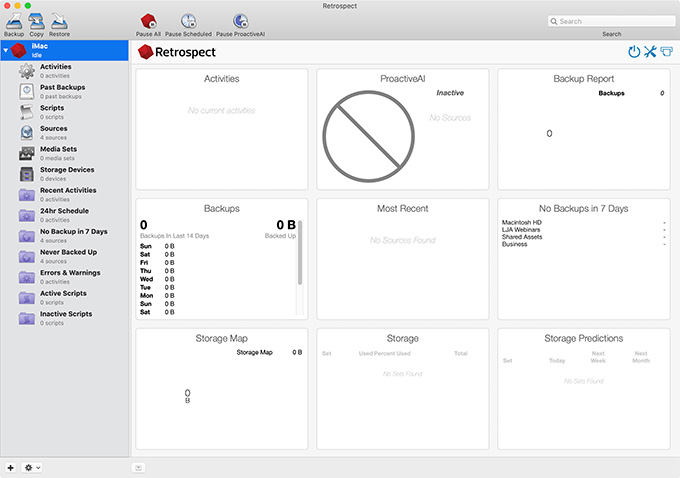 When you first start Retrospect, it can be intimidating. So many windows, where do you start? Fortunately, Retrospect has dozens of video tutorials to help you get started. Unfortunately, those video tutorials are out of date.
There is also a detailed user guide to help with installation, as well as all phases of using the software. Here's the link.

At this point, things got confusing. I watched the video tutorial on how to get started with Retrospect. But, that tutorial was posted in 2012 and the interface of the tutorial does not match the current version of the software.
NOTE: Here's the link, see for yourself.
I read the user guide, but, while there is lots of discussion on how to install various versions of the software, and an excellent description of how Retrospect works, there is no "Get Started" section. For example, there is an excellent description of what a Media Set is and how it is used, but not how to create it.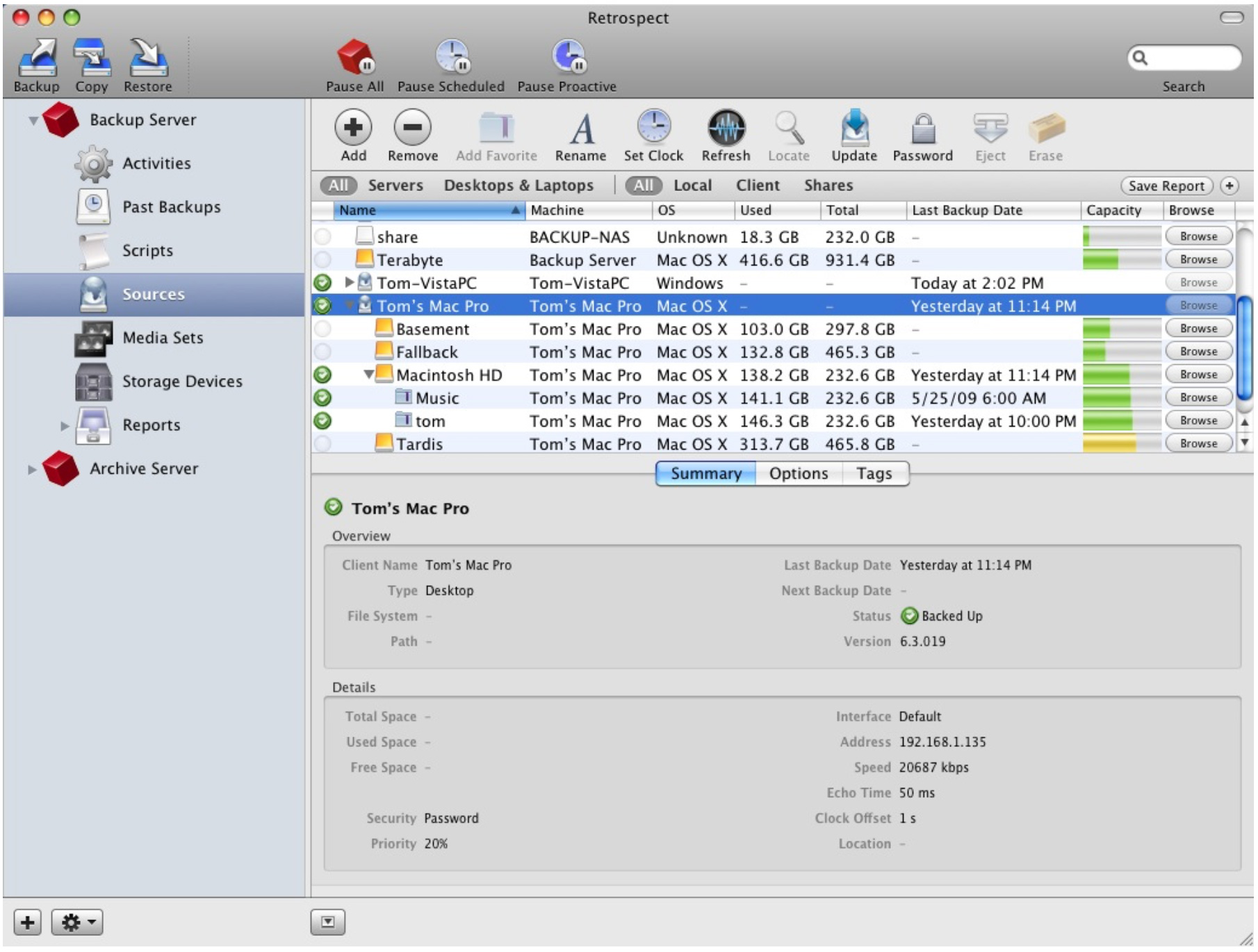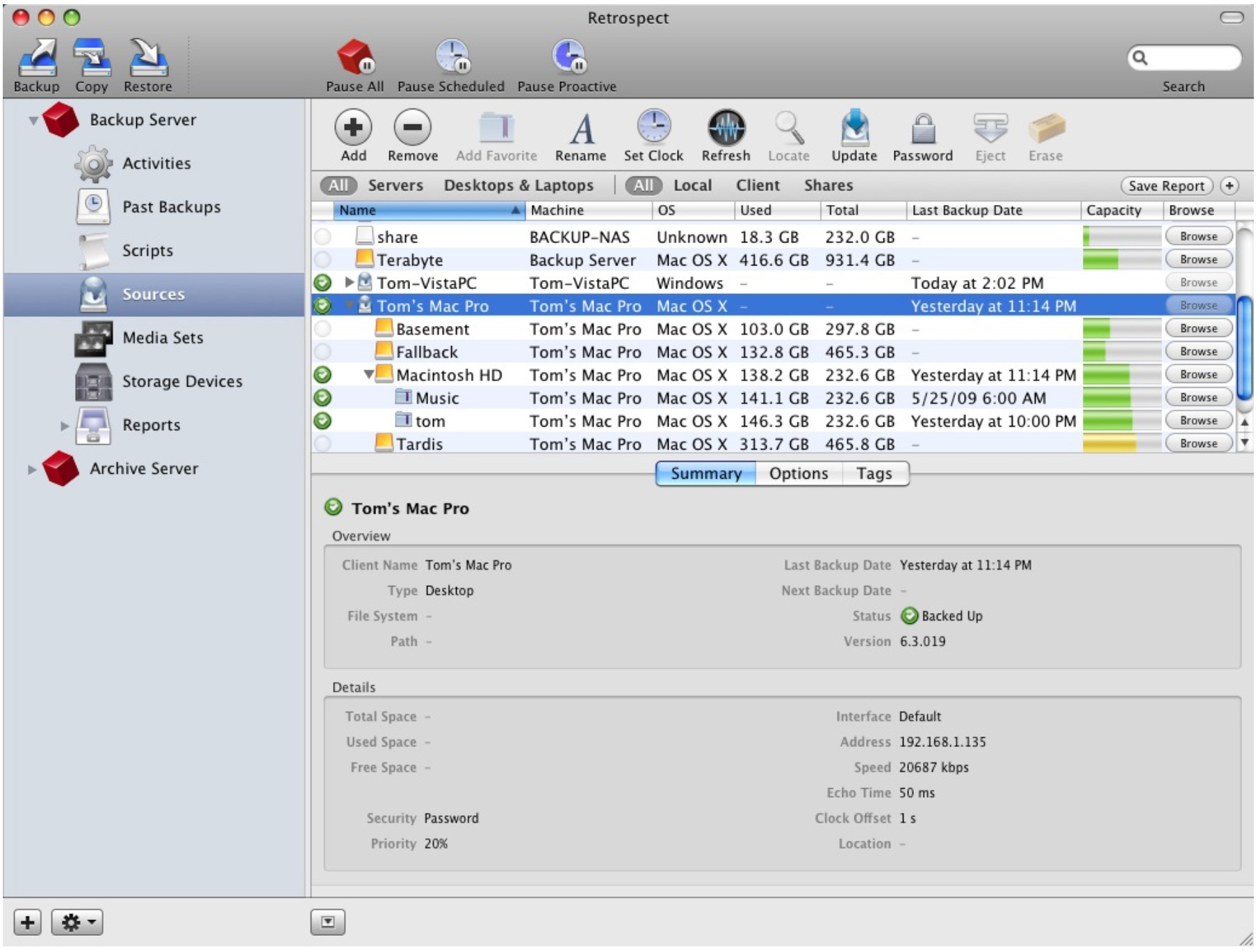 Here's what the Get Started screen in the Retrospect User Guide looks like.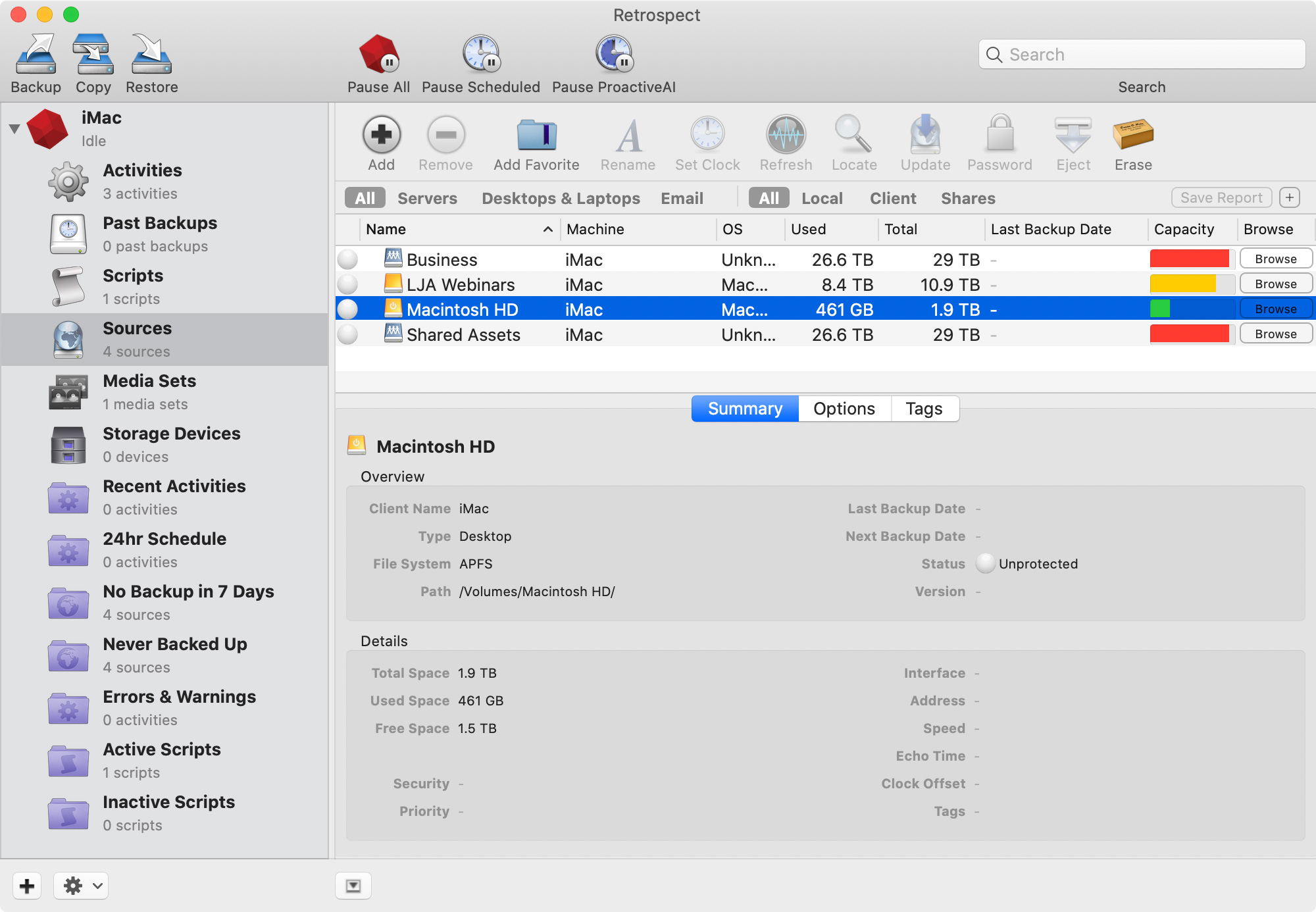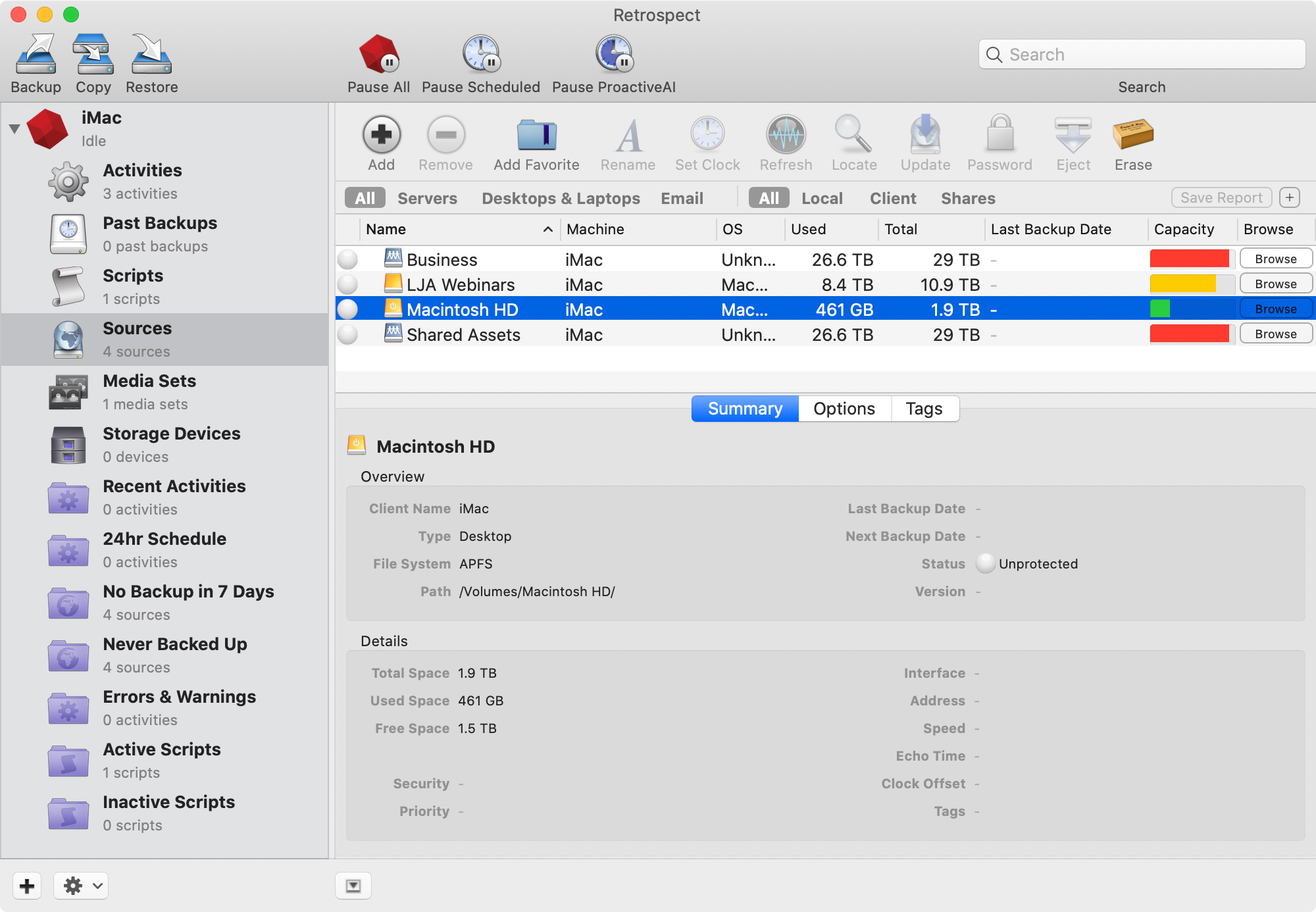 Here's what my screen looks like. The Sidebar is totally different and there are colors and icons in the Retrospect example that don't appear on my screen. Again, the documentation and the interfaces don't match. Worse, there's no description of the interface that I can find that explains what these are, do, or mean.
Sigh…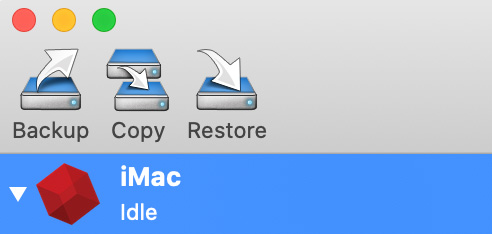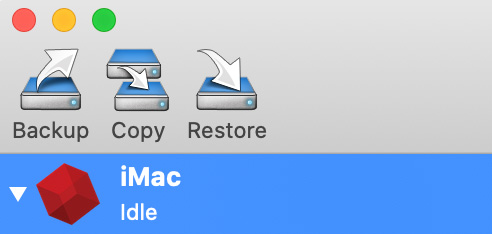 In hopes of getting the system running, I clicked the Backup button in the top left corner.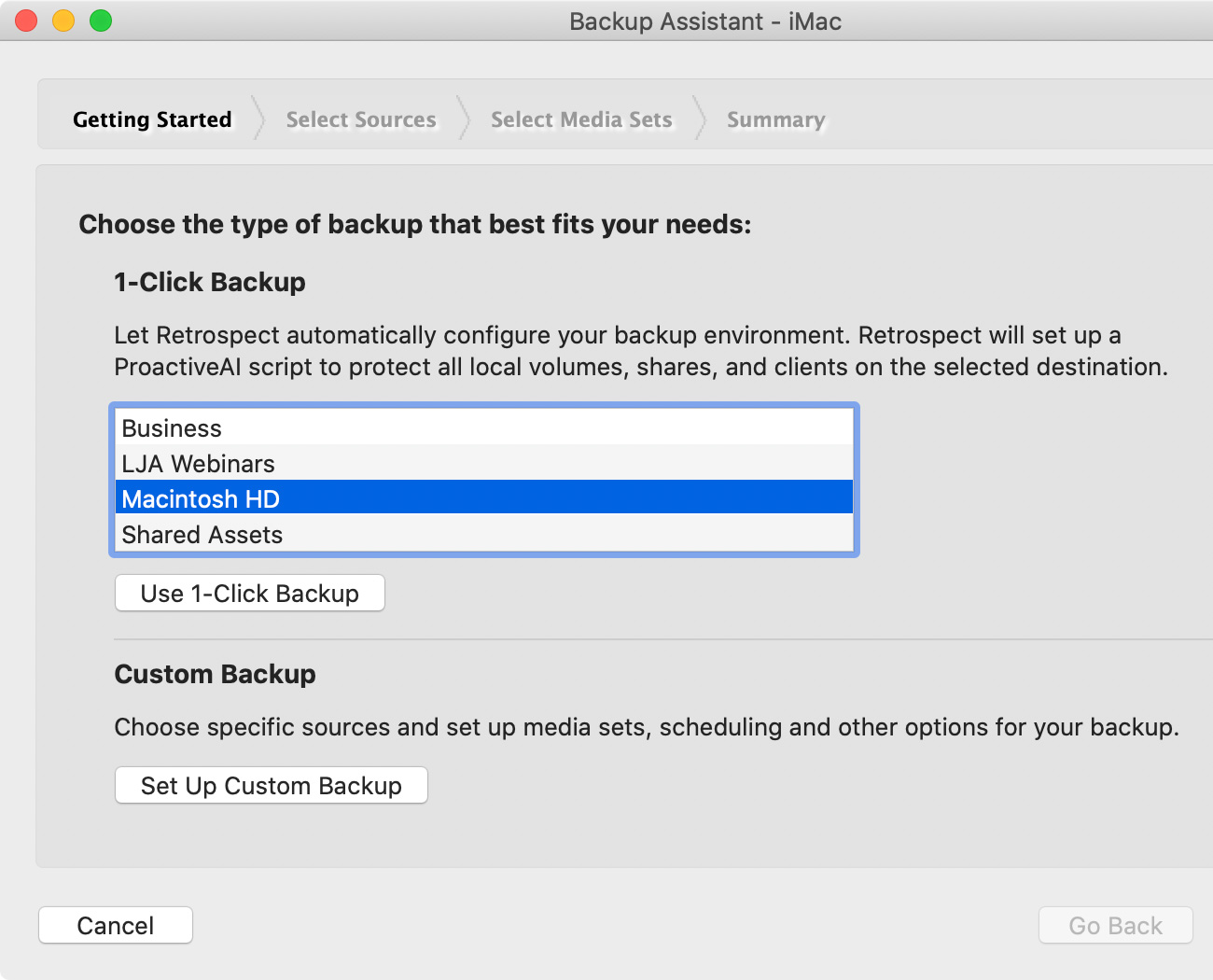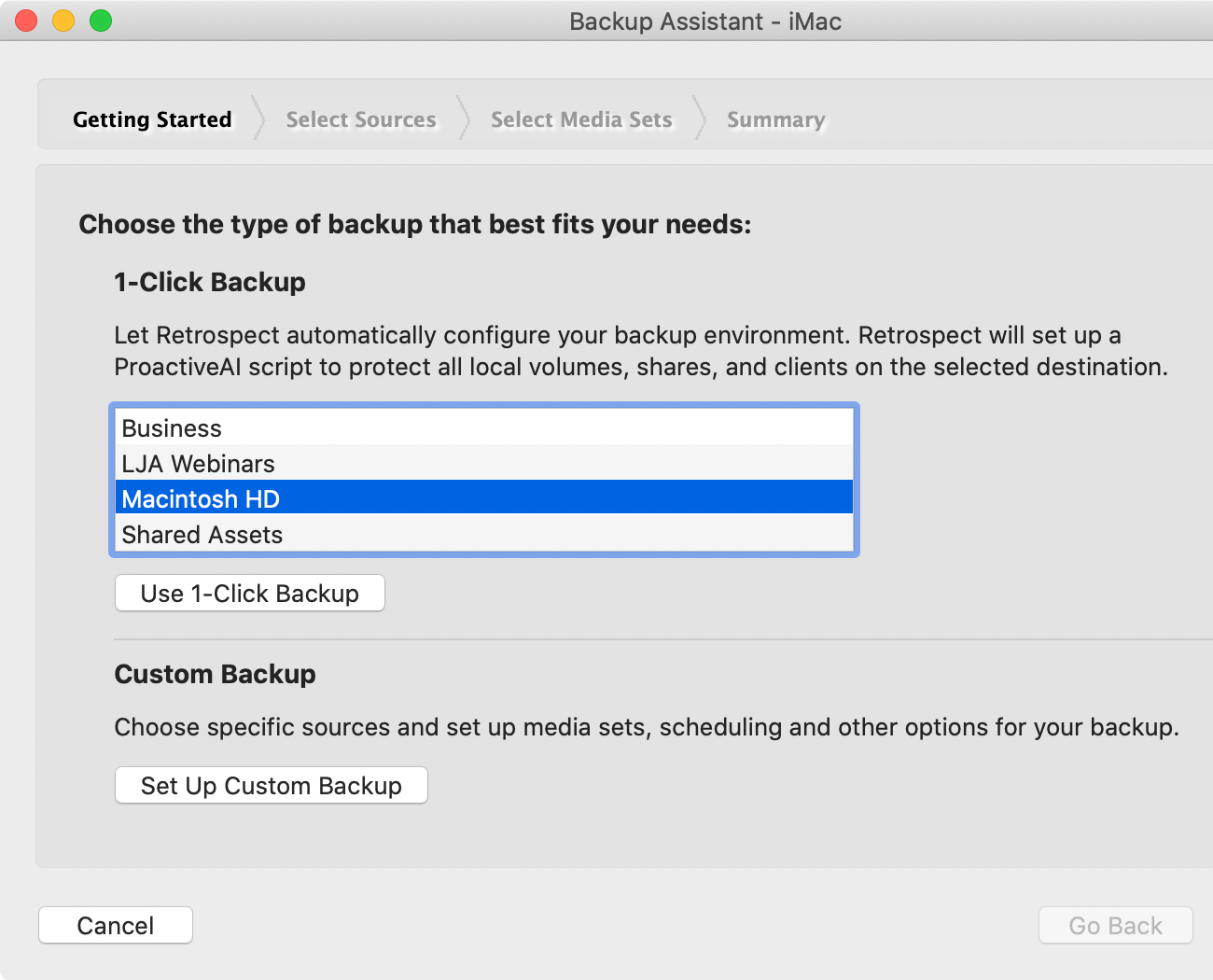 This screen appeared. But, nowhere on this screen does it indicate if I am selecting a Source, Destination or script. There was nothing in the User Guide about how this screen works and the on-screen text doesn't explain anything. For example, it says "Choose the type of backup…" yet, the only thing I can choose is one of my hard disks.
This is a perfect example of the on-screen text only making sense if you already know what this screen does.


I tried clicking Use 1-Click Backup. But it generated an error message, with no indication of how to fix it.
NOTE: I discovered later that clicking this button creates a backup script. (It seems I had created six of them.) However, there's no indication anything was created, nor what this button is supposed to do. And, for the record, none of the scripts would run.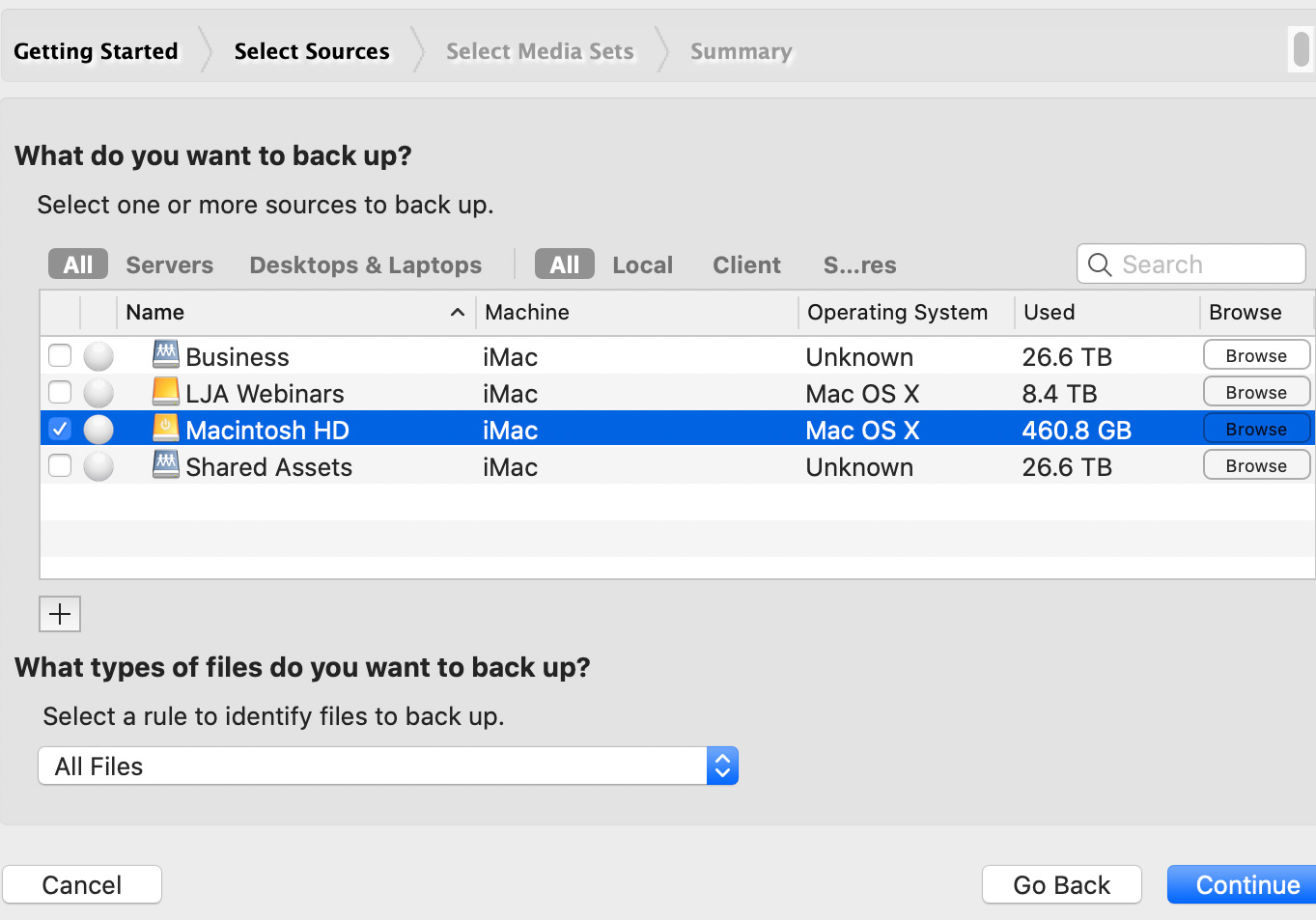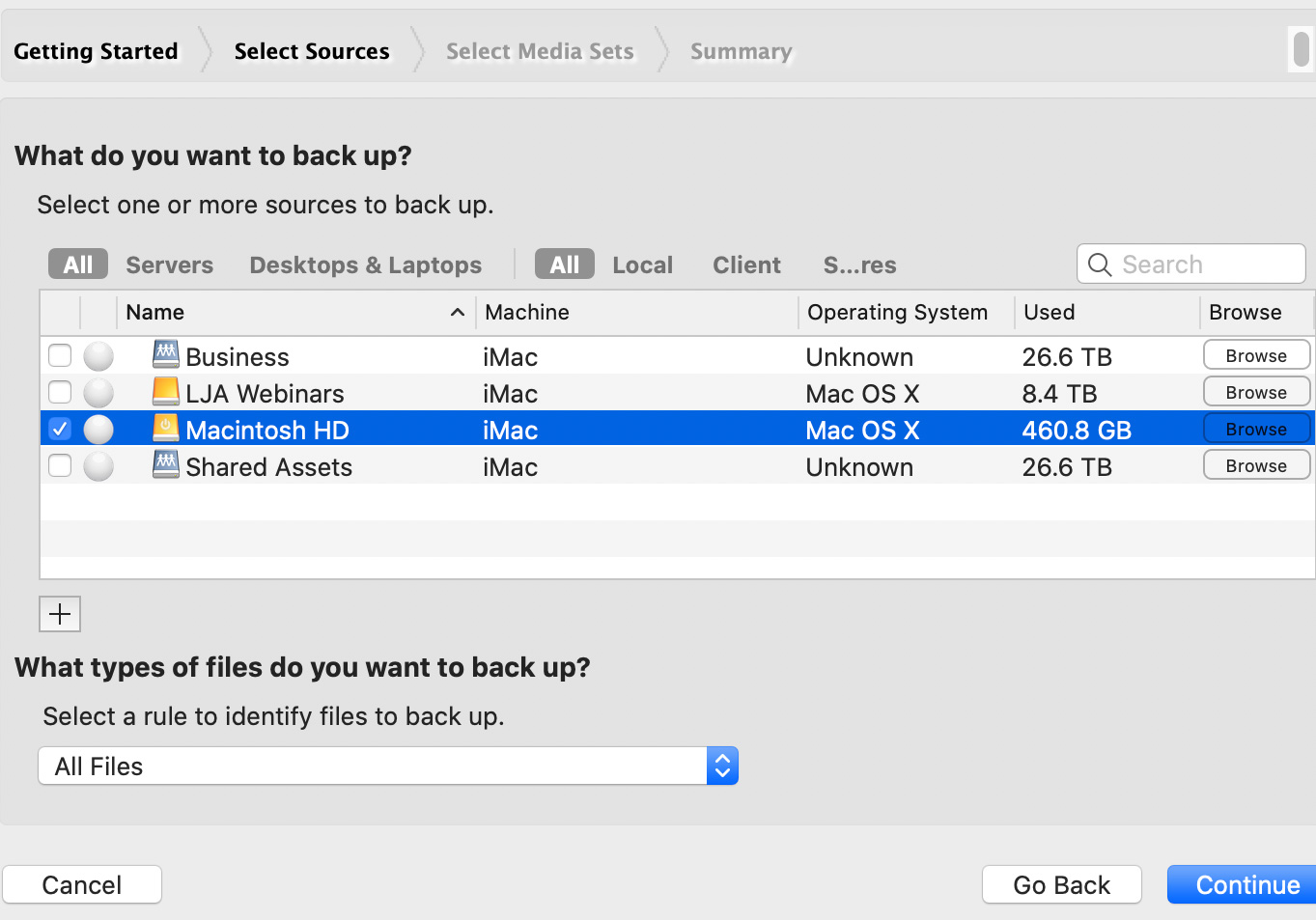 Clicking Custom Backup displays this screen. Again, I select my internal drive and click Continue.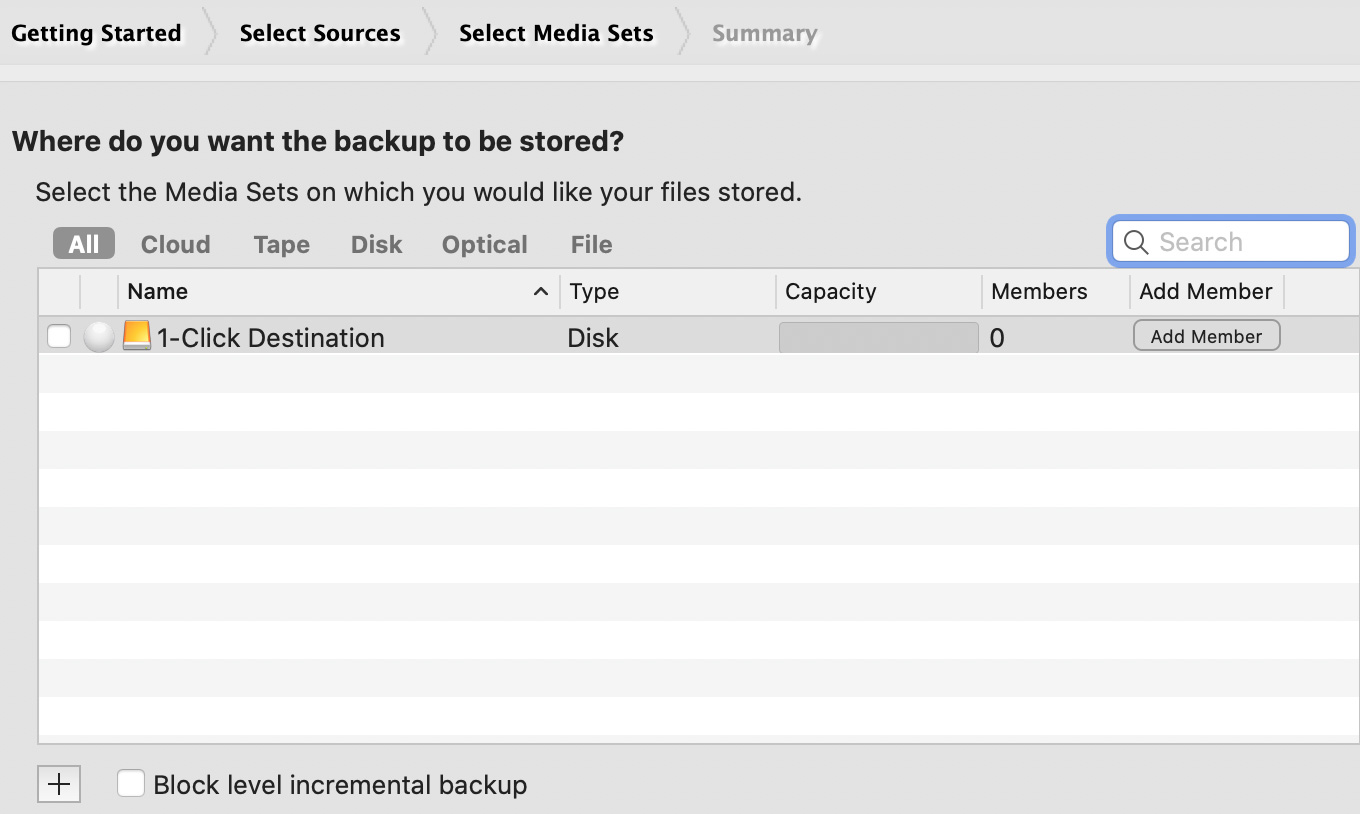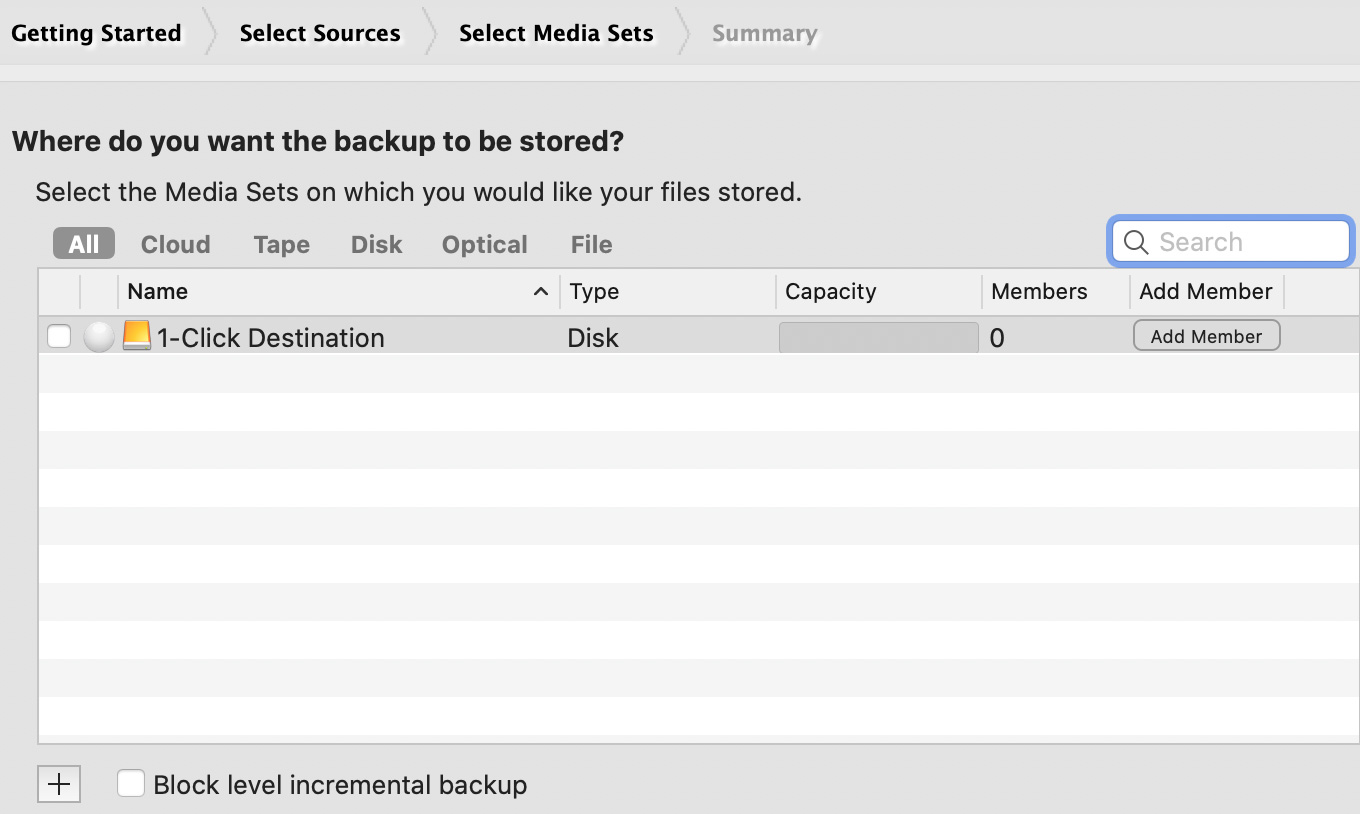 This screen appears, allowing me to select where I want the files stored. Except, I don't know what the 1-Click Destination is.
NOTE: I entered "1-Click Destination" into the search box of the User Guide. It displayed six pages of results, none of which explained what the 1-Click Destination actually is.
Here are basic questions that the User Guide needs to answer – and in a place where the answers can easily be found:
Where do I go in the User Guide to get an orientation to the interface?
How do you create a Source that you want to back up?
What's the difference between a Catalog, a Media Set and a Destination and how are they selected?
How do I pick where my back-up files will be stored?
How do you determine the location where backup files are stored?
What is the Backup Assistant actually doing?
What are you doing when you click 1-Click Backup, because when I click it, either nothing happens or I get an error message?
I've been working with the software for almost two hours, and I still haven't figured out how to create a simple backup of my internal drive.


As you can see from the interface, there are lots of options and many things the software will do, but no place that actually explains what these are, especially if you haven't used them before.
UPDATE


After another 30 minutes, and giving up on the User Guide, I was able to configure a Source and a Media Set for a destination. I think. However, I still can't get it to actually start a backup.
SUMMARY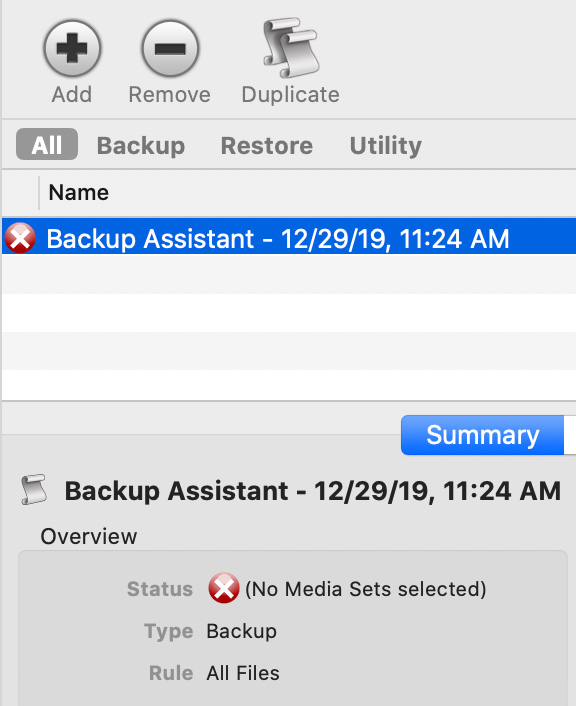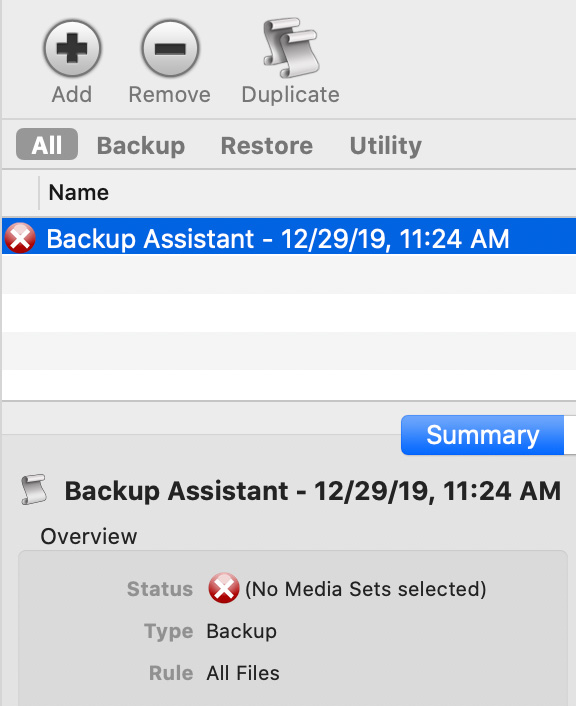 There is NO DOUBT Retrospect is high-quality, high-performance backup software. But it assumes way too much knowledge from a beginning user. If you are system administrator, familiar with server technology with lots of IT experience dealing with backing up multiple systems, Retrospect should be on your list to review. But Retrospect is impenetrable if you are single user, with limited IT knowledge.
The User Guide needs a new chapter, called "Getting Started" that defines basic elements of the interface, then walks through creating a simple backup. It needs to verify that the screen shots match the actual software, and assume that the reader has never used the software before.
Retrospect also needs to assign someone to actually look at and update all their video tutorials. 7-year-old tutorials displaying an interface that no longer exists are not helpful.
I've looked at lots of backup software over the years. I can't think of one that is more powerful and flexible, yet one that's more difficult to learn.
---
Bookmark the
permalink
.