Adobe Media Encoder CS6: Overview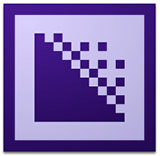 Just as the compression engine under Compressor supports Final Cut Pro X, Compressor, and Motion, so, also, the compression engine that is Adobe Media Encoder CS6 supports the applications in Adobe Production Premium.
In this article, I want to introduce you to the Adobe Media Encoder (AME) CS6.
NOTE: A quick definition before we start. In general, to "encode" means to compress. Purists will argue. We will ignore them. I will use these two terms interchangeably in this article.
THE INTERFACE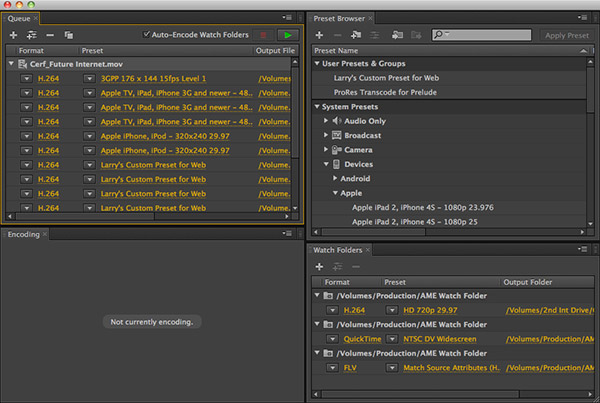 There are four panels in AME. Like other Adobe applications, you can reorganize and resize these, but, unlike other Adobe applications, you aren't going to need to. The default workspace is just fine.
The four tabs are:
Queue. This is where files go to get ready to be encoded.
Encoding. This displays files as they are being encoded.
Preset Browser. This is new with the CS6 version and holds all the compression presets, including those you create.
Watch Folders. This allows automating the compression process.
COMPRESSING A FILE

To compress a file, either drag it into the Queue panel, or select File > Add Source (or type Command+I).
NOTE: AME runs the same on Windows and Macs. To convert keyboard shortcuts, substitute Cntrl for Command and Alt for Option.

Imported source files appear stacked in the order in which they were imported in the Queue panel. They are assigned the last compression preset you applied to a file, along with a default destination.

You can change the default destination in Adobe Media Encoder > Preferences > General. Like almost all my media files, I store compressed files somewhere other than my boot disk. Specifically, I've created a folder called "Compressed Files," which is the location all my compression software stores files. That makes any recently-compressed file easy to find. I like "easy."

Assuming your default compression settings are correct, click the green Start Queue button (or press the Return key) to begin compression.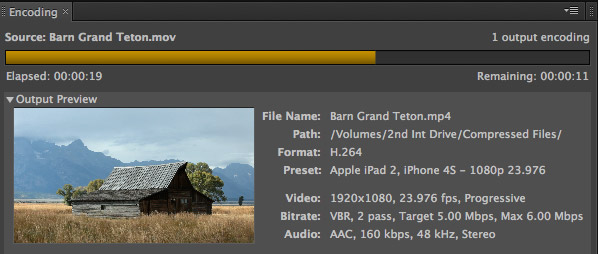 As soon as encoding starts, the Encoding panel displays the status of the encode. Just as with Compressor, encoding happens in the background, you can go to other applications and do other work while compression is going on. Assuming that was all you had to do, you can quit the application and get on with your life.
SELECTING A PRESET
However, when you get started with Compressor, we often want to select different presets, or create entirely new ones. Adobe has grouped presets in the Preset Browser by category, and within categories, by subcategory.
Here's the key rule to compression: NEVER worry about the format of the source footage. Always select presets based on what you want to turn the file INTO; not on the source format, codec, frame rate or image size.
To apply a setting to a clip, drag it from the Preset Browser onto a clip in the Queue panel.
CREATING A PRESET

To create a new preset, click the New Preset (Plus) icon in the top left corner of the Preset Browser.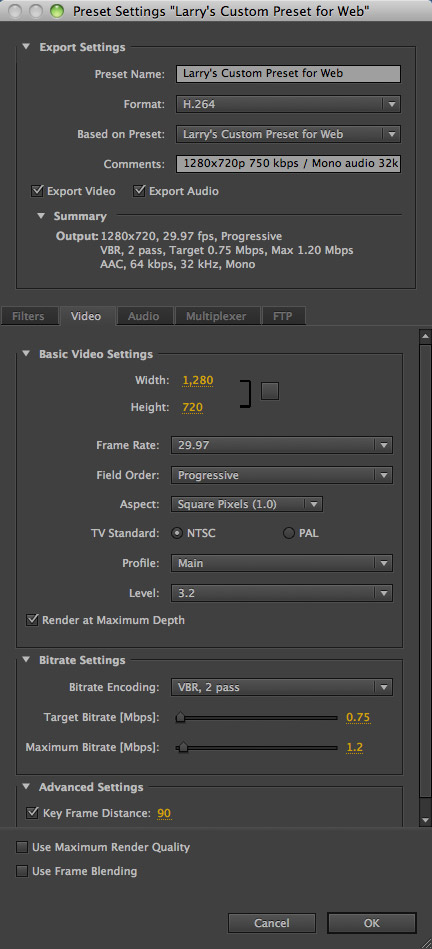 That opens the Preset Settings window. Books have been written on how to set compression presets – check out some excellent books on compression by Andy Beach, Jan Ozer, and Brian Gary – so I won't go into detail here.
In this screen shot, for instance, I'm creating a custom preset for video to be uploaded to my website.
When you want to start creating your own settings, my suggestion is to start with an existing preset, and modify it. Most of the data rates for these presets are set too high – so that's a good place to experiment in modifying, and then creating, your own presets. Many of the other settings are just fine and don't need to be adjusted.  Since this is a copy of a factory setting, feel free to experiment – the worst that can happen is your compressed file looks awful. In which case, trash the compressed file, then go back and tweak the preset some more.
Once you create a preset you like, you can use it for years.  (I have two presets that I use every week that I created back in 2010.)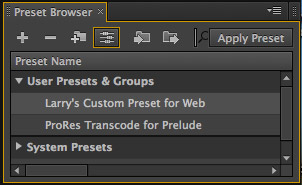 All the presets you create or modify are displayed at the top of the Preset Browser in the User Presets & Groups section.
SETTING A WATCH FOLDER
A Watch Folder is where all the time you spend working with Adobe Media Encoder really pays off. Watch folders allow you to automate the compression process.
A Watch Folder is a special folder in the Finder that AME keeps an eye on. When a file is added to that folder, AME immediately starts compressing it using the compression settings applied to that folder and stores the finished compressed file in the location you specify – either in Preferences or as part of the Watch Folder settings itself.
There's no limit to the number of Watch Folders you can create – the only rule is that AME needs to remain running as long as you want AME to automatically compress media.

To create a Watch Folder, click the New Watch Folder icon (the Plus icon) and select, or create, the folder you want AME to watch. This folder can be on a local hard disk or network volume. However, it must be available to the computer running AME at all times.
Apply the video format and settings you want applied to all files added to that folder. You can apply multiple settings to the same folder, which allows you to create multiple versions of the same master file. These versions can have the same, or different destinations.

This last step is crucial. Make sure that Auto-Encode Watch Folders is checked and click the Start Queue green arrow. Remember to leave AME running for as long as you want Watch Folders watched.
THINGS I WISH ADOBE MEDIA ENCODER DID
While Adobe Media Encoder allows me to create a wider variety of formats that does Compressor, and it runs on Windows, there are several limitations that prevent me from making it my main compression system.
(If I am wrong about any of these, please let me know so I can correct this article.)
Adobe Media Encoder does not allow:
Audio pass-through during transcoding. All audio must be compressed in some form.
Frame rate pass-through. Because we can't pass through frame rates, we need to create a separate Watch Folder for each potential frame rate we want to compress.
Frame size pass-through. For all the reasons listed above.
Selecting "None-of-the-above" for TV Standard. We are forced to select NTSC or PAL.
Applying any filter – such as color correction, gamma correction, or watermarks – other than Gaussian Blur.
Encode mono audio at a 22050 sample rate to reduce file size; this is an ideal sample rate for the spoken word.
What Adobe Media Encoder does, it does well. I just wish it had more of the flexibility and filters of Compressor.
---
Bookmark the
permalink
.