Adobe Updates Everything!
Adobe Updates Everything!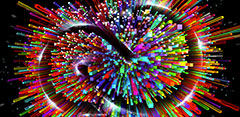 NOTE: This article was first published in my blog on Wednesday, April 2, 2014.
This morning, Adobe revealed upcoming updates to all its video and audio applications, in preparation for what they are showing at the 2014 NAB Show next week. Though NOT available today, these updates will be free to all current Creative Cloud subscribers.
NOTE: In the press materials accompanying this release, Adobe announced that it has more than 1.8 million Creative Cloud users and that Adobe has released more than 50 updates across all their applications since starting the Creative Cloud.
Adobe's goals were to continue improving performance; support video formats with  using large frame sizes, high frame rates and increased dynamic range; and improve the dynamic collaboration between applications and members of the creative editorial team.
Here's the link to their press release. And here are the highlights:
PREMIERE PRO CC
Live Text Templates provide editable text by embedding an After Effects template inside Premiere, without needing to switch out to After Effects
Improved masking with integrated motion tracking
Effects can be applied to a master clip, which instantly ripple down to all related clips in the Timeline.
Faster editing workflow
Faster graphics performance
Project files, but not media, can be autosaved to the Creative Cloud. (Think of this as automated, off-site project backups).
Native format support for Sony STtP, Canon RAW, and Cinema DNG from the Blackmagic Pocket Camera
Improved voice over recording
An option to maintain audio pitch when scrubbing
Typekit now integrates with both Premiere and After Effects providing access to a growing library of fonts.
AFTER EFFECTS
Improved chroma-key results, especially when working with bad background lighting or highly compressed files
Create live text templates for use in Premiere Pro CC
Improved masking
Integration of the cloud-based Kuler to access color swatch themes
Improved Media Browser with support for RAW video formats
Improved full-screen previews using Mercury Transmit
PRELUDE
Faster logging using Tab panels and Tag Templates
Create custom keyword tags
Rough cut directly in the Prelude timeline
New sub-clip view in the Project panel allows a fast look at selects
Improved support for Adobe Anywhere
Improved media transfer
ADOBE MEDIA ENCODER
Create DCP (Digital Cinema Packages) in AME
Assemble AS11 content package for broadcast
Fault tolerant rendering
SPEEDGRADE
Improved direct link with Premiere
Apply effect once to master clip to apply it to all related clips.
Improved video scopes
New SpeedLooks collection of style presets
Improved performance
AUDITION
Dolby Digital and Dolby Digital Plus support
Enhanced multitrack editing, including the ability to hide tracks
Create custom channels, including 7.1 surround and 5.1+stereo for broadcast
I had a chance to see a demo of these features last week, though I have not yet actually run the software. I was impressed with the speed improvements, though the Live Text Templates remind me of how Motion title templates work inside Final Cut Pro X.
The built-in motion tracker is impressive. It can be used with almost every effect in Premiere, which can be a life-saver when your talent refuses to hold still.
Adobe Anywhere continues to attract a lot of attention. At last week's media roll-out, the majority of questions revolved around Adobe Anywhere. This is a system where media is stored on a local server, but sent to editors located anywhere in the world, without needing to use proxy files or cloned hard disks, yet still maintain media security.
NOTE: Adobe also announced that "two-time Academy Award-winning editor Kirk Baxter A.C.E. is cutting David Fincher's upcoming feature film "Gone Girl" exclusively with Adobe Premiere Pro CC."
As Steve Warner, VP of product development, said in Adobe's press release: "With hundreds of new features and enhancements added with regular releases over the past 12 months, we continue to raise the bar with faster workflows for video pros."
When the Creative Cloud was released last May, Adobe promised rapid development of significant features. They have more than lived up to that promise and, with this release, moved Premiere far down the road.
Adobe has not announced a release date, but, if you recall their NAB announcements last year, the actual updates showed up in May. It is my hope we won't have long to wait for these either.
---
Bookmark the
permalink
.