Adobe Releases Updates and New Apps at Adobe Max 2019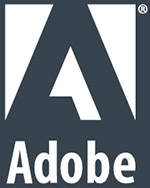 This morning, at the start of the 2019 Adobe Max Conference, Adobe released updates for all their Creative Cloud apps, along with two new applications: Aero and Photoshop Camera. There were more than 20 announcements in all. (Key weblink are at the end of this article.)
Here's an overview of those related to audio and video: Premiere Pro, After Effects, Character Animator, Audition and Premiere Rush were all updated and released today. (All text is edited from Adobe's press materials. All images are courtesy of Adobe.)
NEW VERSION OF CREATIVE CLOUD

The hundreds of additions and improvements we launched [today] to Creative Cloud will help everyone create more efficiently and effectively. The announcements we made reflect three themes:
Create Anywhere, Anytime, with Anyone: Creativity can't be confined to a desktop and as everyone's job becomes more creative, efficient collaboration is essential. So we unveiled new products and features that make it easy to create anywhere and collaborate seamlessly.
Explore New Frontiers: Creativity is all about trying something new, whether that's creating in a new medium like augmented reality or learning a new technique in Photoshop. That's why we launched new tools for creating 3D and immersive experiences as well as features that help you learn new skills.
Faster, More Powerful, and More Reliable Tools: Creative people expect their tools to be quick, super-reliable, and to make their work easier. We're committed to meeting – and exceeding – those expectations. We unveiled dozens of performance boosts and bug fixes, along with convenient new features powered by Adobe Sensei, our artificial intelligence engine, that take over mundane and repetitive tasks, leaving you more time to create.
NEW: AERO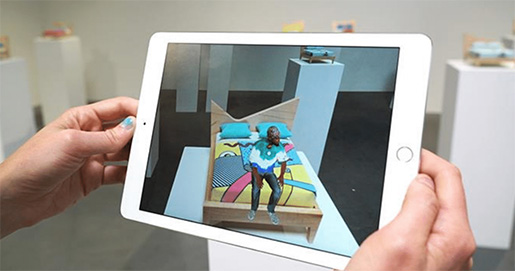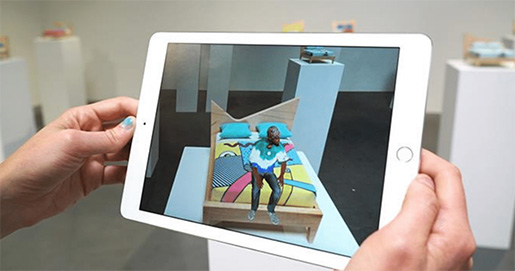 Immersive media is proving to be a powerful storytelling medium, and completely
changing how we interact with the world around us.
Today, Adobe debuted Adobe Aero as part of Adobe Creative Cloud. Aero is the first tool that allows designers to build and share immersive experiences in AR without any coding skills. It's now available as a free mobile iOS app for phones and tablets.
Intuitive authoring. Aero doesn't require any coding – it's intuitive without
sacrificing quality of the final result. Build AR experiences with a visual UI, and
step-by-step instructions will take you through creating your first AR scene.
Animation. Use your hands and your device to place objects in space, shape their paths, and add triggers so viewers can interact with your objects.
Assets at your fingertips. Import assets from Creative Cloud, including Adobe
Photoshop and Adobe Stock's 3D collection, and enjoy the broad 2D and 3D formal support.
Easy publishing and sharing. Release your project into the world by sharing it directly on social or sending the experience to others via the Aero app.
NEW: PHOTOSHOP CAMERA
Photoshop Camera is a new, AI-powered mobile camera app that brings incredible Photoshop magic directly to the point of capture. It's available now as a preview for iOS and Android devices and targeted for general availability in 2020.
With Photoshop Camera you can capture, edit, and share stunning photos and moments – both natural and creative – using real-time Photoshop-grade magic right from the viewfinder, leaving you free to focus on storytelling with powerful tools and effects. Leveraging Adobe Sensei intelligence, the app can instantly recognize the subject in your photo and provide recommendations, and automatically apply sophisticated, unique features at the moment of capture (i.e. portraits, landscapes, selfies, food shots), while always preserving an original shot. It also understands the technical content (i.e. dynamic range, tonality, scene-type, face regions) of the photo and automatically applies complex adjustments.
But even more, our new app also unlocks the power of the creative community by allowing users to access a curated feed of lenses made by well-known artists and influencers.
ADOBE PREMIERE PRO CC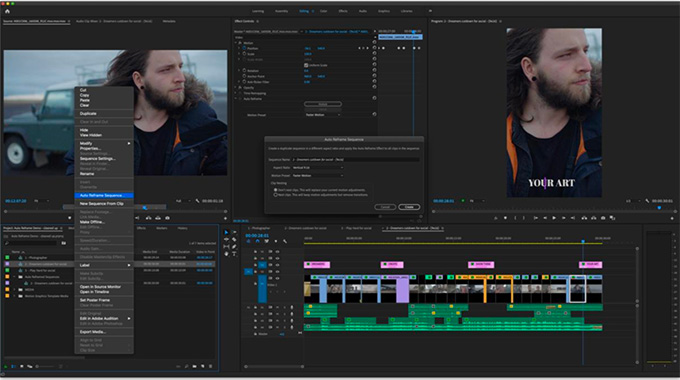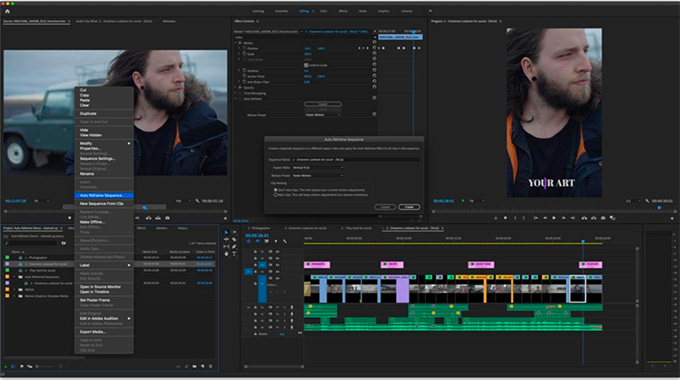 Today, Adobe released the latest Adobe Sensei innovation: Auto Reframe in Premiere Pro. Using this tool (an effect) projects in one aspect ratio can be re-optimized for square, vertical, 16 :9, or custom aspect ratios while adjusting the content to fit within the frame. Automatically, without manual reformatting.
Auto Reframe uses Adobe Sensei technology to analyze footage and apply intelligent panning and cropping to keep the action in the frame. It can be applied to individual clips or whole sequences. The results are adjustable, you retain creative control.
Ongoing enhancements in Premiere Pro provide improved playback for widely used formats, such as H.264, HEVC, and Apple ProRes. ProRes HDR runs up to 10x faster.
Other enhancements include multichannel audio effects workflows and faster scrolling in the Project panel.
AFTER EFFECTS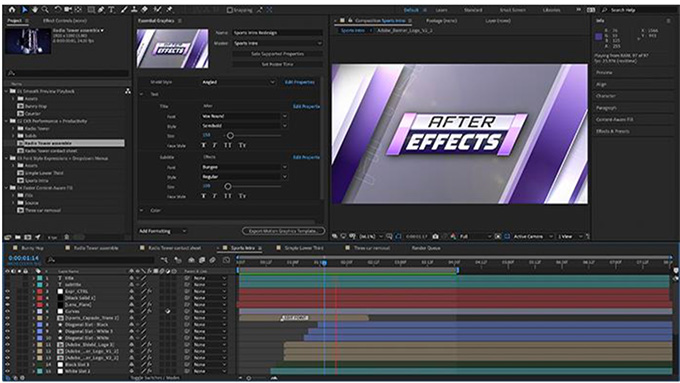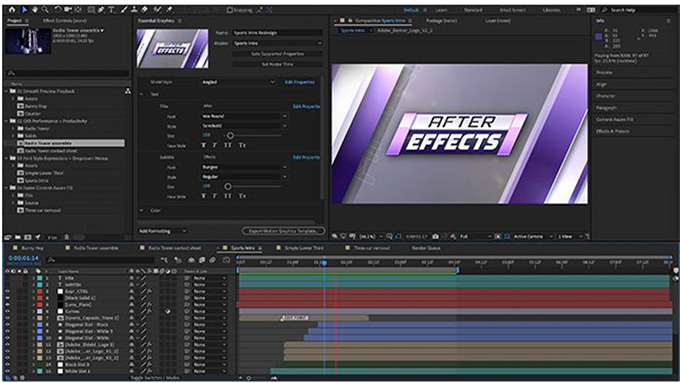 We only had one goal for After Effects this time around: deliver a rock-solid, high-performance update that gets your mission-critical productions done in a timely manner.
That's why our top performance priority is enhancing the rendering core. We're starting at the end of the pipeline, with smooth, fluid playback of cached previews. The combination of CPU threading improvements and a new GPU architecture for pushing pixels to your screen means you can interact with the app while previewing in real time. After all, how can you make creative decisions if you can't see what you're working on?
And we didn't just tackle performance at the core of the application. We've made some of our most-used features faster, too:
Multichannel EXR files are up to 10-12 times faster, and you can import them as layered compositions. Save time on setup and start compositing right away. The new workflow includes native support for Cryptomatte for more power and precision, and there's even a handy contact sheet view to quickly locate a specific pass.
Shape layers are snappier — especially when snapping. Working with complex, shape-heavy compositions is now a much more pleasant experience. And shape grouping and ungrouping are quicker and easier with a new context menu, enabling you to manage multiple shapes at once, right in the timeline.
In previous releases, expressions that don't change over time were still recalculated on every frame, slowing down your composition's performance. Now, expressions that should only run once actually only run once. You'll also see a noticeable performance improvement when working with expressions and master properties together. But making expressions more productive isn't just about speed. We've added expression access to text style properties, enabling you to change or customize fonts and styling with expressions, and keep multiple layers in sync. Save your expressions as presets and reuse them again and again.
Content-Aware Fill for video was a big hit when we released it earlier this year. Good news: it's now twice as fast and uses half as much memory.
HIGHLIGHT SUMMARY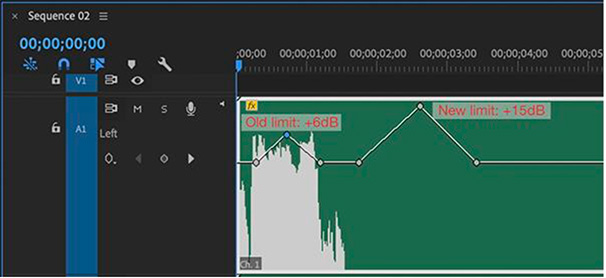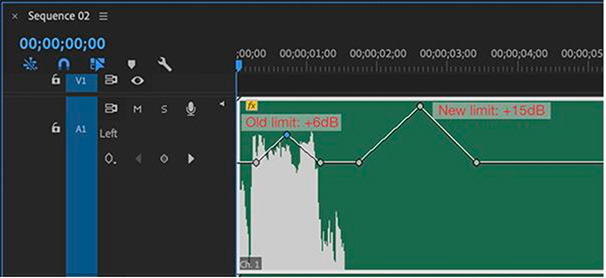 PREMIERE PRO CC
Auto Reframe
Improved Layers workflows
Faster ProRes HDR
Time remapping to 20,000%
Audio gain to +15 dB
HDR 10 metadata export controls
AFTER EFFECTS
Real-time playback of cached previews
EXR productivity and performance
Faster shapes
Enhanced expressions
Faster Content-Aware Fill for Video
Better controls for Motion Graphics
AUDITION
Improved multichannel audio effects workflows
CHARACTER ANIMATOR
Scene Cameras
Keyframing tools
Audio triggers
Motion lines
Save Version
PREMIERE RUSH
Share videos directly to TikTok
WEBLINKS
---
Bookmark the
permalink
.