Adobe Premiere Pro CC 2015: Morph Cut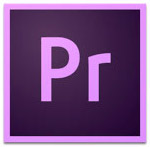 One of the truly amazing new features in the 2015 release of Premiere Pro is Morph Cut. What this does is blend frames at an edit point to make a jump cut look like more natural movement.
NOTE: A "jump cut" is an instantaneous, unjustified movement caused by an edit. For example, having the speaker jump from the left side of the frame to the right at the edit point. In most cases, jump cuts are considered a symptom of sloppy editing.
Traditionally, we would cover a jump with B-roll, a dissolve, or a flash of white. Now, we have another option that seems to make the edit itself disappear. (See the note toward the end on "Ethical Issues.")

For example, here are two frames on either side of an edit point. The left image is the Out and the right image is the In. Clearly, the speaker "jumped" from one position to another.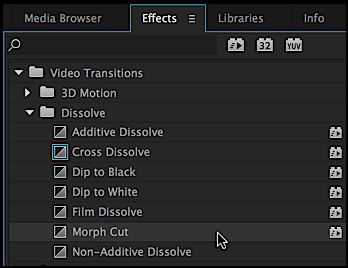 To apply the morph cut, select the Effects panel and open the Video Transitions bin (folder). The Morph Cut effect is stored in the Dissolve bin.

Drag the effect to the edit point you want to convert to a morph cut.
NOTE: It is important the transition spans both sides of an edit point. Putting the morph cut only on one side of an edit (for example, the Out) generates an error message.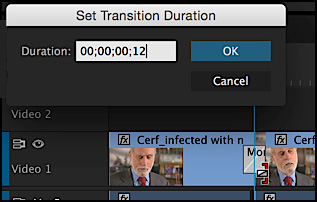 Double-click the transition icon in the Timeline to adjust the duration of the edit. (The Morph Cut uses the default transition duration you set in Preferences.) Adobe recommends somewhat shorter durations. My experimenting shows that a duration between 12 and 15 frames works well.
NOTE: You need to use enough frames to blend smoothly from one shot to the next, but not so long that finding all the necessary frames takes a long time.
As soon as you apply the transition, Premiere starts analyzing the clip to find frames it can use to smoothly blend from one shot to the next.
NOTE: Where possible, Premiere uses frames from elsewhere in the clip. When that fails, Premiere uses frame blending (dissolving) between frames.

The red bar indicates that the effect is being analyzed/created.

The yellow bar indicates the effect is complete.

As you can see here, the Morph Cut blended frames from elsewhere in the clip to smoothly transition from one clip to the next.
Truly amazing, however, this does present some ethical issues.
ETHICAL ISSUES
For some programs, news, legal and documentaries come instantly to mind, it is essential to see exactly where an edit occurs. For these programs, it is important to see the context of someone's remarks. With Morph Cut essentially making edits invisible, it becomes extremely easy to edit someone's words out of context to convey a meaning far different from what was intended.
This troubled me, so I sent an email to Bill Roberts, Senior Director of Professional Video Product Management at Adobe Systems to ask his opinion.
Larry: Bill, I have a philosophical/ethical question about Morph Cut. It seems to me that with morph cut turning jump cuts into seamless video, there is an ethical issue of making something which was edited look not edited. (The long-used political attack ad comes instantly to mind.) Did Adobe reflect on this during the design?
Bill Roberts: In terms of Morph Cut we did have concerns about what users could do with it, as such, we spent a ton of time talking with our customers. We have a standing group of broadcasters whom we meet with on a regular basis. We exposed them to this technology over 12 months before release. We also shared with many others to solicit their guidance. The feedback? As a rule – news people have said they would NOT use it – for the reasons you have listed (if they did it and got caught, their credibility would be ruined) but we found for users producing non-news (like in camera talent, corporate, web content for brands (how-to vids, product demos, etc) see lots of value. Ultimately many broadcasters likened it to Content Aware Fill for Photoshop – where reality can be seamlessly altered – News could use it, but they don't.
Ultimately we make 'paintbrushes' – we're not the artist, we're not the canvas – we're the conduit of people's ideas. Hopefully people make amazing things that entertain and inform the world – but we can't control that, only give people creative options.
EXTRA CREDIT
Adobe states that this effect won't solve every editing transition problem. For best results, follow these suggestions:
A "talking head" interview shot with a single subject
A fixed shot (minimal camera movement may be OK)
A static background (includes avoiding subtle lighting changes)
Additional Tips and Tricks
Look for relatively short, logical gaps with reasonably similar head placement at either end of the cut. It might help to use the waveform to help spot areas with natural pauses and base your cut around that if possible.
Adjust the Morph Cut duration and symmetry as needed after the initial application. It often helps to make it start and end toward the peaks of the last/first words around the morph to avoid difficult lip-syncing problems.
Generate render preview files after analysis is complete (not before) to make sure you're seeing the correct performance and not dropping frames.
Consider framing your subject somewhat tight to limit the amount of hand or upper body movement, which Morph Cut will have to try to interpolate. But don't frame it so tight that significant face or head details are cropped out, the Morph Cut face detection may struggle to recognize it.
Consider using Adjustment Layers to apply effects over Morph Cut transitions and their associated clips. It will generally work to apply effects directly, but you will avoid potential display problems, especially if you have to make many more adjustments after Morph Cut has been applied — such as with Lumetri Color effects.
Analysis is triggered automatically as soon as you drop the transition in. It is also re-triggered automatically whenever you trim the transition in or out symmetrically or asymmetrically.
Morph cut is a processor-heavy effect. Using it with large format media may cause slow analysis times, especially on GPUs with smaller memories (e.g. < 2GB VRAM).
---
Bookmark the
permalink
.