Adobe Media Encoder and H.265: Almost Ready for Prime-time [u]

[Updated 12/21/15 with new information from Adobe Support, detailed at the bottom of this article.]
Let me say up-front that this story has a beginning and a middle, but no ending, yet.
BACKGROUND
One of the exciting features of the Nov. 2015 update to Adobe Media Encoder is its support for H.265, also known as HEVC, short for High Efficiency Video Coding, compression.
H.265/HEVC is a cutting-edge, high-efficiency video codec that is particularly useful for streaming 4K/8K video. Higher efficiency usually comes with complexity that is why H.265 codec is far more difficult to play than H.264. HEVC encoders can trade off computational complexity, compression rate, robustness to errors, etc. Playing H.265 files can be tricky, a powerful H.265 video player is required which not only plays the specific H.265/HEVC video file but is also compatible with your operating system. (From the  5KPlayer.com website)
First standardized in January, 2013, HEVC has taken almost three years to become real. In the interim, beta products arose to support H.265 playback from companies like:
Google
DivX
VLC
Libde
5K
Handbrake
However, all these products required frequent updates to support the evolving standard. And, when it comes to professional media, Adobe out-ranks all these companies. So it was very exciting to see that H.265 was coming to the professional, non-engineering market.
INITIAL TESTS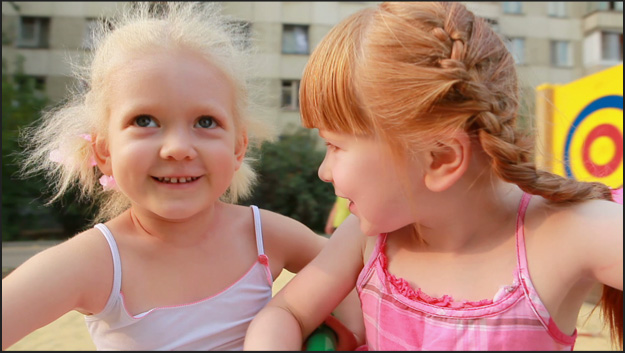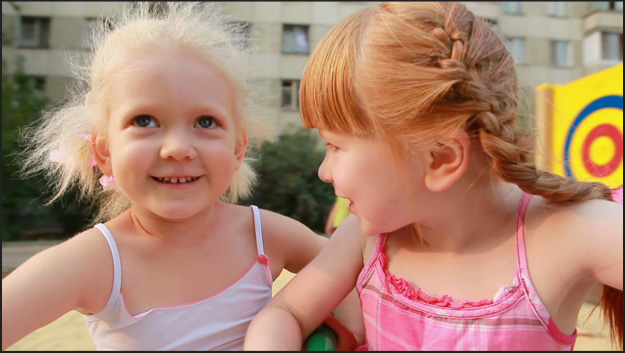 Here is a still from the test video that I used to test compression settings. Given all the movement of these two girls on a carousel and the fine detail in their hair and skin tones, it instantly shows flaws in compression settings.
To get ready to test the H.265 codec, I first created a series of test compressions using H.264 so that I could compare compression speed, image quality and file size. Here's what you need to know:
Most 720p web videos are compressed around 2-3 mbps, while 1080p web videos are compressed around 5-6 mbps.
The default 1080p YouTube setting in Adobe Media Encoder compresses at 16 mbps, which creates lovely – but very big – files.
H.265 COMPRESSION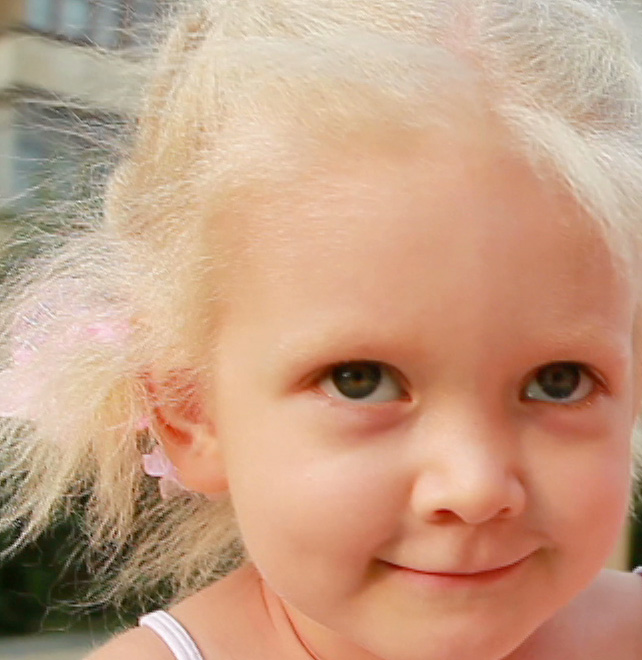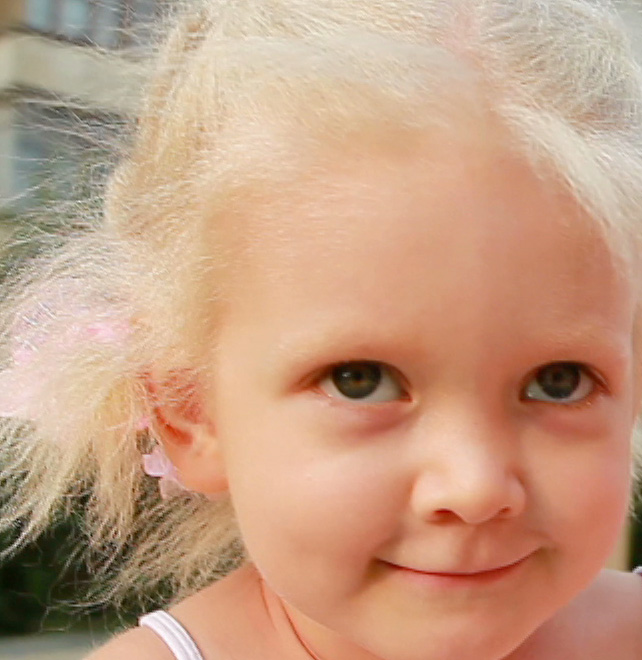 No, this isn't the results of H.265 compression. It's a detail from the master file showing the girl's hair and skin color gradations. (I'm just giving you something to look at before you get depressed.)
When I first applied the default 1080p H.265 compression setting onto a clip – things got murky quickly. A dialog appeared saying:
"You can't compress H.265 unless you install the HEVC codec. Click OK to install the codec."
So, without thinking, I clicked OK and forgot to take a screen shot.
Nothing installed and that warning screen never reappeared; try as I might to get it to show up again. Hmm, I'll go get the codec from Adobe's website. Ah… nope.

As you can see from this screen shot in the Help files for Adobe Media Encoder, H.265 is supported.
NOTE: Adobe Help says: "Adobe Premiere Pro, After Effects, and Prelude: All codecs [are supported. However,] HEVC is not supported during a trial period in Adobe Premiere Pro, After Effects, and Prelude."
But, when I searched the Adobe website for "HEVC codec," it was not listed on Adobe's website. It is not mentioned in Adobe support. It is not available in downloads.  It is missing.
It IS mentioned in Adobe Media Encoder's Help files, but nowhere does it say a separate codec needs to be installed; nor are any links provided.
After 45 minutes – and two lost connections – with Adobe chat support, both sides gave up. He didn't know, though he provided me the direct phone number to Adobe support.
Naturally, they were closed.
HOWEVER…

Apparently, Adobe Media Encoder CAN compress H.265, however, the files are bigger than H.264 and took longer to compress.
The default bit rate setting for H.265 is 16-20 mbps, larger than the default YouTube H.264 setting. What makes this unusual is that HEVC is supposed to create files that are 30% smaller than H.264, but not with these default settings.

As you can see in the screen shot above, the H.265 version of this movie is 10% larger than the H.264 version; both used AME default settings.
But viewing these files requires a special viewer – Adobe doesn't supply one – and QuickTime Player won't work. Apple doesn't even mention H.265 on its support pages, though there is discussion on its community pages.
From reading the websites of various players, it is unclear to me if they only support a custom configuration of H.265. The feeling I'm getting is that H.265 files are not yet compatible across all players – assuming the HEVC codec is properly installed.
ADOBE SUPPORT UPDATE – 12/21/15
I learned this morning from Adobe Support that the compressed H.265 file needs to be imported into Premiere to activate the codec. The reason is that this is a royalty bearing codec hence only gets activated once you intend to use it. It is important to note that this step is missing in the AME Help files.
Once activated, you can play an H.265 movie in QuickTime Player; though I haven't tested this yet.
Also, there is a bug in that you cannot send an H.265 file to After Effects or vice -versa in case you want to use it as a dynamic link.
I'm off to do some more testing and will have more on this in the next day or so.
INTERIM SUMMARY
HEVC (H.265) holds LOTS of promise for the future. Smaller file sizes, higher quality images, greater support for mobile devices. But, as of now, H.265 is not ready for prime-time. Playback requires new codecs to be installed both by the compressionist and the viewer, in order for the files to be viewed.
The default setting in AME created a file – assuming that it WAS H.265 – that was 10% times larger than the H.264 YouTube version of the same file. And, there's still no word on where to find the missing codec that Adobe Media Encoder requires.
As I learn more, I'll continue updating this article. As always, I appreciate your comments.
---
Bookmark the
permalink
.